Stockton: A Transformative Climate Communities Case Study
Situated along the San Joaquin River, Stockton is a port city in California's Central Valley. The South Stockton neighborhood is composed of predominantly Latinx, Black and Asian residents. This historically redlined community has long experienced environmental burdens from multiple freeways, heavy industry and the Port of Stockton.
Today, 93% of residents in this region within the top 10% of the most environmentally burdened census tracts in California, according to CalEnviroScreen 3.0, and the remaining 7% are within the top 25%. Furthermore, historic systemic disinvestment combined with the City of Stockton's 2012 bankruptcy has left this community with poor physical infrastructure and a high concentration of poverty and unemployment.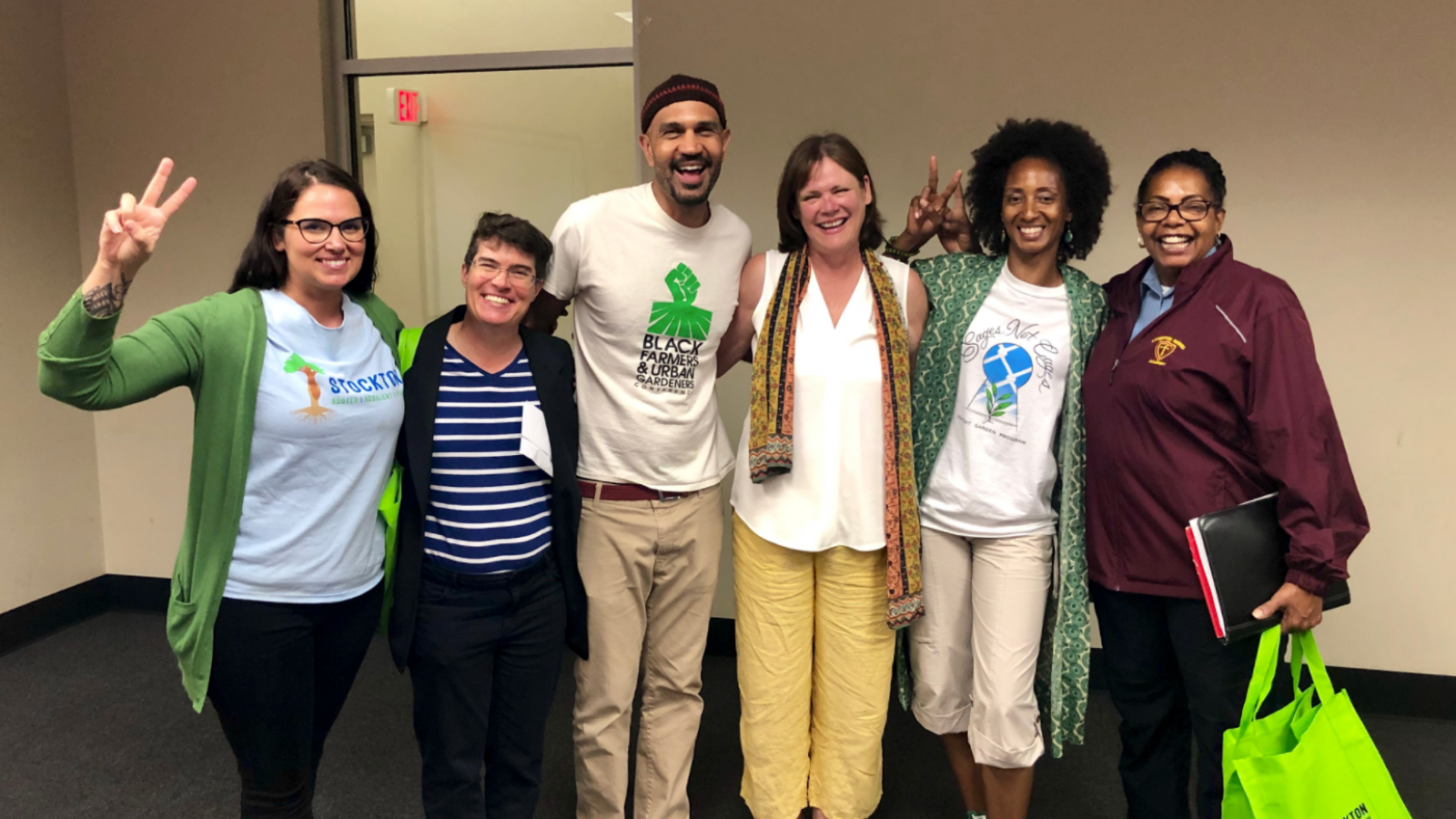 Rise Stockton leaders during a community workshop. Credit: Rise Stockton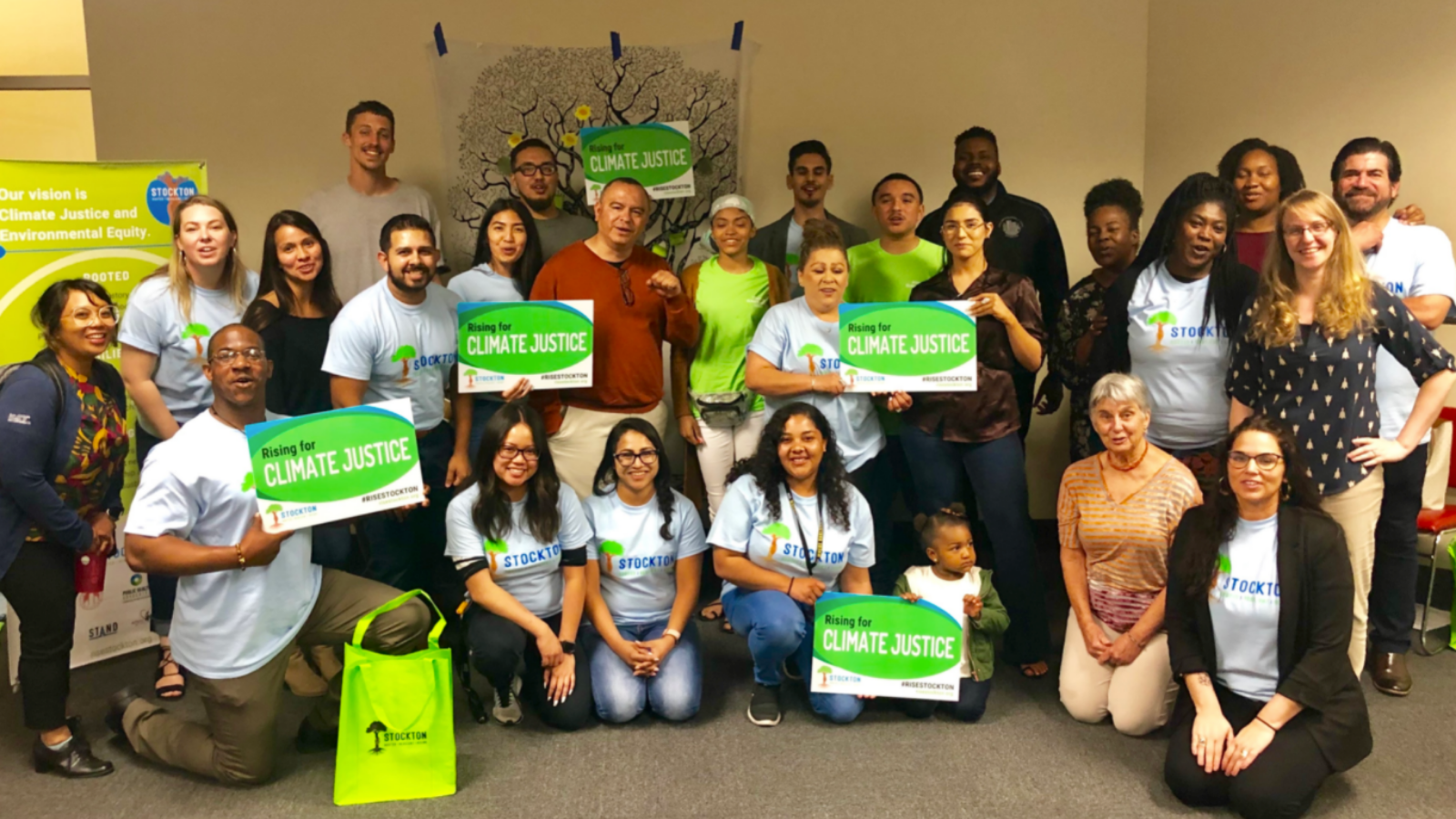 Rise Stockton coalition members participate in a community meeting. Credit: Rise Stockton
California has pioneered a unique approach to fostering community-led solutions that meet the needs of those hit first and worst by climate change through a program called Transformative Climate Communities. Transformative Climate Communities offers a model for fighting climate change, building economic prosperity and redressing the historic oppression of our most under-resourced communities. The TCC program empowers the communities most impacted by poverty and pollution to choose their own goals, strategies and projects to reduce greenhouse gas emissions and deliver multiple tangible benefits.
Against this backdrop of disinvestment, organizations in South Stockton advocated and prepared. In 2017 South Stockton applied for a TCC Planning Grant, inviting the Mayor's Office of the City of Stockton to partner with them as the Lead Applicant. Together, they formed Stockton Rising, a collaborative proposal between the City of Stockton, community partners and residents to secure and implement the TCC Planning and Implementation Grants.
Stockton Rising's TCC project is not only making foundational quality-of-life neighborhood improvements but also seeding the formation of a new environmental justice coalition, demonstrating how investments can help transform a community when they are rooted in equity and community leadership.

TCC's holistic, community-driven approach allowed Stockton Rising to develop a neighborhood plan that centered resident perspectives more authentically than traditional, government-led community engagement processes typically do. 
Five years after the program's establishment, The Greenlining Institute is examining TCC's progress thus far, and is beginning to gauge both successes and areas for improvement. Greenlining conducted an intensive qualitative evaluation of how TCC's components work together to deliver equity outcomes. This evaluation included four detailed Case Studies from Ontario, East Oakland, the Northeast San Fernando Valley and Stockton examining specific local planning and implementation efforts in detail.
For our full analysis of the Transformative Climate Communities program, see Fighting Redlining and Climate Change with Transformative Climate Communities.