Our Vision
No one can achieve the American Dream without access to communications services. Without quality telephone and broadband service, our communities cannot apply for jobs, access healthcare or government services, call 9-1-1, or stay in touch with loved ones. Modern communications technologies like wireless phone service and broadband should be high quality, available to all, and affordable regardless of income. And the telecommunications industry must be responsive to the nation's growing communities of color.
While broadband has created enormous opportunities for our communities, we must make sure that this new technology is not used to perpetuate discrimination.
The Challenge
Communities of color have been seriously affected by "digital redlining. "  Decisions made by communications providers about where to build their networks and which customers to serve have led to limited availability of broadband services in communities of color, and where those services are available, they often suffer from poor service quality and reliability.  Additionally, communities of color pay a disproportionate amount of their income towards phone and broadband services.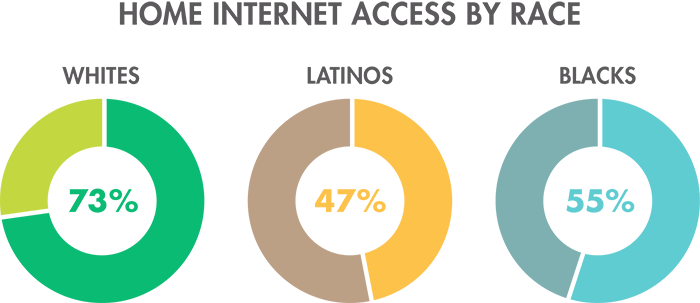 In the past decade, Greenlining has successfully fought for robust, reliable, and affordable communications services for communities of color in an attempt to reverse the effects of digital redlining, but those gains are under attack.  Federal officials are working actively to roll back those protections, giving big companies control over the ability of communities of color to communicate, access information and services, and make their voices heard.  Additionally, years of industry lobbying at the state level have led to laws that severely restrict the California Public Utilities Commission's authority to protect consumers from high prices, poor service, and predatory marketing practices.  Finally, increasing industry consolidation threatens to eliminate companies that market specifically to communities of color.
Our Response
Greenlining gives a voice to communities of color at the agencies that regulate communications: the Federal Communications Commission (FCC) and the California Public Utilities Commission (CPUC). We also work directly with telecommunications companies to ensure that they consider the diverse needs of communities of color in their investment decisions. We focus on the following critical areas:
Access and Affordability: We closely monitor corporate deals, Federal Communications Commission or California Public Utilities Commission actions, and legislation that could affect price and access or otherwise harm consumers. Major changes happening in the technology we use to communicate, particularly the transition from analog to digital phone networks, could threaten vital consumer protections. Our work ensures that low-income consumers and communities of color have access to affordable, quality phone and broadband service where it is already available, and we push for expanded deployment of those services where they are not.  Additionally, we work to ensure that, once connected to the network, consumers have strong protections to ensure reliable, affordable, and nondiscriminatory service, with strong privacy protections to safeguard their identities and data.
Supplier Diversity: Greenlining is a strong advocate for programs that encourage large companies to do business with minority small businesses. The CPUC's supplier diversity program, governed by General Order 156, represents an outstanding model. Greenlining monitors the impact of this program, issuing an updated report every year, and works to expand the use of the GO 156 model in other fields as a way of bringing investments to communities of color.
Data Privacy and Redlining: Broadband technology is so ubiquitous that companies and government agencies can collect enormous amounts of information about individual consumers simply by looking at their online activities.  The collection and use of this data is integrated into virtually every aspect of our lives, from determining what advertisements we see online to determining whether we will be offered a subprime loan.   While the collection and use of this data can lead to enormous societal benefits, consumers must have ultimate control over information about them, and no company or agency should be able to collect, aggregate or use that data without a consumer's consent.
Strategic Partnerships: Greenlining works with other organizations to provide expertise and support on issues involving the impacts of telecommunications policy on communities of color and low-income communities.