"Justice Rising: Our History. Our Future."
May 24, 2018 • Oakland, CA
"We know that justice is rising because of all the young people in this room," said Olga Talamante, surveying the sea of young faces (along with some older ones) as she kicked off The Greenlining Institute's 25th anniversary Economic Summit, held May 24, 2018 in Oakland. Talamante, a longtime Greenlining board member and executive director emerita of the Chicana Latina Foundation, acted as the day's host and emcee, providing regular doses of insight, humility and humor during our biggest Economic Summit ever.
Following a rousing performance by Young, Gifted and Black, an Oakland-based youth group that focuses on Black history, scholar and former MSNBC host Melissa Harris-Perry moderated a panel that expanded on the day's theme, "Justice Rising: Our History. Our Future," asking panelists to "bring your radical imagination … what it looks like when we get there."
"We have to be stewards and leaders for the nation," observed PolicyLink founder and CEO Angela Glover Blackwell. "We need to start with those most vulnerable. Because if you get it right for the most vulnerable, you get it right for everybody. This is a struggle for the soul of our nation."
Greenlining President Orson Aguilar recalled how his mom "came to this country undocumented across this border. Got a path to citizenship. Sent her 3 kids to college. I want to make sure everyone has that opportunity." Then, he added, "I love that young people are questioning everything. The path to get there is to question all our assumptions. ... We need to create our own path forward for what racial equity looks for. Racial equity is inclusive."
In a "Fireside Chat" (albeit without an actual fire), Harris-Perry and Black Lives Matter co-creator Alicia Garza delved further into the state of Black America at a moment when racism has become more overt and explicit. Garza addressed the tendency of media and society to oversimplify black lives and how to counter it, saying, "When I talk about power, it's being able to shape the story of who we are and where we're going. When I talk about power, it's being able to choose who makes decisions for and on behalf of you."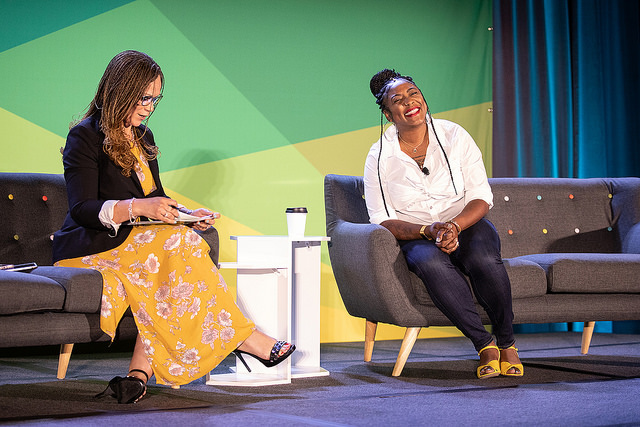 A series of breakout sessions tackled specific issues, taking deep dives into climate resilience for the most impacted communities, California's health workforce, rethinking diversity and inclusion to focus on justice, the future of the financial industry, and developing the next generation of young leaders.
At each year's Summit, we honor a few special advocates who've shown extraordinary leadership. The program got a rousing kick-off from state Sen. Kevin de León, who went out of his way when he was offstage to stop and have a dialogue with the service staff backstage at the Marriott. Then, the Torchbearer Award, given to a graduate of Greenlining's Leadership Academy, went to our very own Stephanie Chen, who leads Greenlining's Energy Equity team. Disruptive Advocate Awards – presented to those who shake things up with vision and courage – went to SCOPE President and CEO Gloria Walton and former FCC Commissioner Mignon Clyburn.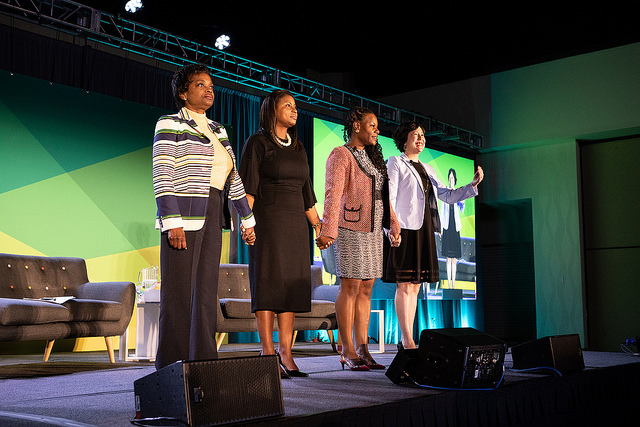 But it's a safe bet that the person that most of the lunch crowd really came to see was legendary human rights activist and farm worker leader Dolores Huerta, who received the Lifetime Achievement Award. In a conversation with Youth Radio's Noel Anaya, Huerta talked extensively about taking activism from one-on-one outreach to shifting the balance in elections. "We can protest," Huerta said. "We can march. But unless we take it to the ballot box, nothing will change." And that, she added, means local offices as well as high-profile state and national ones: "Some of our farmworker women serve on our school and water boards. They make a difference. … If we do not commit ourselves to making positive changes, they're not going to happen. We can't wait for someone else."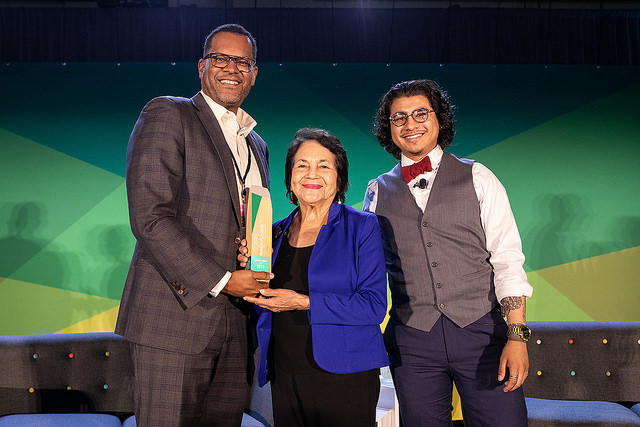 As always, some of the liveliest interactions happened at the Idea Lab, set up to give all in attendance a chance to speak out. After rousing presentations by Jung Woo Kim of the Korean Resource Center, Ramla Sahid of the Partnership for the Advancement of New Americans and Steven Renderous from the Center for Media Justice, as well as moderator Lateefah Simon of the Akonadi Foundation, the audience met in small groups to brainstorm how California can move equity forward in a challenging era. "We have to listen more," Kim said, voicing a thought that all movements should take to heart.
Greenlining Leadership Academy Director Patrick Brown closed things out with a few well-chosen words that captured the whole mood of the day:
"We're stronger together. We're resilient together. We're more powerful together."