Celebrating 30 Years of Greenlining for a Just Future
This year, the Greenlining Institute is celebrating our 30th anniversary: three decades of building a future where communities of color can thrive.
A History Rooted in Community Activism
In 1979, founders John Gamboa and Bob Gnaizda formed an informal, multi-racial, intersectional coalition built around the concept of greenlining. Their idea was simple and revolutionary: what if, instead of competing over crumbs, we could grow the size of the pie for everyone?
The coalition worked together to create a future of abundance through a just economy – a greenlined economy. The Greenlining Coalition went on to successfully advocate for comprehensive policy changes that would benefit communities of color: from requiring the state's largest utilities to report on their supplier diversity to securing landmark Community Reinvestment Act agreements from some of California's biggest banks.
Building on these early successes, The Greenlining Institute was formally established on March 8, 1993 as a non-profit organization with a mission to ensure race is never a barrier to economic opportunity.
Thirty years later and our coalition still plays a key role in our work, lending important grassroots voices to our advocacy efforts, and keeping us grounded in the real-world experiences of their members and communities.
Our Impact Over Time:
For the past 30 years, Greenlining's team of racial equity experts has successfully advocated and negotiated more than $800 billion in corporate and public investments into formerly redlined neighborhoods. But that's not all:
1979: The Greenlining Coalition was Established – John Gamboa and Bob Gnaizda formed an informal, multi-ethnic, multi-organizational coalition built around the concept of greenlining.
1979 to 1980: Advocated for Executive Order requiring major utilities and telecommunication companies to report on supplier diversity – The Greenlining Coalition advocated for this policy that required the state's largest regulated utilities and telecommunications companies to annually report their percentages of contracts given to women-, disabled veteran-, and minority-owned business enterprises. The order made it state policy to promote the interests of diverse businesses to maintain and strengthen the overall economy of the state.
1992: Negotiated 10 year, $1 billion CRA commitment with Sumitomo Bank – Amidst pressure from the coalition, Sumitomo Bank of California doubled its 10-year commitment to lend to low-income home buyers and small businesses from $500 million to $1 billion under the Community Reinvestment Act.
1993: The Greenlining Institute is formed – Building on the success and influence of the coalition, the Greenlining Institute was formally created and incorporated on March 8th, 1993.
1995: Wells Fargo agrees to a 10-year, $45 billion CRA commitment – Wells Fargo agreed to a $45 billion 10-year lending pledge for affordable housing, small businesses, and community development — a record at the time—was a direct result of "non-stop pressure" by Greenlining and other groups, the San Jose Mercury News noted.
2004 : Greenlining warns of housing market trouble – Greenlining specifically discussed subprime and predatory loans with Chairman Greenspan and other Federal reserve executives. In February 2004, we convened a meeting with 15 financial institutions and regulators from various government agencies, asking for banks to assume fiduciary responsibility to its borrowers. Not one bank agreed to the proposal.
2004: Casa Joaquin Murrieta joins the Leadership Academy – the Greenlining Institute acquired Casa Joaquin Murrieta, integrating it as a part of its Leadership Academy. Since then, Casa has become a multi-ethnic residential leadership program serving low- and moderate-income, first-generation UC Berkeley college students from diverse backgrounds.
2007: Greenlining launches Climate Equity program – Greenlining launched Green Assets, a new environmental equity program to advance our mission. In 2010, Greenlining helped defeat Proposition 23 as part of a coalition called Communities United Against the Dirty Energy Proposition. Prop 23 would have repealed AB 32, the Global Warming Solutions Act, the most important piece of environmental legislation since the Clean Water Act.
2010-2011: Greenlining's advocacy helps pass Dodd-Frank Act – Greenlining pushed for better, faster, more effective mortgage relief for victims of the foreclosure crisis speaking out through protests and op-eds. Greenlining was also an outspoken advocate for the Dodd-Frank financial reform bill and the need for strong equity standards. As part of our efforts, we also pushed for the creation of an independent Consumer Financial Protections Bureau.
2012 to 2016: Successfully advocated for SB535 and AB1550 directing $3.5B in climate investments to priority communications – Greenlining was instrumental in passing legislation SB 535 and AB 1550 ultimately generating $10 billion in funding to fight climate change and over $3.5 billion in funding targeted for low-income communities.
2016: Transformative Climate Communities is established – TCC was created by AB 2722, cosponsored by The Greenlining Institute and the California Environmental Justice Alliance. TCC is an innovative model that fosters community-led solutions to climate change that meet the needs of frontline neighborhoods.
2017: The Greenlining Institute launches the 360 Center – Greenlining purchased and transformed our 85-year-old, failed bank building in the heart of downtown Oakland into a flourishing, energy-efficient nonprofit center built by local, Black and Brown-owned businesses as a hub of collaboration and Community activism.
2018: Charge Ahead Coalition secures millions for equitable electric vehicles in California Greenlining led the Charge Ahead Coalition to successfully advocate to designate $236 million for vulnerable communities in large scale electric vehicles, and secured over $550 million for charging infrastructure and EV access programs in disadvantaged and low-income communities through the Volkswagen Diesel settlement.
2020: TEEM Community of Practice extends Greenlining's equitable mobility program across the U.S. – Building on the success of the Charge Ahead coalition efforts, the Greenlining Institute launched the Towards Equitable Electric Mobility Community of Practice to advance racial equity in electric mobility and climate change goals. The cohort includes organizations from Colorado, Illinois, Michigan, North Carolina, and Virginia.
2022: Greenlining's Economic Equity team expands program to focus on closing the Digital Divide – In 2020, Greenlining's Economic Equity team launched a report on closing the digital divide to increase economic opportunity for communities of color. In 2021, we launched the Oakland Town Link program focusing the effort in our own backyard.
2023: The Greenlining Institute launches Greenlining the Block – The new multi-year initiative builds power in community-based organizations that are advancing climate justice neighborhood projects with a $6.75 million commitment of resources to communities across California, Colorado, Illinois, Virginia, North Carolina, and Michigan.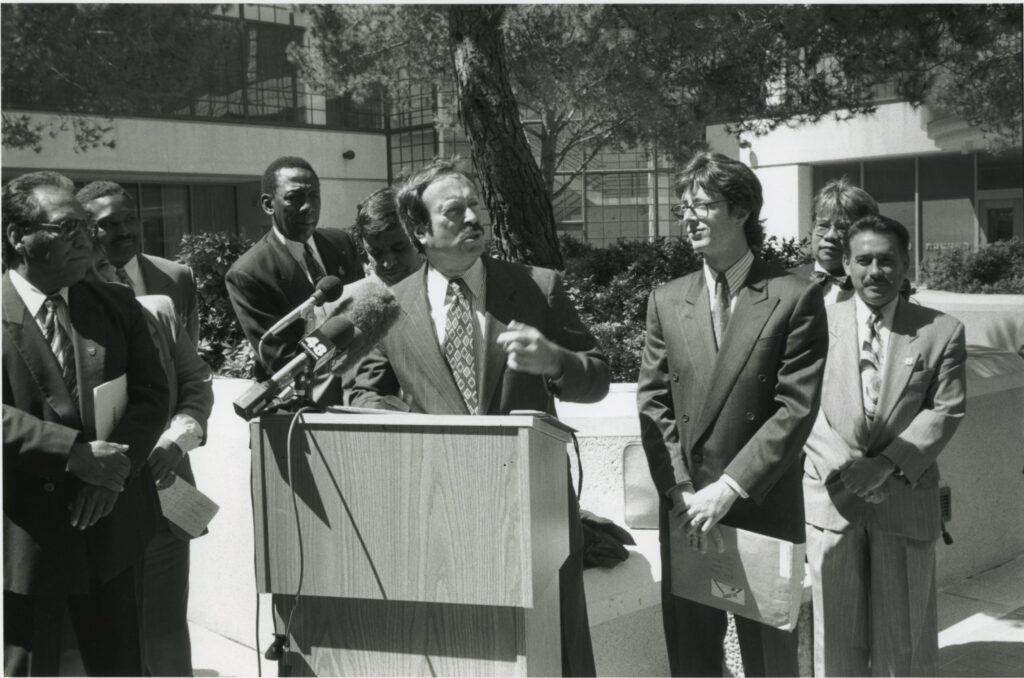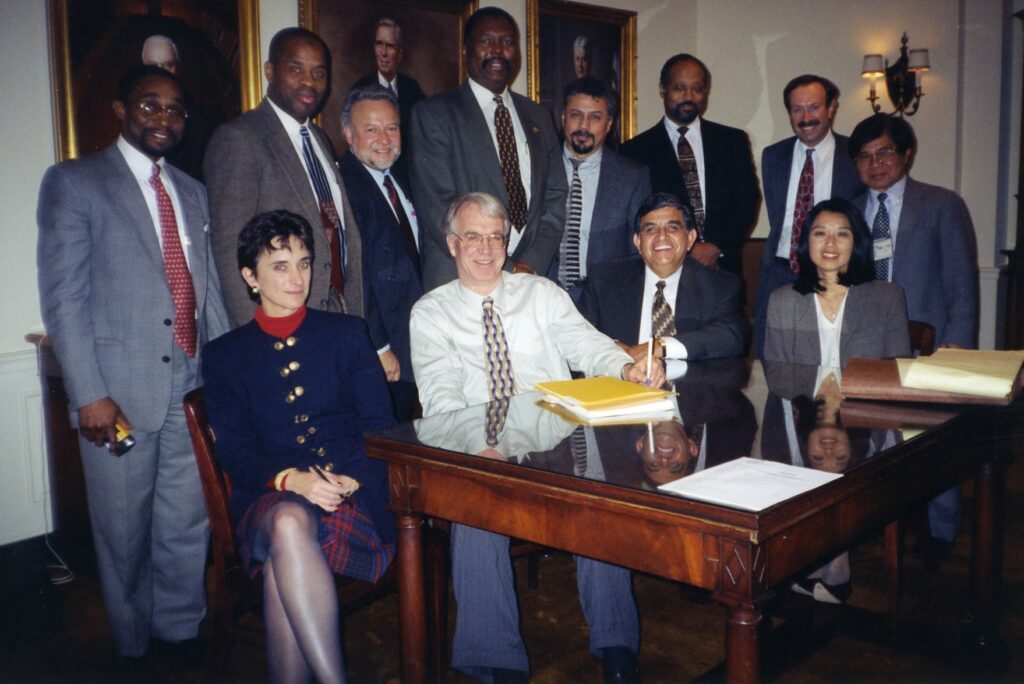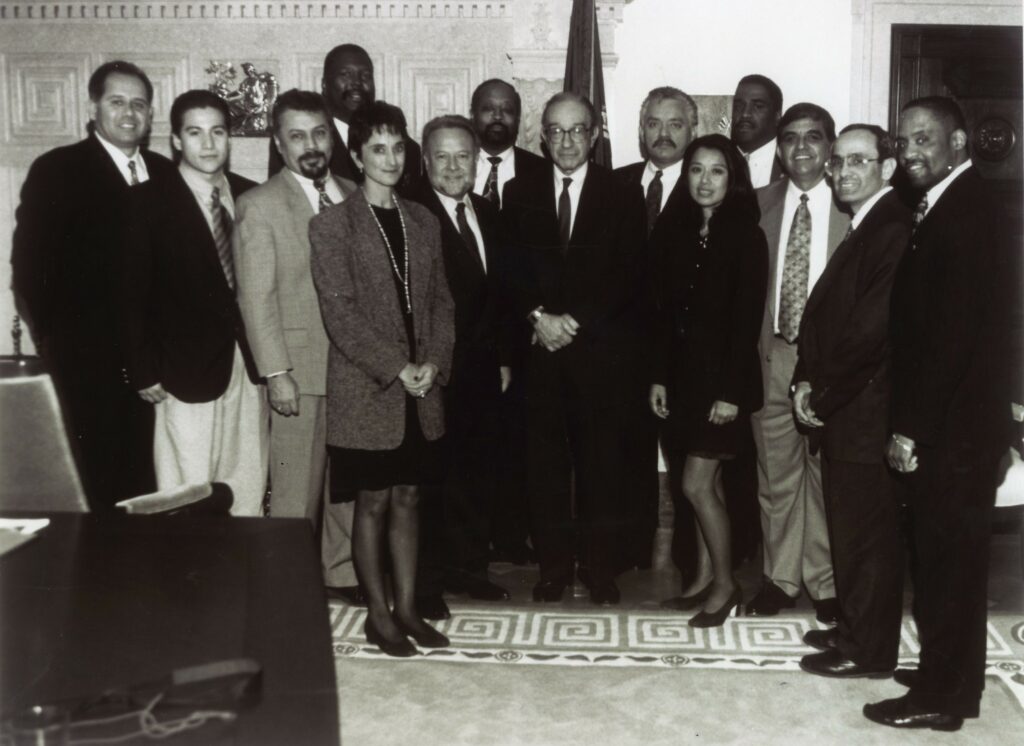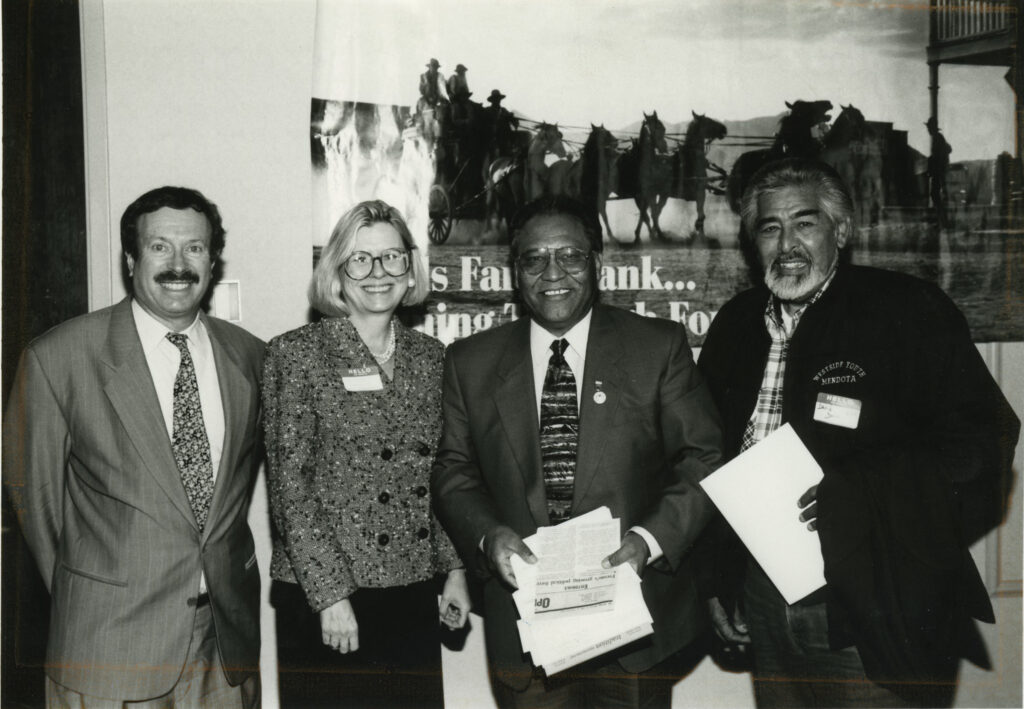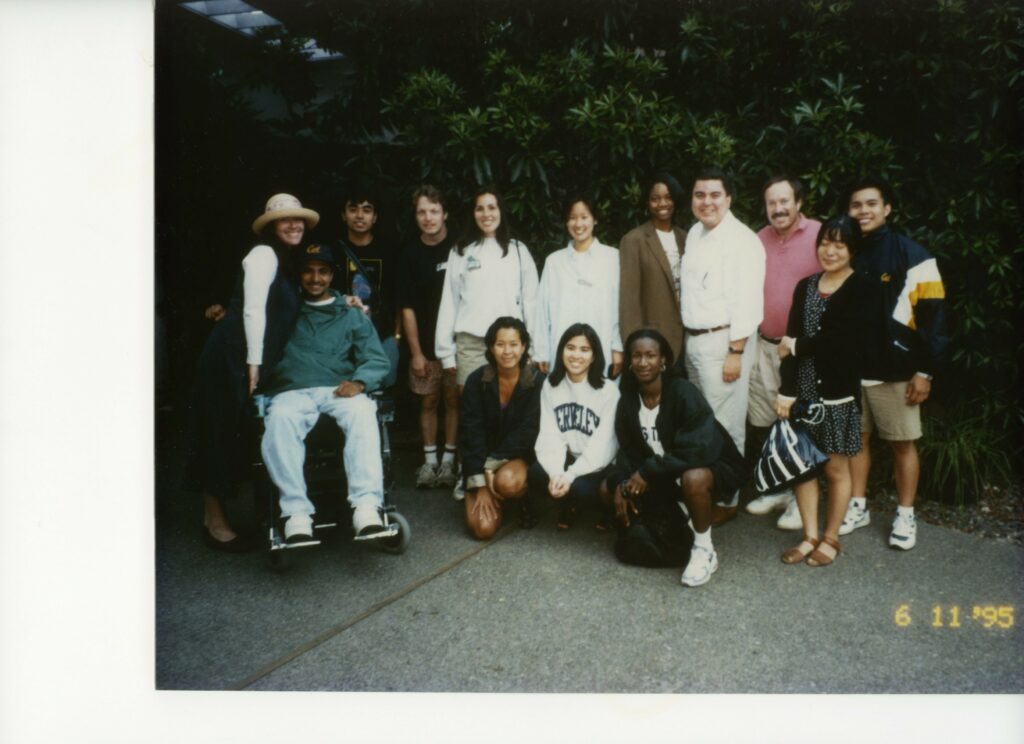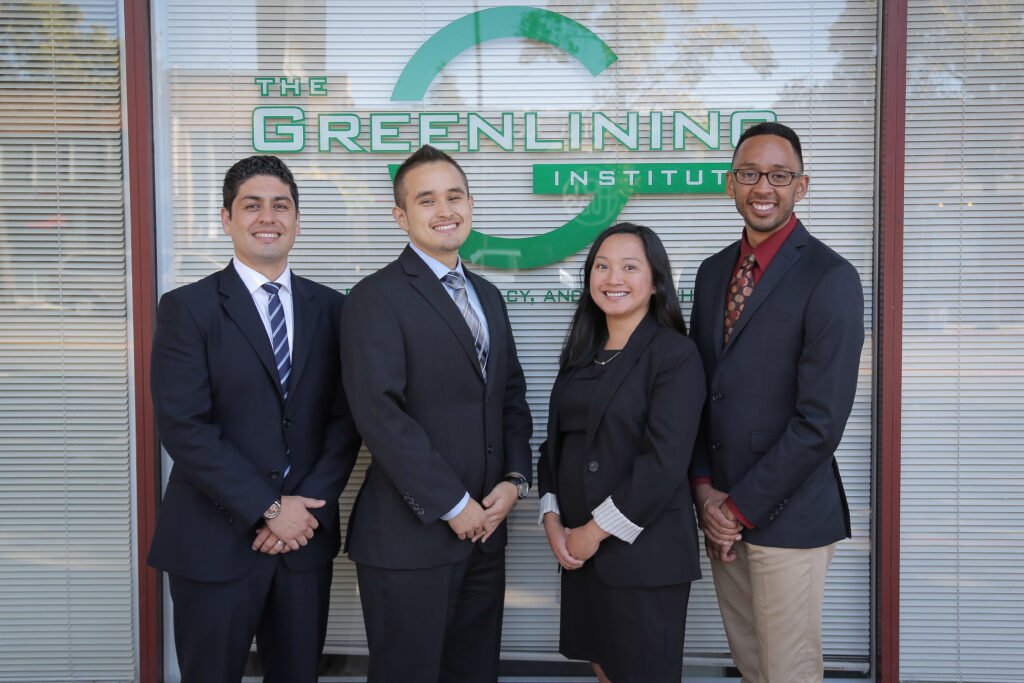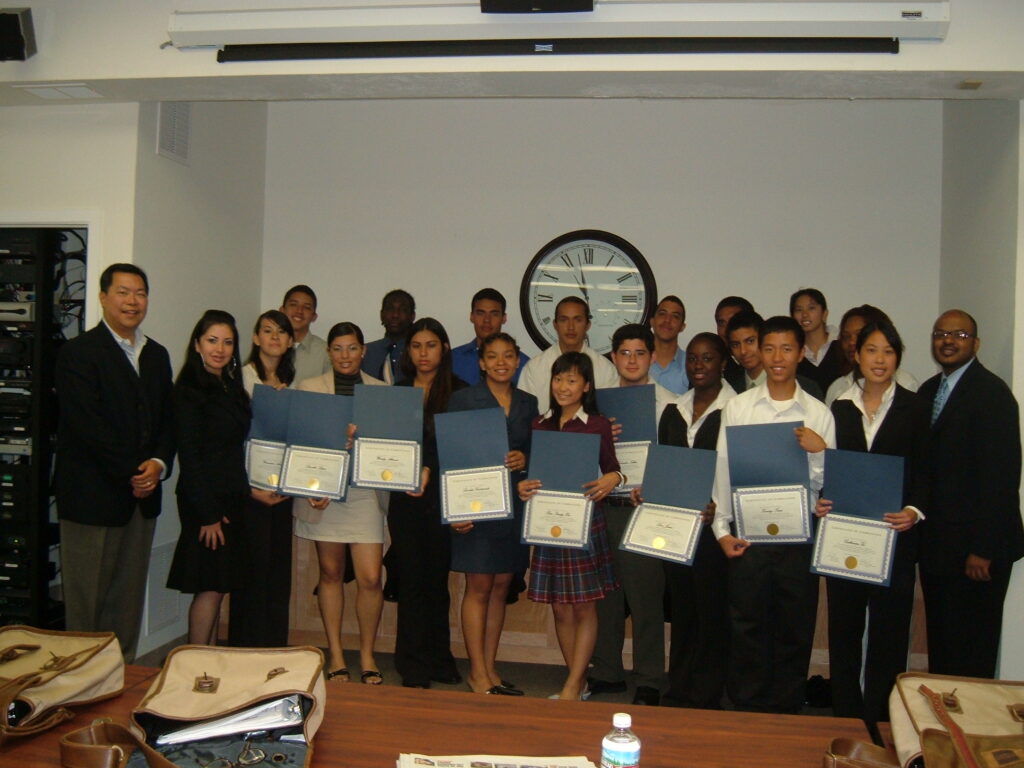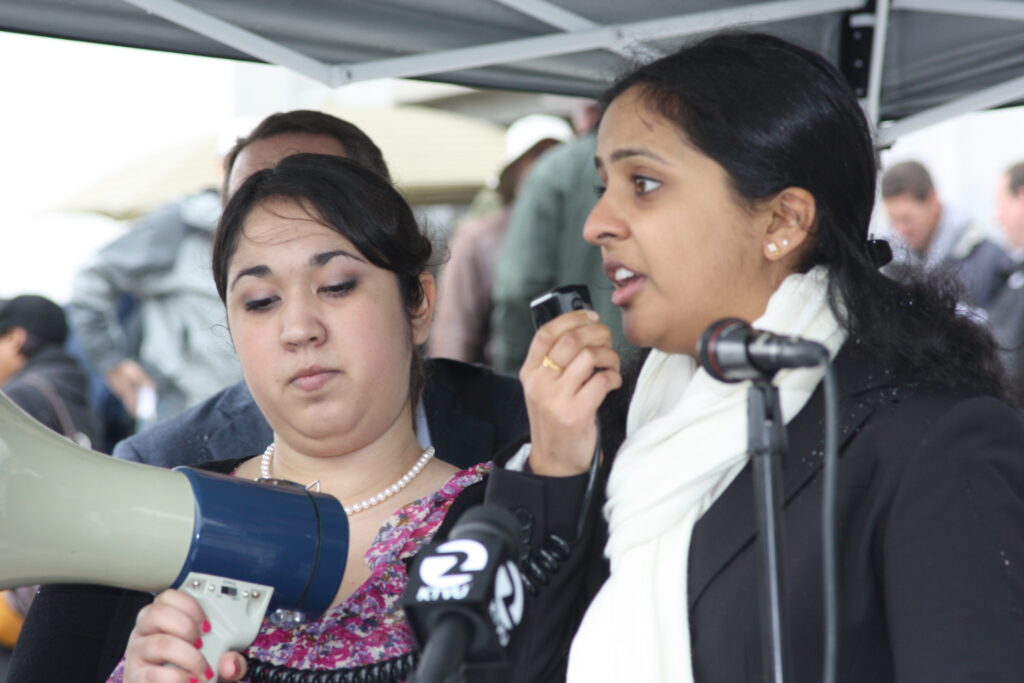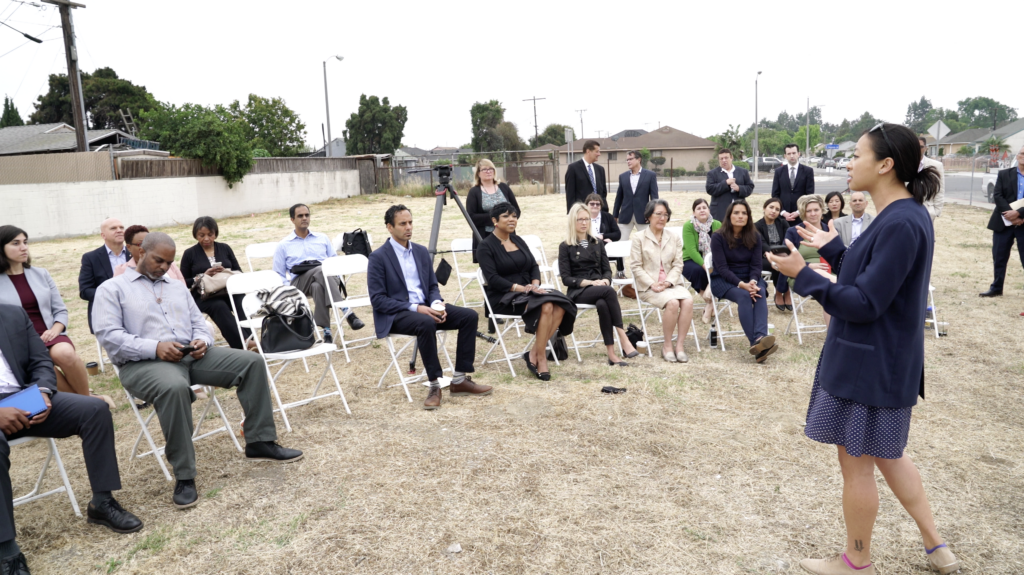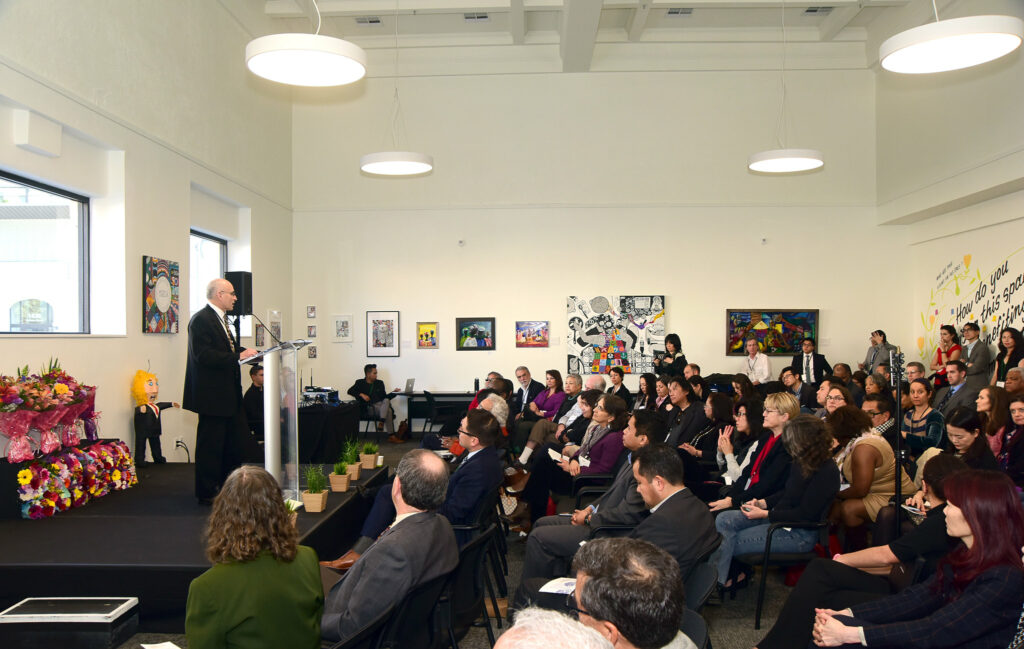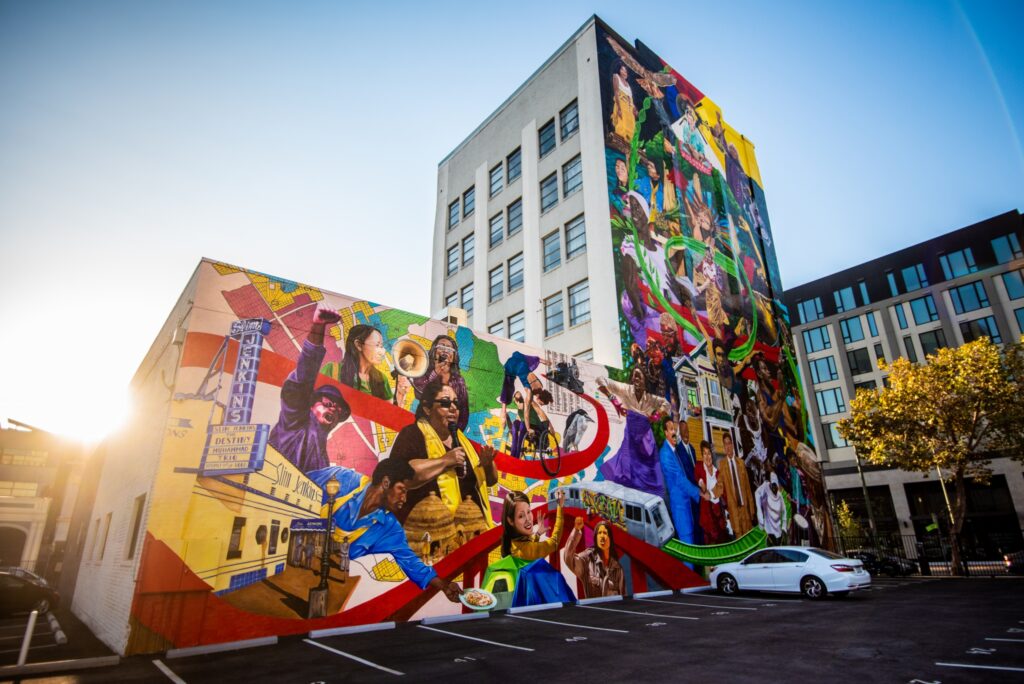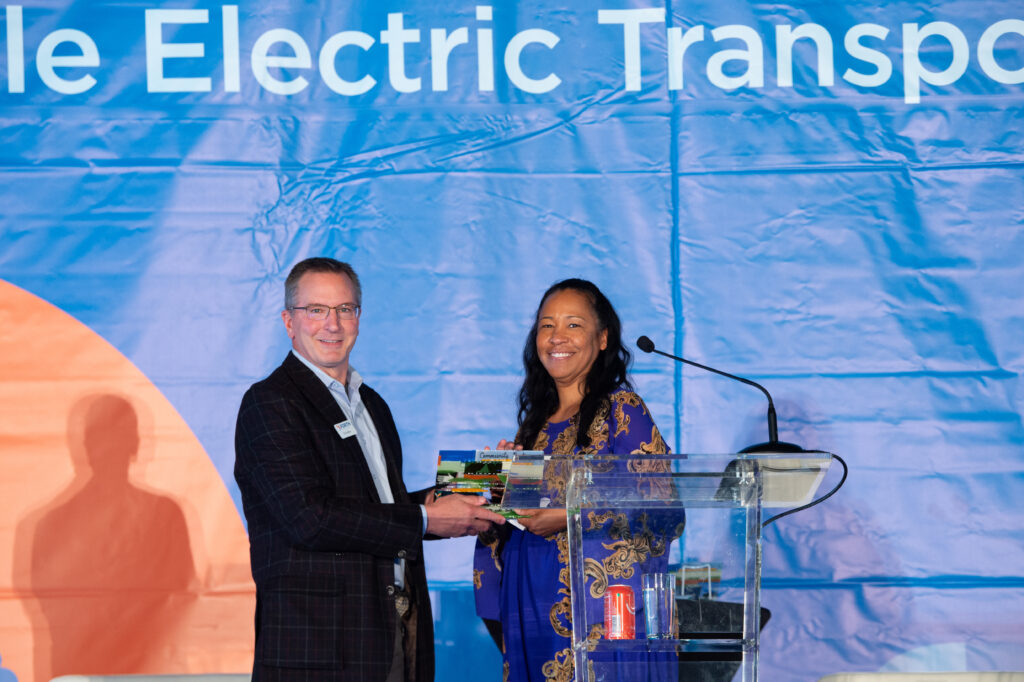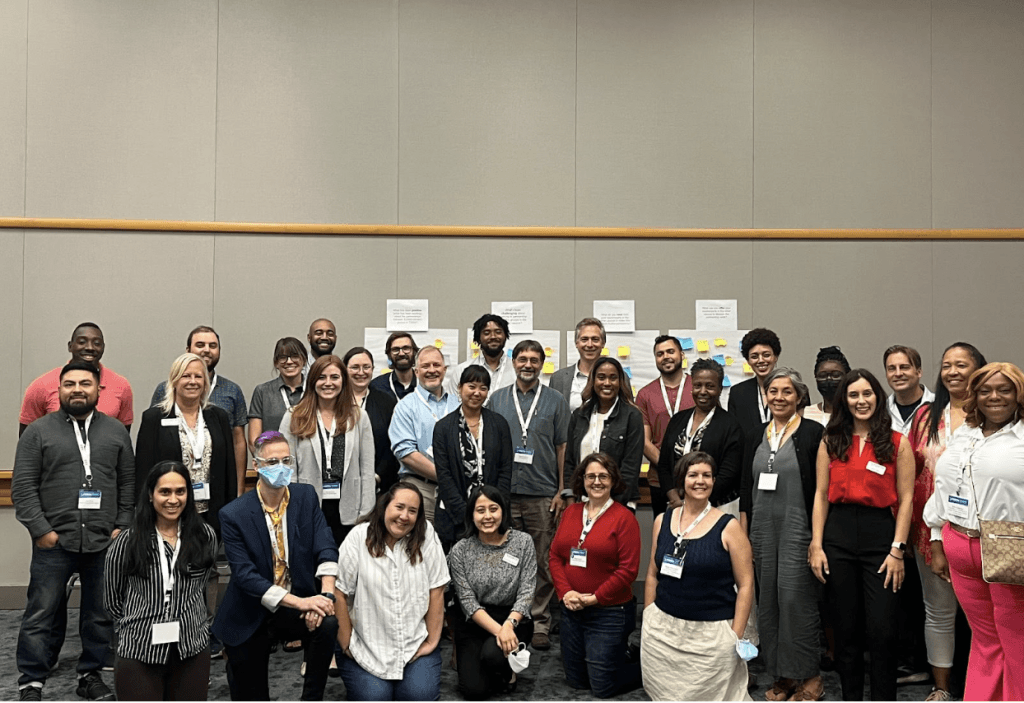 And we're just getting started.
Greenlining for An Abundant Future
There's no doubt that a lot has changed since 1993. But so have we.
We have entered a new era of data-informed redlining harming people of color and low-income communities. Greenlining is on the cutting edge of innovation, anticipating where the challenges and barriers will emerge, while also creating opportunities to bring wealth and prosperity to communities of color. Everyday, we work to build a just economy–a greenlined economy–where communities of color can build wealth and live in healthy places filled with economic opportunity.
Today, we act as an incubator of new policy ideas, a bridge builder between frontline communities, companies, and government, and an advocate to build momentum for transformative change.
Recognizing that America's racial wealth gap was created by deliberate policy choices; it will take deliberate, race-conscious choices to end it. We don't see these interactions as a zero-sum game in which one side must win and the other must lose. Instead, we reach for win-win solutions that expand opportunity for everyone.
We are stepping forward with boldness and precision to address the root causes of widespread racial and economic inequity. By focusing on the most acute needs that must be addressed; we can advance policy solutions that are race-conscious, intersectional, and rooted in community priorities.
Join us for the work ahead in the next 30 years to build on the legacy of our founders and early coalition. Together we can establish enduring and meaningful solutions so that communities of color can thrive and race is truly never a barrier to opportunity.