California's Enduring Energy Debt Crisis: Low-income Communities and Communities of Color Need More Utility Debt Relief, Not Less
Earlier this year, Governor Newsom ended the COVID-19 state of emergency in California. Despite this declaration, millions of Californians are still suffering the dire health, social, and economic consequences of the pandemic. This is especially true for low-income communities and communities of color that already faced higher economic barriers pre-pandemic due to historic disinvestment and redlining.
The financial fallout from the pandemic is evident in the state's ballooning utility debt—unpaid bills or outstanding balances owed to utilities for services such as electricity, gas or water. Statewide energy debt estimates are approaching $3 billion, yet the governor's latest budget proposal takes away $400 million in dedicated funding for utility debt relief. As California families continue to navigate an inequitable recovery from the pandemic, now is not the time to cut utility debt relief.
As California families continue to navigate an inequitable recovery from the pandemic, now is not the time to cut utility debt relief.
COVID-19's Impact on California's Utility Debt
Ordering the entire state to shelter-in-place forced many households out of the office or school and into their homes, effectively decreasing income while increasing home energy bills. COVID-19 also exacerbated the energy insecurity crisis, which already disproportionately impacts low-income communities of color. A pre-pandemic report by The Utility Reform Network (TURN) found that energy insecurity impacted about 1 in 4 California families, with low-income communities of color getting hit the hardest.
Unpaid energy bills can lead to families getting their utilities shut off, unemployment, and even eviction from their home. These families facing energy insecurity deal with increased stress, illness, food insecurity, and fire risks from relying on dangerous heating sources—the consequences of which can be deadly. Utility debt also forces households into difficult tradeoff scenarios—should a family on a fixed-income buy groceries or pay their energy bill? This is a choice that no household should have to make, but the added economic strains of the pandemic pushed many more homes into this impossible situation, particularly in low-income communities and communities of color.
Early Rounds of Utility Debt Relief
Led by grassroots advocacy, the state responded by launching the California Arrearage Payment Program to address the COVID-19 utility debt emergency. The program provided direct financial assistance to utility customers by paying down eligible energy bills.
Energy customers did not have to apply for relief. If an account was eligible, a bill credit was automatically applied. To be eligible in the first round, a customer's unpaid energy bill had to reflect a balance accrued during the program's pandemic period of March 4, 2020 through June 15, 2021. The first round offset nearly $1 billion of statewide debt using federal American Rescue Plan Act funding.
However, total utility debt continued to accrue after June 15, 2021, with COVID-19 still far from over. This means that after the first round of utility debt relief, Californians still faced an estimated $3 billion in utility debt. Grassroots leaders and advocates (including The Greenlining Institute, TURN, and the RePower LA Coalition anchored by LAANE and SCOPE) rang the alarm again for the mounting debt crisis, and the state allocated another $1.2 billion for a second round of utility debt relief. For this round, the state extended the eligibility period to include debt that accrued through December 31, 2021.
Unfortunately, $1.2 billion was not enough when statewide utility debt totals were more than double that amount. This is why advocates were so disappointed to see the governor's 2023-2024 budget propose a $400 million cut in committed debt relief funding.
Utility Debt Continues to Rise
Now, low-income communities and communities of color – those already suffering disproportionately from energy insecurity – are also grappling with extraordinarily high energy bills from this winter's unprecedented prices. Natural gas prices skyrocketed so high that the CPUC opened an investigation. SoCalGas' reported residential debt totals increased by 90% from October 2022 to February 2023.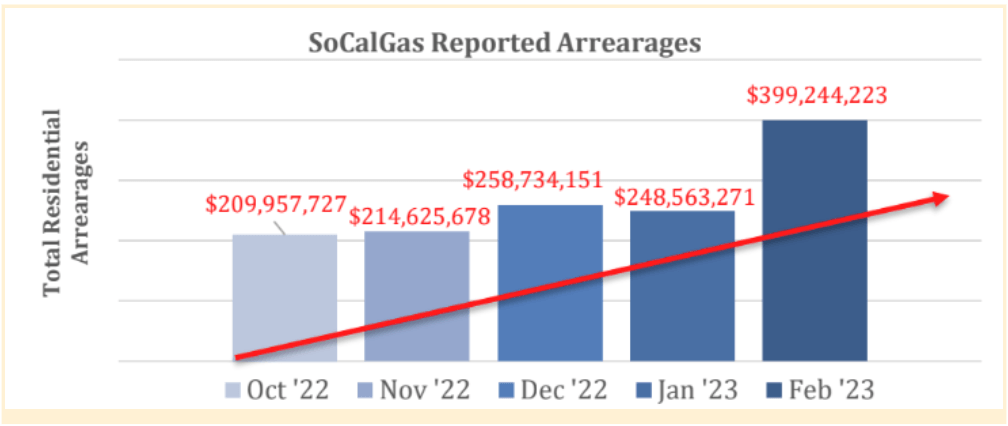 Total utility debt levels are approaching an estimated $3 billion again. We need more utility debt relief, not less.
The California governor's January budget proposed to revert $400 million allocated to utility debt relief into the General Fund due to a budget deficit. These cuts are supported by legislative analyses that do not completely reflect how much utility debt accrued during the pandemic. As a result, the messaging that emerged falsely suggests that all utility debt that accrued during the pandemic has been eliminated by the debt relief program. This is simply not true and it harmfully distracts from the ongoing utility debt emergency.
Only utility debt from before December 31, 2021 was eligible for relief, but the pandemic did not end in 2021. The governor terminated the state of emergency on February 28, 2023. What about the debt accrued in those 14 months?
This means that only $647 million of the $1.2 billion of debt relief allocated by the government could be issued for debt relief, and that roughly $550 million could not be issued due to the program's limited eligibility period. A pandemic debt relief program should cover debt that accrued during the entire pandemic state of emergency. It just makes sense, and it's what the program was created for in the first place.
Taking away dedicated utility debt relief funding when low-income communities of color need it most should not be the answer to the state's budget deficit. There's an easy and equitable remedy available. The Legislature should extend the program's eligibility period, as it did before, and keep the committed funds in the program.
We urge the governor and the Legislature to maintain their budget commitment to utility debt relief and to prioritize low-income customers who need the relief most. Advocates led by TURN, Greenlining, and 16 partner organizations including SCOPE and LAANE are urging the state to pass a budget trailer bill that:
Extends the utility debt relief program's eligibility period to February 28, 2023, the official end of the state of emergency; and
Directs the program administrator to allocate the remaining $550 million to provide pandemic debt relief to low-income households.
The Greenlining Institute envisions a future where communities of color can build wealth, live in healthy places filled with economic opportunity, and are ready to meet the challenges posed by climate change. To make this vision a reality, we must start by eliminating energy debt and opening the door for wealth-building opportunities for low-income communities of color.
If you'd like to learn more about Greenlining's utility debt relief efforts and Energy Equity Theory of Change, please connect with us as we work towards an affordable, equitable, inclusive, clean, and resilient energy system.
Contact: Jordyn Bishop, Senior Legal Counsel for Energy Equity