Celebrating AscenDance: An Oakland Mural Dedication
On Saturday, October 16, The Greenlining Institute, in partnership with the Community Rejuvenation Project, welcomed our friends and supporters to celebrate the completion of the AscenDance mural and the community-driven process that brought the vision to life. 
AscenDance, a vibrant, large-scale mural gracing the west side of The Greenlining Institute's 360 Center on 14th Street, commands attention to Oakland's rich history of fiery activism and steadfast resistance in the face of historical redlining and present-day gentrification.
We were honored to recognize our four founders–Ortensia Lopez, John Gamboa, the late Bob Gnaizda (represented by his partner Claudia Viek), and George Dean–with a plaque that read:
"Our sincere gratitude for your leadership and vision as a Founder of The Greenlining Institute.
In Recognition for your tireless dedication and advocacy to bring equity to all our communities."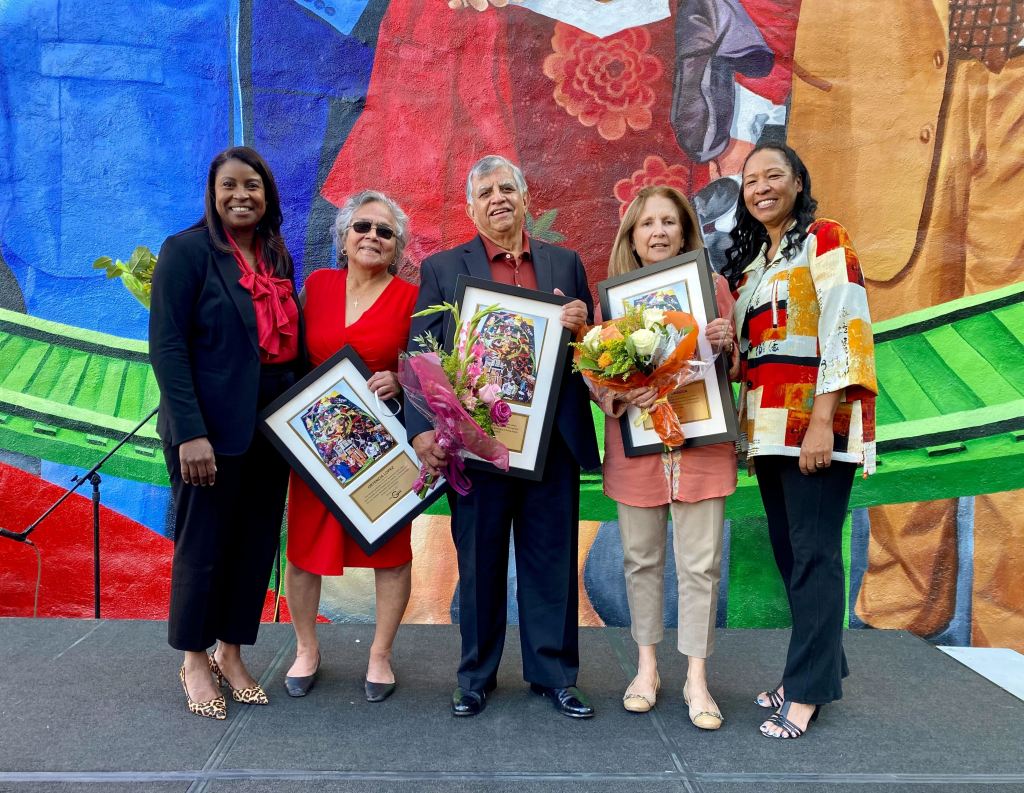 We were also excited to be joined by Oakland Mayor Libby Schaaf, Assemblymember Mia Bonta, Oakland City Council President Nikki Fortunato Bas, Oakland City Councilmember Sheng Thao, former San Francisco Supervisor Jane Kim, and Congresswoman Barbara Lee's office.
The event also featured incredible live performances from Carla Service of Dance-A-Vision Entertainment and Babingui Tambour.
This mural project was an enormous undertaking, led by the Community Rejuvenation Project, and engaging community members and local organizations. We're grateful to our partners who helped bring this collaborative vision to life through this mural — and the spirit of Oakland activism that inspired its inception.
Special thanks to our event sponsors: San Francisco Foundation and Atlas who helped make this celebration happen.