Work to Begin May 18
Contact:
Bruce Mirken, Greenlining Institute Media Relations Director, 415-846-7758 (cell)
Desi Mundo, Community Rejuvenation Project, (510) 269-7840, CRPBayArea@gmail.com
OAKLAND, CALIFORNIA – Public art and advocacy organization Community Rejuvenation Project (CRP) today announced it has completed the final design for a large-scale mural on the exterior wall of The Greenlining Institute's 360 14th St. headquarters. ural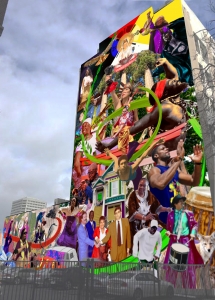 The final design was arrived at by a thorough and detailed process which included multiple community input and design review sessions. In addition to downtown Oakland residents, participants included three key stakeholder groups: the artists and residents of the Malonga Casquelourd Center for the Arts, the Chinese-American community in Oakland Chinatown, and Greenlining staff.
"This is the most complex and intricate project CRP has ever done," said CRP founder and Executive Director Desi Mundo, who will serve as lead artist for the project. "I'm very happy with the final design and extremely thankful for all the community input and feedback we received to get to the point where we are ready to begin painting soon," he added.
"The Greenlining Institute supports this important community mural representing an inspirational project that brings art into the public space. We hope that our community mural will create a tangible sense of place and destination while adding color, vibrancy and character to our Oakland neighborhood," said Greenlining President Debra Gore-Mann. "We look forward to seeing this mural create dialogue around the rich and diverse community that is Oakland while instilling art as a form of translation across space and time."
The eight-story wall, shaped like a reverse "L," presented some logistical challenges in design due to its physical geography, necessitating a completely revamped approach to the work from CRP's prior large-scale mural, "The Universal Language."  Many themes of that mural were carried over into the new design; additional themes and imagery were incorporated from community input. "'The Universal Language' celebrated the cultural resiliency of the Afro-Diasporic and Pan-Asian communities in Oakland," Mundo said. "For this project, it was necessary to include Greenlining's history and its organizational values, as well as address the activism which led directly to this project, and make historical and cultural connections between the diverse array of people and images that will be featured on the wall."
The design centers around the theme of transformative equity. Train tracks and an actual redlining map of Oakland represent the inequitable practices and policies of the past. The red lines change to green lines, symbolizing the concept of Greenlining — equitable investment in diverse communities. Greenlining's early leaders — Bob Gnaizda, George Dean, Ortensia Lopez, and John Gamboa — are all represented, along with San Francisco Supervisor Jane Kim (a Greenlining Leadership Academy alumni), Chinese American activist Lailan Huen, members of the Black Panther Party, Filipino-American organizer Terry Bautista and Native American leaders Richard Oakes and Morning Star Gali.
Another unifying theme is the connection between culture and activism in communities of color which is essential to achieving equity. Such Oakland notables as dancers Ruth Beckford, Theo Williams, Latanya Tigner, Carla Service, Halifu Osumare, and Zak and Naomi Diouf are featured, along with Casquelourd and his son Kiazi Malonga, jazz educator Kahlil Shaheed, members of the AXIS Dance Company,  and Chinese ribbon dancers.
The design also connects the spiritual practices of communities of color, from Ohlone rituals to Buddhist elements to Mayan sacred symbols to African and Afro-Cuban drumming and dancing to traditional Azteca copal smoke. It also includes a personal tribute from Mundo to his late wife, Jennifer Ana Finefeuiaki, representing Tongan Americans and Polynesian culture.
The mural will not only commemorate the efforts of local culture-keepers and activists for posterity, but serve as a visual reminder of the multicultural diversity which is at the heart of Oakland culture.  Production will begin on May 18, is expected to last about eight weeks, and will follow strict safety protocols during this time of elevated health concerns. Regular updates on its progress will be posted on www.crpbayarea.org.
At a time when the COVID-19 crisis is adding new strains to populations already under threat from gentrification and displacement, CRP and Greenlining hope the mural will serve as a symbol of hope in the present moment, and for decades to come.
This project is supported by the California Arts Council and Creative Work Fund.
To view a mock-up and detailed description of the mural images, click here.
To learn more about The Greenlining Institute, visit www.greenlining.org.
###
THE GREENLINING INSTITUTE
A Multi-Ethnic Public Policy, Research and Advocacy Institute
www.greenlining.org
@Greenlining