Not-for-profit hospitals are required to invest in health resources and programs, called community benefit, in exchange for millions of dollars in tax breaks. Because health is determined by factors outside a hospital or clinic's walls, community benefit represents a pivotal opportunity to address the root cause of health disparities: Research consistently shows that a person's zip code, not their genetic code, is the strongest predictor of health. However, not-for-profit hospitals still fail to maximize their community benefit programs to meet the needs of low-income and diverse communities.
California must improve community benefit standards and regulations in order to ensure that hospitals invest in services and resources that improve the most pressing concerns of marginalized communities across the state. The Affordable Care Act provided a clear opportunity to utilize community benefits to improve health and economic equity through strategic investments in affordable housing, quality jobs, environmental improvements, and other vital resources. Greenlining is a statewide leader in researching and advocating for policies that would ensure that community benefits respond to the needs of underserved communities of color.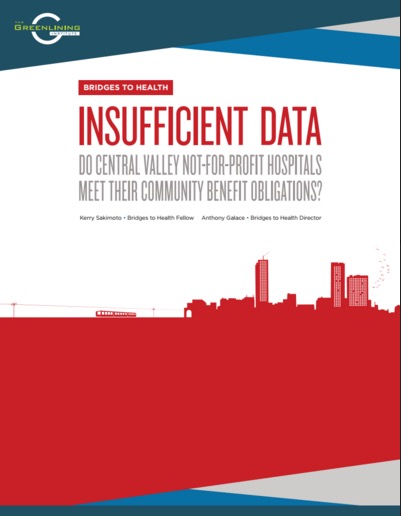 The Health Equity team has published three reports that analyze the community benefit spending of hospitals across the state:
Not-for-profit hospitals must align their community benefit investments with what low-income and diverse communities need to stay healthy. Investing in community health and prevention programs will save hospitals money and ensure that patients are less likely to be hospitalized or seek emergency care. As not-for-profit hospitals invest more community benefit dollars outside of the institution's walls, communities stay healthier and come to see the value and leadership of their local hospital in keeping them healthy.