Our Vision
The Health Equity program works to improve the health of communities of color by advocating for greater resources and services that impact health beyond just access to health care services. By improving the quality of housing, environmental concerns, job training, and health education, communities of color can benefit from economic opportunities and improved health outcomes.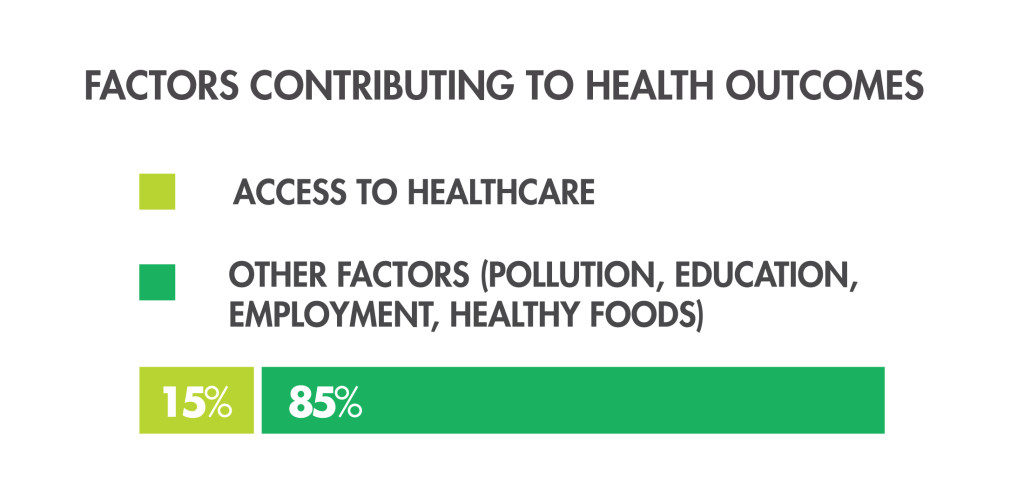 The Challenge
In order for people of color to be healthy, we must improve the conditions, called  social determinants of health, that impact our lives and our ability to stay healthy. However, people of color are far more likely to live in unhealthy communities, experience high rates of violence, lack access to health care, and suffer from chronic health conditions. Redlining and discrimination continue to prevent people of color from accessing the resources they need to achieve good health. Too often, existing public policies and programs do not adequately address the specific needs of communities of color, and leaders fail to engage with those communities. Communities can't achieve good health without affordable housing, clean air and water, sustainable jobs, quality education, culturally competent health care and other vital services.
Our Response
Greenlining advocates for policies and programs that will improve health outcomes for communities of color and other disadvantaged populations. We  work to ensure that voices of communities of color are represented in every critical decision affecting the health and wellness of underserved communities. Our current initiatives include:
Improving Access to Health Care: California's implementation of the Affordable Care Act has been a model for the nation. Approximately six million Californians have gained health coverage thanks to the ACA through Covered California and Medi-Cal expansion. Nevertheless, gaps remain in ensuring access to health care for millions—including for undocumented Californians. Greenlining strongly supports the expansion of coverage to all Californians regardless of race, class, gender, age, sexual orientation, and immigration status. If you are interested in learning more about the types of coverage available to Californians, visit Covered California (open enrollment begins November 1, 2018 and ends December 15, 2018), and Medi-Cal (if you are eligible for Medi-Cal, you can enroll anytime throughout the year).
Leveraging Not-for-Profit Hospital Community Benefits: Not-for-profit hospitals are required to invest in vital community health resources, called community benefit, in exchange for large tax breaks. However, they fall woefully short, failing to make needed investments in community programs that improve health conditions for low-income and diverse communities. Greenlining is a statewide leader in advocating for reforms to community benefits,  pressuring hospitals to improve the social determinants of health for the most vulnerable communities.
Improving Outcomes for Boys and Men of Color: Boys and men of color represent 70 percent of California's male population under age 24, but are disproportionately impacted by incarceration, unemployment, and poor health. California must improve the health and economic opportunities for BMoC by providing comprehensive health services, education, job training, and other crucial resources. Greenlining works closely with the Alliance for Boys and Men of Color to improve health and workforce opportunities, and we have sponsored legislation to ensure that BMoC can fully participate in our democracy.
Advancing Health Sector Diversity: People get better care—and are more likely to seek care —if they can see health professionals who look and sound like them, but lack of diversity continues to be a glaring shortcoming of the health care industry. Public and private health institutions must reflect California's diversity through their workforce, investments, and partnerships. Greenlining strongly advocates for health sector diversity and culturally competent care, and we constantly pressure health care companies and statewide government agencies to adopt a higher standard of diversity and inclusion.