WHY WE'RE INVOLVED
Exhaust from cars and trucks pollutes our air and contributes to climate change. Dirty air from vehicles makes tens of thousands of Californians sick and costs us billions in avoidable health costs, with the worst effects often felt in low-income and working class communities of color. Oil dependence means Californians have no place to turn when gas prices rise – which hurts low income and working families most. Electric cars and trucks can play a big part in solving these problems -- if the people who need them can access them
California boosts the market for electric cars, trucks, and buses by providing incentives, grants, carsharing, vanpool programs, and subsidizing the deployment of charging stations and upgrades to the electric grid. All our communities – not just the wealthy – must benefit from the growth in electric vehicles.
WORKING TO BRING CLEAN CARS TO UNDERSERVED COMMUNITIES
Greenlining was among the first to shine a spotlight on the obstacles to widespread adoption of electric cars and trucks in communities of color in our 2011 report, "Electric Vehicles: Who's Left Stranded?" And we were part of a historic settlement between the California Public Utilities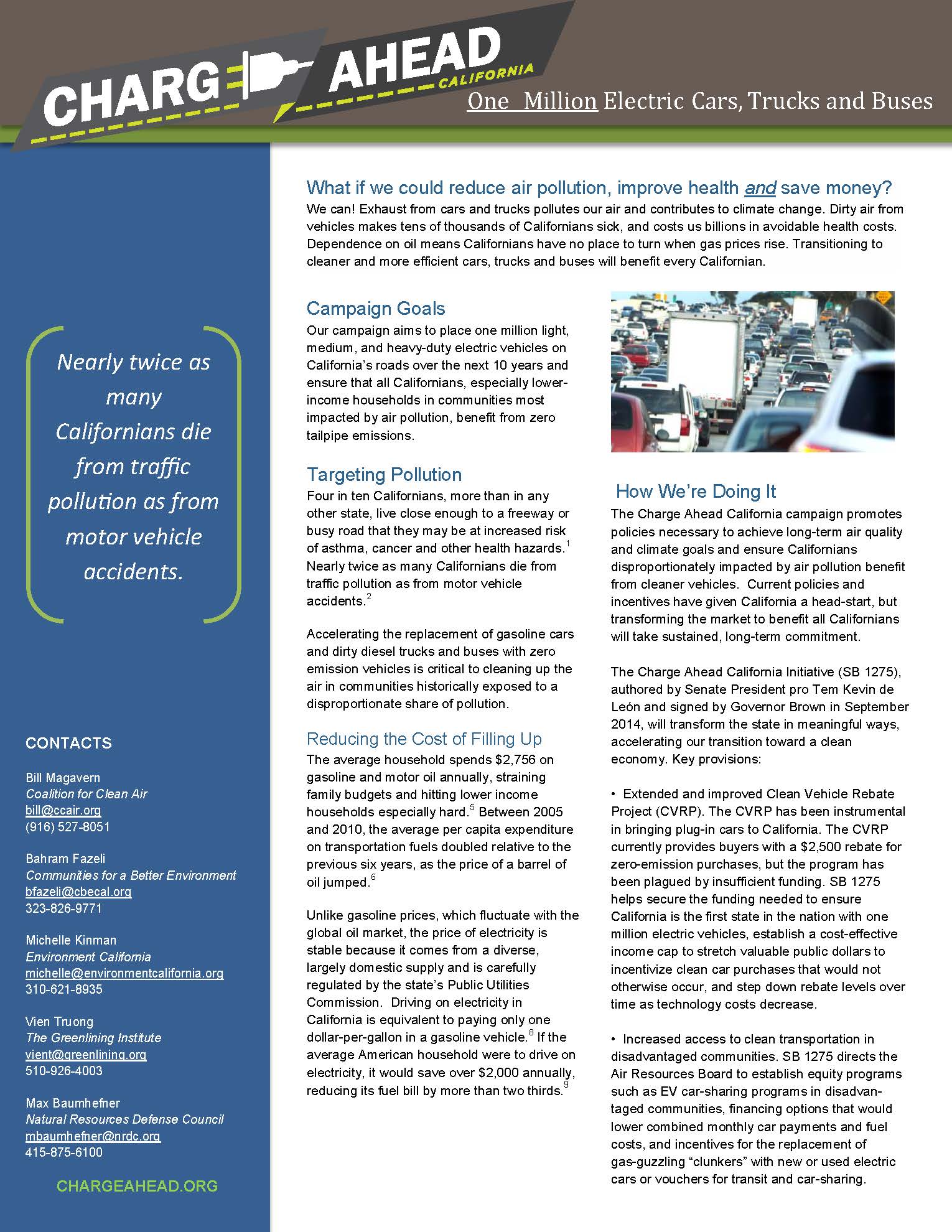 Commission (CPUC) and NRG Energy Inc., intended to make these clean vehicles more accessible in low-income communities.
But that wasn't nearly enough, so in 2014 Greenlining worked with the Coalition for Clean Air, Communities for a Better Environment, Environment California, and the Natural Resources Defense Council to pass Senate Bill 1275, the Charge Ahead California Initiative, introduced by Sen. Kevin de León (D – Los Angeles). As part of the Charge Ahead California campaign, we are now shaping implementation of this law, which aims to bring one million electric cars, trucks and buses to California by 2023. SB 1275 is creating programs to increase mobility and bring access to electric vehicle technology to low-income communities of color hit hardest by pollution and poverty and who often lack good transportation options.
How are we doing this?
EV Equity Programs
SB 1275 directs the California Air Resources Board (CARB) to create equity programs that increase access to and use of electric vehicles among low- and moderate-income individuals.
CARB now funds the following projects:
We continuously work with our Charge Ahead California campaign partners to secure state funding for these EV equity programs, promote their benefits and successes, and ensure their design and implementation eliminates barriers and maximizes EV access.  
EV Charging Infrastructure
Electric car and truck users urgently need convenient access to charging, and this continues to be a big barrier for working families. That's why in 2015 we became involved in three utility applications at the California Public Utilities Commission seeking approval for deployment of over 90,000 charging ports throughout California. We successfully negotiated minimum charging station deployments in disadvantaged neighborhoods in settlements with San Diego Gas and Electric (SDG&E), Southern California Edison (SCE), and Pacific Gas and Electric (PG&E).
In 2016, the CPUC approved scaled-down versions of these pilots. Our advocacy helped secure a minimum of 1,625 electric vehicle charging stations in disadvantaged and low-income communities throughout California—the single largest deployment of its kind. We participate in advisory committees for all three pilot programs and ensure that design and implementation meet the needs of low-income and disadvantaged communities.
We continue to advocate for equitable charging station investments at the CPUC, where utilities proposed $1 billion in transportation electrification projects in January of 2017; the California Energy Commission, which recently awarded a grant to implement up to $200 million in EV charging station programs through 2022; 
Resources