Entrepreneurship forms a key element of the American Dream. For millions of Americans, starting and owning a business has been the route to success, security, and providing for one's community. This is particularly true for people of color, who face disparate unemployment rates and obstacles breaking through the "good old boys network" to secure good, stable jobs.
The Great Recession of 2007 clearly demonstrated how communities of color utilize entrepreneurship to remain resilient in times of crisis. From 2007-2012, the number of  businesses owned by people of color increased by 38 percent, while non-minority businesses decreased by 6 percent.
When minority-owned businesses thrive, communities of color thrive. Diverse businesses, which are more likely to hire locally and employ people with similar backgrounds, work as powerful forces for economic development. Communities of color will become the majority by 2044; how minority-owned businesses fair will determine the sustainability and strength of the nation.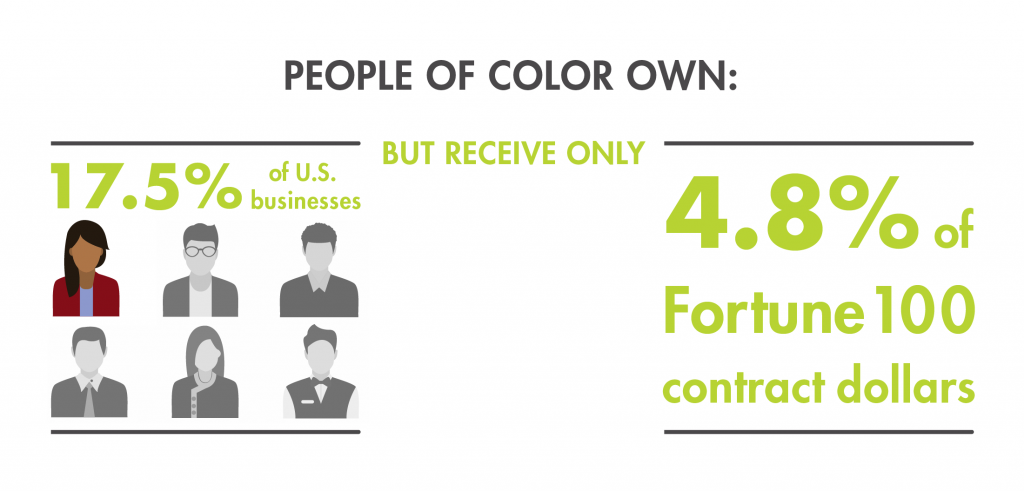 Diverse businesses play a critical role in closing the racial wealth gap and shaping the larger economy. Lingering effects of redlining still threaten the potential of these businesses in two ways: access to capital and access to contracts, known as supplier diversity.
Greenlining tackles these obstacles throughout our issue areas.
Capital
Capital forms the lifeblood of all businesses, allowing for payroll, investment, and overall sustainability. Minority-owned businesses face a harder time accessing capital (loan denial rates for firms owned by people of color are three times higher than non-minority firms) and accessing good capital, as they typically pay higher interest rates and receive lower loan and equity investments.
Economic Equity: Greenlining's Economic Equity team advocates for financial institutions to increase safe and affordable lending directly to diverse small businesses, by providing more relevant small business products, services, and outreach to communities of color. We also advocate for financial institutions to partner and support mission-based lenders and technical assistance providers that provide essential products and services to minority-owned businesses that traditional financial institution often cannot provide.In addition, we advocate for government agencies, particularly the Small Business Administration and Consumer Financial Protection Bureau, to improve small business lending products and practices, and to create regulations around small business data collection by race and ethnicity.
Environmental Equity: Greenlining plays an active role in opening up the emerging clean energy economy to diverse small businesses. We sponsored the Empower California Act, AB 865, which was enacted in 2015 to both promote diverse contracting within the clean energy sector and require the California Energy Commission to create guidelines and an outreach plan to get more diverse businesses involved in the projects it funds. We also work closely with the state of California's CalSEED program, designed to promote innovation in the clean energy economy, to promote opportunities for diverse entrepreneurs in this growing and important sector.
CONTRACTS AND SUPPLIER DIVERSITY
Contracts determine the success of companies. They bring in revenue, establish a track record of success, and allow businesses to grow.
Corporations and government agencies increasingly embrace supplier diversity, the proactive strategy of contracting with businesses owned by historically marginalized communities.
However, diverse businesses still receive an appalling lack of contracts. In 2014, Fortune 100 companies spent just 4.8 percent of total contract dollars with minority-owned businesses, with many government agencies performing similarly.
Economic Equity: We monitor progress on supplier diversity made by both California's largest banks and their federal regulators. Most of this work takes place with the Offices of Minority and Women Inclusion that the Dodd-Frank financial reform law established in 20 federal financial regulatory agencies.The OMWIs are charged both with diversifying their agencies and working to promote diversity among all 70,000 regulated financial entities. We work with consumer watchdogs, leadership within Congress, and the OMWIs themselves to ensure the agencies fulfill their duties and are held accountable.
Telecommunications and Energy: Adopted as a result of legislation passed in 1988, General Order 156 requires California's regulated energy and telecommunications companies to annually report their percentages of contracts given to businesses owned by women, disabled veterans and people of color ("diverse business enterprises"). In 2015, the California Public Utilities Commission updated the program to include LGBT-owned businesses. We periodically analyze the supplier diversity data reported by the companies and report our findings in our Utility Supplier Diversity Report Card. The only analysis of its kind in California, this report card grades the firms on their performance and breaks down spending by diverse business category for each company. This simple combination of transparency and reporting caused total contract dollars awarded to minority and women-owned business enterprises to balloon from $2.6 million in 1986 to $8.29 billion in 2014 — without any set-asides or mandates.
Insurance: In 2012 Greenlining sponsored AB 53, seeking to replicate the success of GO 156 in the insurance industry. Companies that collect over $100 million in premiums must disclose data on procurement within the state. Like its predecessor, AB 53 uses transparency to drive investment and has increased investment in four short years. In 2011, the California Department of Insurance issued a voluntary data call, yielding just a 29 percent response rate. Over 60 percent of companies responded to the Department's first official data call in 2014. During this three-year period, contracts with diverse-owned businesses rose from $930 million to $1.5 billion.California's AB 53 galvanized insurance commissioners from Minnesota, Oregon, Washington, and the District of Columbia to adopt similar efforts in 2016. These five states will work together to disseminate the national Multistate Insurance Diversity Survey to promote supplier and governing board diversity in over 600 companies, representing 75 percent of the nation's $1.78 trillion insurance industry. Greenlining sits on the California Department of Insurance's Diversity Task force and regularly reports and analyzes on companies' performance.