A Center for Collaboration & Revitalization
The Greenlining Institute sought to create a model of equitable growth and anti-displacement by reclaiming, revitalizing, and transforming an 85-year-old, failed bank building at 360 14th Street in the heart of downtown Oakland. We turned a semi-abandoned structure into a flourishing, energy-efficient nonprofit center built with local, minority-owned businesses and made it a hub for collaboration and community activism. 
In addition to our own offices, the 360 Center provides long-term, affordable office space to several other local nonprofits. Our meeting rooms host a variety of conferences, forums, community meetings and art exhibitions. We are proud to make these spaces available to community groups at affordable rates.
Facility Rental and Rates 
We offer flexible, configurable rooms come that come fully equipped high speed Internet access and A/V equipment, LCD monitors and  whiteboards - everything you'll need for a successful event. Generally, we can accommodate:
Meetings and Trainings

Small sized conferences and panel discussions

Staff retreats and board meetings
Our conference rooms are available for rent Monday through Friday from 9:00 a.m. to 5:00 p.m. In order to best suit your needs, rates include all onsite A/V equipment and technical support. Payment is due by credit card, check or cash in order to confirm the reservation.
Black Panther Room
Capacity: Up to 35
Size: 450 sq/ft  Dimensions: 14' by 32'
Classroom:  Seats 16, 8 tables
Large Conference Table:  Seats 20, 8 tables
Theatre:   Seats 35, no tables
Half Day: $175.00
Full Day: $300.00
Resistance Hall
Capacity: Up to 75
Size: 1475 sq/ft  Dimensions: 32' by 46'
Theatre with Panel:  Seats 75, no tables
Classroom: Seats 48, 24 tables
Halo:  Seats 28, 14 tables
Wall facing U-Shape:  Seats 26, 13 Tables
Screen facing U-Shape: Seats 22, 11 Tables
Pods:  Seats 50, 15 Tables
Half Day: $300.00
Full Day: $500.00
Entire Ground Floor
(Includes the Black Panther room, Resistance Hall, and Open Reception Area)
Capacity: 110
Half Day: $500.00
Full Day: $800.00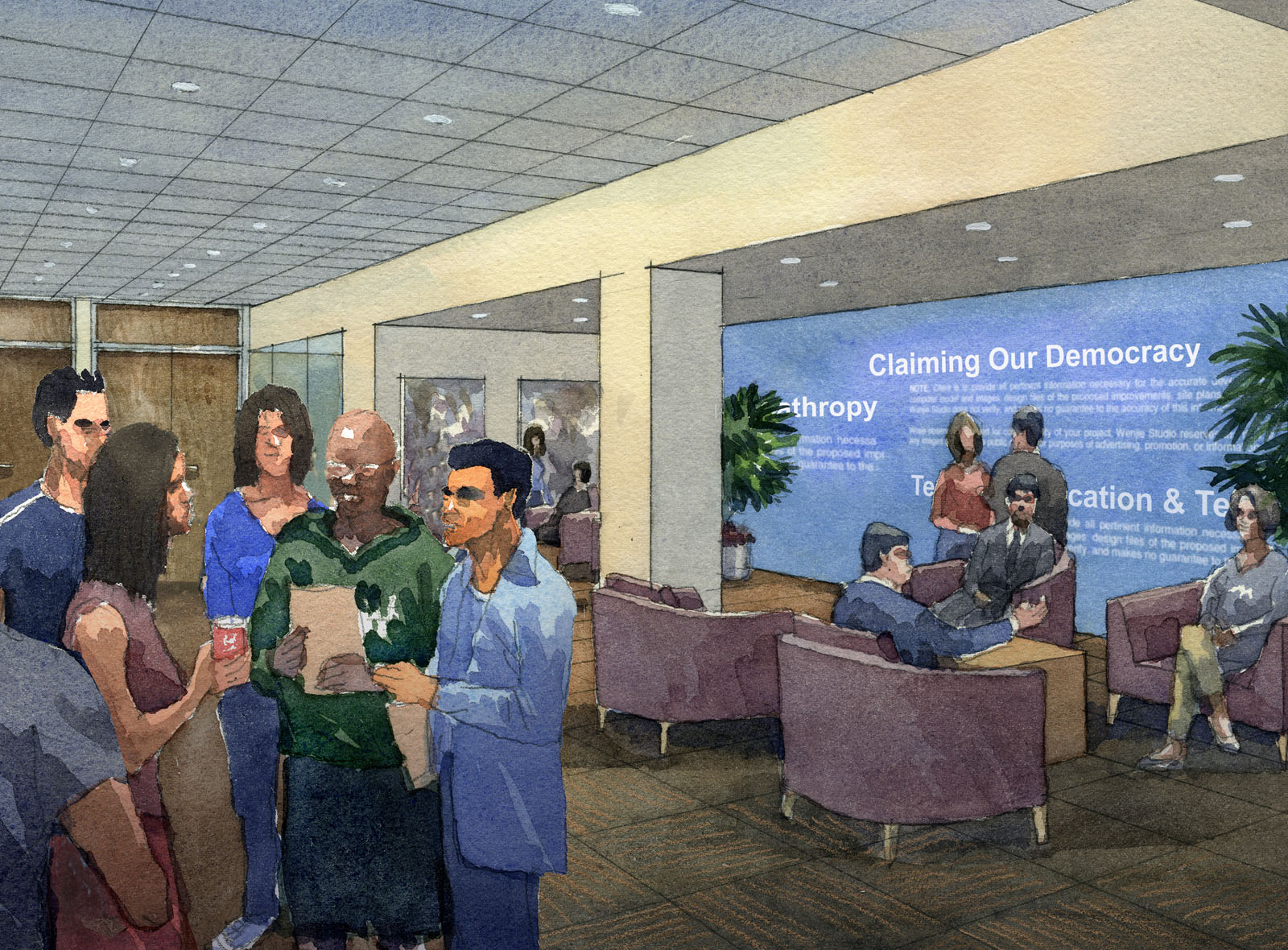 Fee waivers and scholarships information
We provide full and partial scholarships to mission aligned organizations with smaller budgets. Please note that after hour and weekend events are not eligible for scholarship or a fee waiver. After hour and weekend events can be only booked for the entire ground floor rate regardless of room requested
Facility Rental Inquiries
For more detailed information on catering, audio, and security services, please review our Facilities Rental Information Guide.
Still have questions?
Please contact Ryan Burbridge, Greenlining's Facilities Assistant at facilities@greenlining.org for more information.
We sincerely thank the funders who made the Greenlining 360 Center possible: Wells Fargo Corporation, The William and Flora Hewlett Foundation, Pacific Gas & Electric, First Republic Bank, the San Francisco Foundation and Beneficial State Bank, along with a $10 million New Markets Tax Credit allocation made possible by New Markets Community Capital, a TELACU company, and Capital One.