Why Aren't Women of Color Buying Homes in California?
The Massive Women of Color Homeownership Gap
Every year The Greenlining Institute analyzes home mortgage lending by the largest lenders in California, and every year we see the same troubling result: Black, Latino and Indigenous Californians continue to lag far behind White borrowers in their access to mortgage loans for home purchases. And who lags the furthest behind? Women of color.
Women of color, 30% of the state's population, receive just 8% of home purchase loans. In a state as progressive as California, that's downright shameful.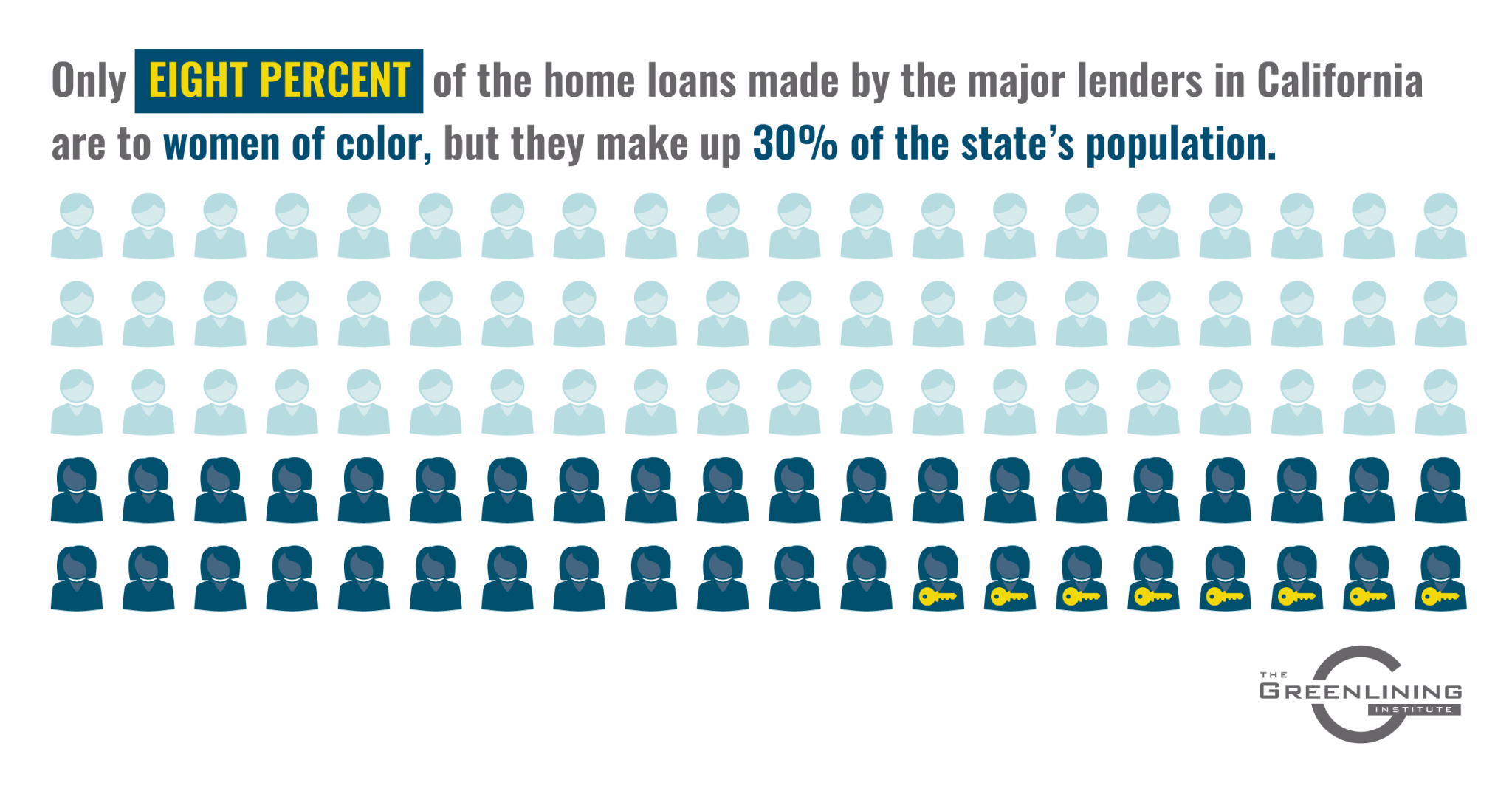 Women of color and gender-nonconforming people have historically been excluded from wealth-building and financial well-being due to harmful and regressive policies. Research from Ingrid Morales, The Greenlining Institute's Economic Equity Research Consultant explores the barriers to wealth building experienced by women of color and shows that this population continues to face higher rates of poverty, disproportionately hold low-wage jobs with little access to paid time-off and sick pay, and lack access to asset-building through entrepreneurship and homeownership.
It is often the case that some women of color have to work two to three jobs to make rent in California, pay for childcare, put food on their table, pay their rising utility bills, pay for transportation and so on- sometimes while having to work in towns miles away from their other jobs or their homes. I've seen first-hand the trek my mother and her mother, my grandma, had to take to get to these affluent neighborhoods in the westside of Los Angeles from the tip of northeast neighborhoods for work. Oftentimes taking two bus routes, a train, and still having to walk another half-mile up a hill just to be on time.
California depends on the labor of women of color to grow the state economy, but these are women who are often left behind in generational wealth accumulation, like home ownership, because they are seen as disposable rather than indispensable.
A growing homeownership gap
Homeownership remains the primary way most American families build wealth, and, thanks to a legacy of discrimination including redlining, communities of color have long lagged behind their White counterparts in homeownership rates. That's helped produce a yawning racial wealth gap that isn't getting better. In fact, with COVID-19, it's getting worse.
Officially illegal for decades, redlining never completely went away. Multiple investigations have found that discriminatory practices continue in the mortgage industry, and that may help explain what we found in our latest analysis of California mortgages:
3.19% of home purchase loans went to Black borrowers, who are 5.5% of California's population;
21.7% to Latinx borrowers, who represent nearly 40% of our population;
0.28% to Pacific Islander borrowers, who represent 0.4% of our population;
15.5% to Asian borrowers, who represent 14.5% of our population, and;
0.17% to Native borrowers, who represent 0.4% of California's population.
Today, far too many people are locked out of purchasing a home by unfair and racist lending practices. Communities of color must be able to purchase homes if we want to close the racial wealth gap. That starts with fair home lending.
Women of color are more likely to get a home loan from a nonbank lender
Another trend plays a major role: the rise of nonbank or fintech mortgage lenders. Eight of California's top 15 home purchase lenders are these largely unregulated nonbanks – institutions that do not offer traditional banking services like savings and checking accounts, and which mostly operate online.
When women of color do access home loans, it's more likely that they're getting the loan from a nonbank lender, like Rocket Mortgage or loanDepot.com, than from a traditional bank. This is concerning because nonbank lenders are far less regulated than traditional banks, with less oversight and fewer reporting requirements. And nonbank lenders tend to be more effective than traditional banks at reaching communities of color, low-income and immigrant communities, all of whom are highly vulnerable to predatory lending.
Significantly, these nonbank lenders are not subject to the federal Community Reinvestment Act, a landmark anti-redlining law passed in the 1970s. The CRA requires banks to invest in the communities they serve, and has played a significant role in pushing banks to do right by communities of color by making proactive loans and investments in low- and moderate-income neighborhoods.
CRA isn't perfect – for example, it doesn't specifically address race, which was always at the heart of redlining – but it's responsible for a lot of progress made since then. In order to overcome the limitations of CRA and expand access to credit to marginalized communities, especially women of color who have been consistently left behind, we must create a California Community Reinvestment Act.
SB 1176, introduced by Senator Monique Limón and sponsored by the California Reinvestment Coalition, creates a California Community Reinvestment Act and establishes a framework for evaluating the performance of nonbank mortgage lenders, state chartered banks, state chartered credit unions and other fintechs to meet the financial service needs of low-income communities and communities of color. This bill will encourage greater lending to historically redlined communities and shed light on nonbank and fintech lenders. States like Illinois and New York have already created a state CRA that fills the gaps in federal law. California can and should lead the way in protecting home buyers from discrimination and predatory lending.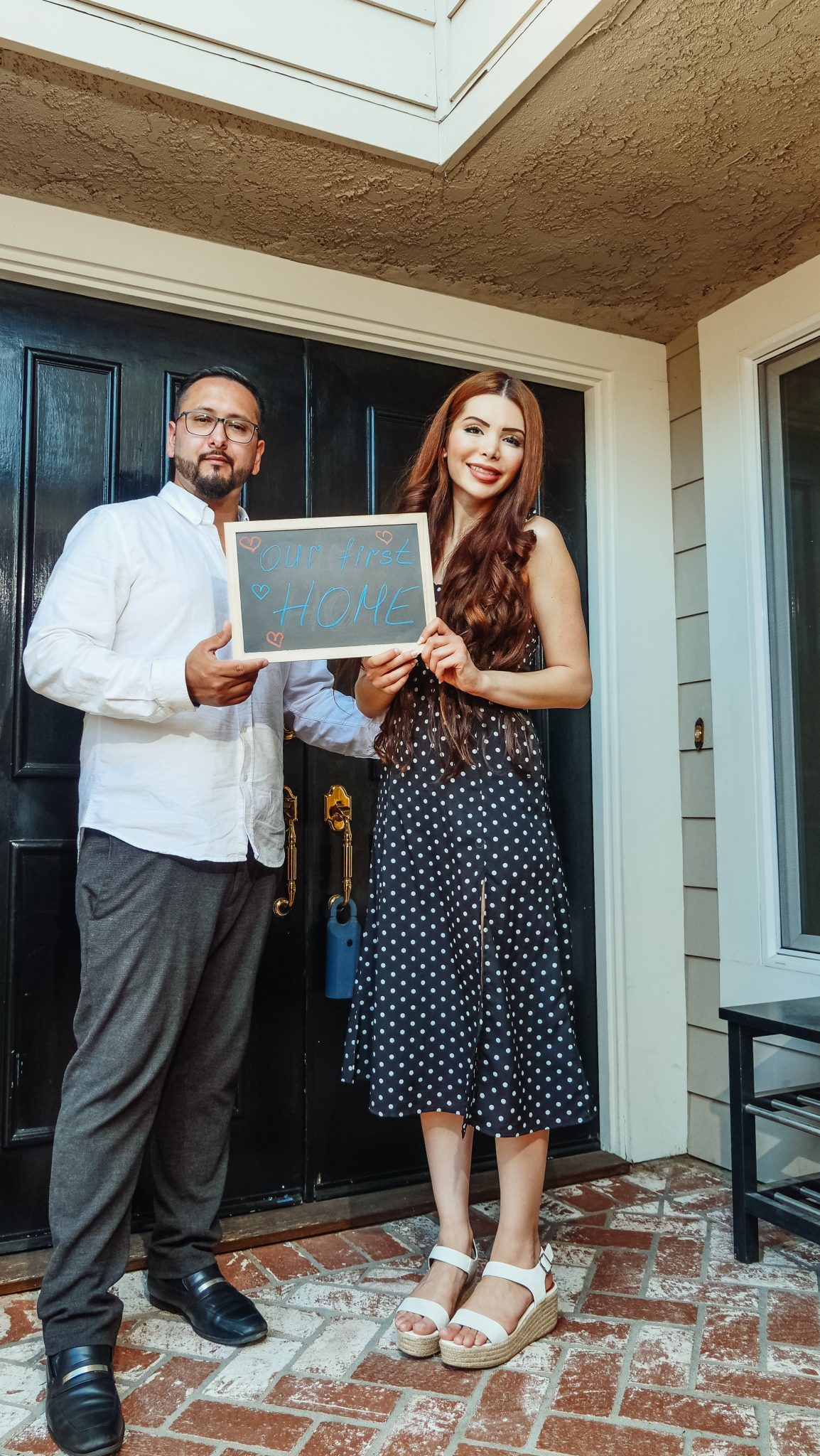 California needs intentional support for women of color
In California today, single women heads of households make up 41% of families below the poverty line. Women of color are disproportionately heads of their households and bear more responsibility for providing for children and extended family, while overcoming a gender pay gap and racial wealth gap.
Greenlining's research shows that women of color face the highest gap between the size of their population and their ability to access home mortgages, which means this population should receive even more targeted attention and resources from financial institutions – robust down payment assistance, community development investments, pathways to debt relief, financial literacy and housing counseling. Greater oversight from frameworks like the California Community Reinvestment Act can result in greater equity in financial services by incentivizing these types of community-driven supports.
As California's demographics continue to shift and communities rebuild from the effects of the COVID-19 crisis, California's economic prosperity and resilience will increasingly depend on people of color – especially women – having expanded access to capital and the opportunity for the intergenerational wealth-building that comes with homeownership.