Investing in Equity: EV Investments and the New Green Economy
Suddenly, it seems everyone is talking about electric vehicles. From the seven Super Bowl ads for electric cars to the recent LA Times article showcasing the ingenuity of the Green Raiteros EV ridesharing program in Huron, California, EVs are finally gaining a foothold in the cultural zeitgeist. And with good reason: vehicle electrification is a game changer for climate change and the new clean energy economy.
THAT IS, IF WE DON'T LOCK OUT ENTIRE COMMUNITIES AND PERPETUATE THE SHAMEFUL LEGACY OF REDLINING.
The Biden-Harris Administration certainly knows the value of electric vehicle infrastructure. Earlier this month, they released the National Electric Vehicle Infrastructure (NEVI) Formula Program Guidance for state Departments of Transportation to develop their plans for the soon to be allocated $5 billion dollars in funding from the Bipartisan Infrastructure Law (BIL). The $5 billion from the BIL will be distributed to states over a 5 year period with California receiving $383,673,792 in total funding.
This sudden influx in funding for electric vehicle charging infrastructure underscores the larger burgeoning green economy and the opportunities for communities of color to build generational wealth.

Fortunately, the NEVI guidance includes explicit language for equity: 
"The NEVI Formula Program will emphasize equity considerations at its inception to avoid exacerbating disparities in the transportation system and to develop a convenient, reliable, affordable and equitable charging experience for all users." 
The guidance also calls on states to deliver projects that are consistent with the Justice40 vision to target at least 40% of benefits to what they call "disadvantaged communities."
The fact is, the founding of our country and our economy is rooted in systemic inequality and racism. Our government has carried out countless acts of violence and oppression, from slavery and genocide, to redlining, discrimination, voting restrictions, and beyond.
Over the last thirty years especially, scholars have identified Homeowners Loan Corporation's property assessment and risk management practices, as well as those of the Federal Housing Administration, Veterans Administration, and U.S. Housing Authority, as some of the most important factors in preserving racial segregation, intergenerational poverty, and the growing racial wealth gap. Much of this gap is due to the practice of redlining, where the government, banks, realtors, and insurers worked together to draw literal red lines around communities of color, preventing them from building wealth for generations. While it was outlawed decades ago, the legacy of redlining lives on in the form of well-documented racial and ethnic disparities in education, economic stability, distribution of transportation burdens and benefits.
IN FACT, EXPOSURE TO TRANSPORTATION POLLUTION IN COMMUNITIES OF COLOR IS TIED TO DECADES OF SEGREGATION AND STRUCTURAL RACISM IN INTENTIONAL LAND-USE DECISIONS AND GOVERNMENT POLICY, WHICH HAS RESULTED IN LOW-INCOME COMMUNITIES OF COLOR LIVING NEAR BUSY ROADS, FREEWAYS, PORTS, AND OTHER FREIGHT CORRIDORS FILLED WITH TAIL-PIPE EMISSIONS AT HIGHER RATES THAN WEALTHIER AND WHITER COMMUNITIES.
It is critical that we acknowledge and address the ways the transportation sector is responsible for the majority of pollution and poor air quality that exacerbates pulmonary disease and, most recently, risk of severe illness and death from COVID-19. And, EV charging deployment guidance must address the government's responsibility to mitigate our present public health emergencies, while also working to undo the legacies of systemic segregation and economic exclusion.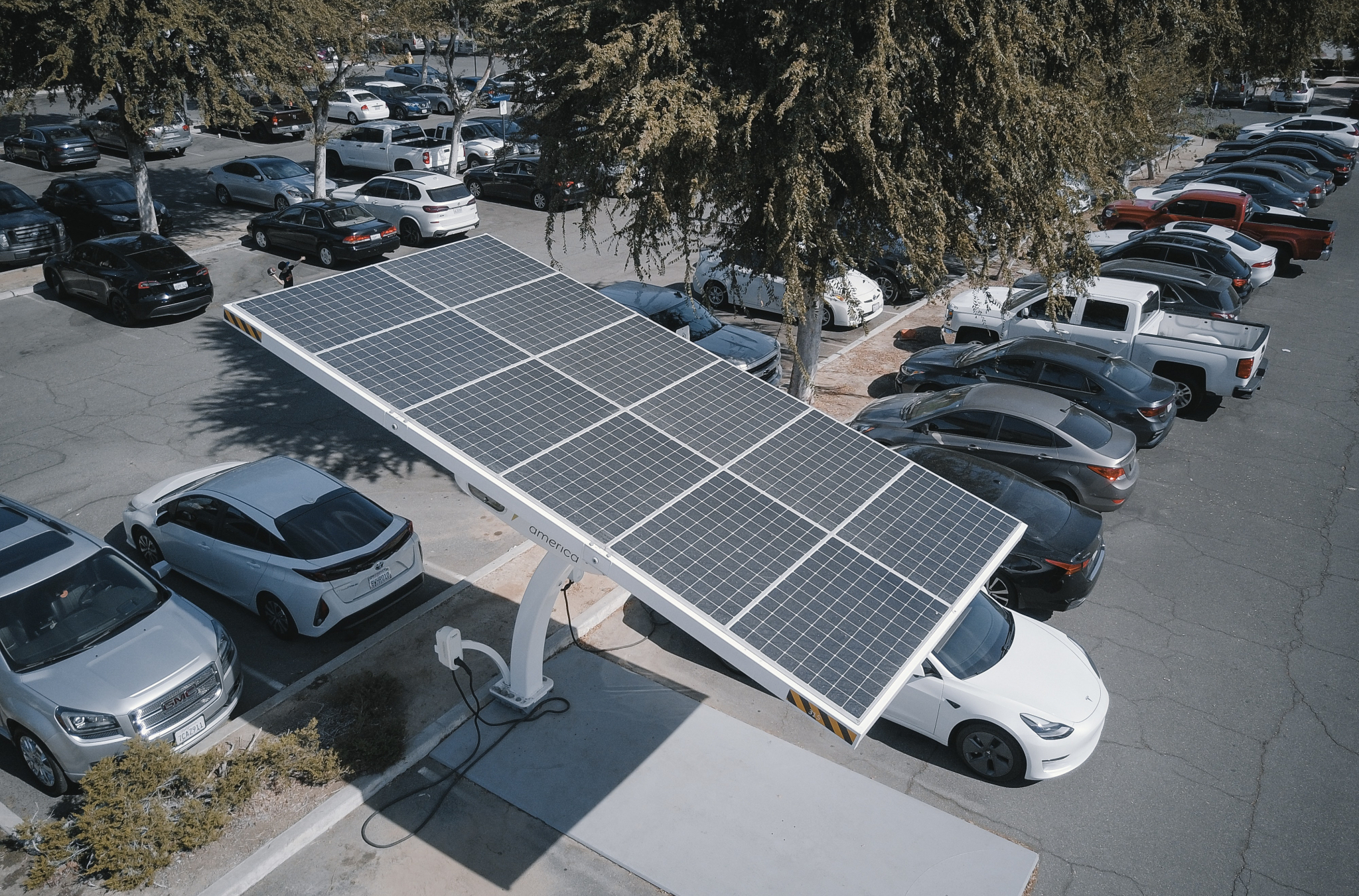 So how do we do that?
The emerging green economy presents an opportunity to create new forms of wealth building and allow communities of color that have been locked out of intergenerational wealth building to capitalize on federal electrification and transportation investments. The Greenlining Institute anticipated this thriving new green economy as one where communities, regardless of race and income, can build wealth. We published guidance on how to undo the legacy of redlining through equitable community investment standards. In the Greenlined Economy Guidebook we imagine that these standards could be applied to community investments by diverse actors, including public agencies, philanthropic organizations, private investors or community-based organizations advising or developing their own investment strategies.
While the Biden-Harris administration's guidance expects states to deliver on Justice40 goals, it does not define or operationalize equity, provide strategies to reach Justice40 benchmarks, nor frame this influx of charging infrastructure resources as a community and economic development approach.
IMAGINE IF THE INDUSTRY APPLIED THE SAME RIGOR TO CENTERING EQUITY THAT THEY GIVE TO MARKET STUDIES AND TECHNOLOGY IMPROVEMENTS. IMAGINE HOW THAT COULD TRANSFORM TRANSPORTATION ELECTRIFICATION EFFORTS ACROSS ALL COMMUNITIES. 
We must be explicit on how to reach 40% investment in disadvantaged communities if we are ever going to reach our Justice40 goals. It's not enough to state an intention to center equity – we must put equity into practice.
The following are examples of how states can target federal funding equitably and use the deployment of charging infrastructure as a community and economic development strategy:
Explicitly identify and define communities that Justice40 and EV Charging Deployment Guidance aims to benefit. Though disaggregated data is scarce and arduous to come by, it is a tenant of equity to be as explicit and specific as possible when identifying who is being served. Understanding exactly who is in most need of charging infrastructure investments and accompanying benefits first is imperative for achieving equity. For example, if we can determine that Black renters in a given census tract are in greater need of EV charging, referring to that population as "low income communities of color" is not useful and only serves to agglomerate various populations and their idiosyncratic needs into a monolith.
Deliver direct and meaningful benefits to communities. It is insufficient to funnel investment to disadvantaged communities (DACs) and low income communities without thoroughly examining the direct outcomes and benefits that plan on being achieved to meet specific community's needs. In fact, distributing charging infrastructure deployment dependent on utility rate payer funds without due diligence and unexpected benefits is reckless investment and should therefore be avoided by meaningfully addressing explicit community needs determined through an equitable outreach process.
Target funding to frontline communities. It is crucial to commit to the tenet that those with the most needs, largest resource gaps, and hardest hit by poverty and pollution must be prioritized. Frontline communities are low income people of color that experience "first and worst" consequences of climate related damage with minimal resources and massive vulnerability. It is for these reasons that funding should be targeted and prioritized to reach these populations first, as they consistently bear the brunt of our society's externalities and have been neglected for generations.
Promote objectives that generate multiple benefits. While not always feasible, where possible it is best to always promote objectives and agendas that create various benefits to maximize benefits and ideally tackle the multi-pronged and deeply rooted barriers that exist in disadvantaged communities. Examples of multiple benefits include:

Workforce development and local hire provisions in public private partnerships
Community benefit agreements
Community owned and operated EV fleets and charging stations
Integrate climate adaptation and climate mitigation efforts. As our environment faces compounding climate change consequences, our solution oriented policies should integrate both climate adaptation and climate mitigation efforts. Mitigation aims to tackle the causes of climate change and minimize possible impacts, whereas adaptation strives to reduce the negative consequences and take advantage of changes that arise as a result. With this in mind it is ideal to design transportation policies that consolidate both approaches to accelerate our solutions. This includes considering sea level rise, flood risk, wildfires and other geographic and migration impacts as a result of climate change.
Include displacement avoidance language. With economic driving forces changing demographic and density trends, gentrification and displacement are growing consequences. Places that were once home to low income communities of color for generations are now riddled with real estate speculation, land value appreciation and insurmountable costs of living that have led to displacement, suburbanization of poverty and extreme commuting. Given the power that policy has to sway behavior it is paramount that language in Justice40 and EV charging deployment goals are intentional in their description of place and include strategic planning to avoid displacement as an externality.
With considerable funding and national attention on EV charging, it is necessary that investments center equity, prioritize disadvantaged communities, and that we seize this opportunity to expand access for marginalized communities to participate in the building and benefits of the new green economy. Anything less will simply perpetuate the new frontiers of redlining.