Plan Today, Save Tomorrow: Climate-Resilient Transportation Infrastructure
Normally the transition to autumn is brought in with new wardrobes, fun activities and vacation. Yet as summer comes to a close, instead the world is bracing for worsening wildfires, heatwaves, hurricanes, flooding, and other climate disasters. In July, a heat wave in the Pacific Northwest melted a Portland streetcar's power cable. The flooding of coastal roads has become commonplace. New York City's subways flooded in heavy rains this summer. The climate impacts on our transportation system are becoming clear, along with the urgent need to build climate-resilient transportation infrastructure.
As a Greenlining Institute Summer Associate, I looked at three areas of nexus between climate resilience and mobility this summer: 1) Disaster Prevention, 2) Disaster Response, and 3) Disaster Recovery.
Disaster Prevention for Our Transportation Infrastructure
Resilient transportation planning is the process of identifying climate-related risks to transportation networks in order to prevent the loss of life, service, and transportation infrastructure. For example, rising sea levels in coastal communities will lead to increased flooding which will disrupt transportation networks, from highways and bridges to public transit such as bus, rail and more. Without mitigation, these frequent disruptions will become permanent conditions that will cause the loss of infrastructure, goods, and people movement.
Climate disasters that threaten our transportation infrastructure harm low-income people of color the most, due to redlining and other discriminatory practices which forced people of color to live in vulnerable areas most at risk of sea level rise, flooding, heat waves, and wildfires. Future-proofing infrastructure to be able to withstand both normal wear-and-tear as well as climate disasters is certainly expensive and takes years of planning and implementation, but it will build resilience, produce cost savings, and protect people's lives and access to opportunities in the long run.
For example, Resilient Fruitvale, a community coalition, has identified the following vulnerabilities within the community: earthquakes, heat waves, structure fires, violence, hazard material release, epidemics, severe weather, and flood zone/tsunami. And Rise Stockton is creating a plan for their communities centered on environmental justice, resilience and a green economy, as a part of a $170,000 Transformative Climate Communities Planning Grant. These types of community-centered planning should be applied as we build climate-resilient transportation infrastructure and work to prevent disruptions to peoples' mobility in the event of disasters.
Equitable, Climate-Resilient Disaster Response
In the event of disasters the first priority should be to move people out of life-threatening danger. Unfortunately, transportation networks are often not designed to handle evacuations during disasters. For example, the Paradise fire led to additional death and damage because the evacuation roads slowed down at intersections and one evacuation road was engulfed by flames — making it difficult for residents to escape and challenging for emergency vehicles to respond. During Hurricane Katrina, congestion slowed down the evacuation process while an estimated 100,000 to 300,000 people were unable to evacuate due to lack of mobility. This disproportionately impacted low-income Black communities.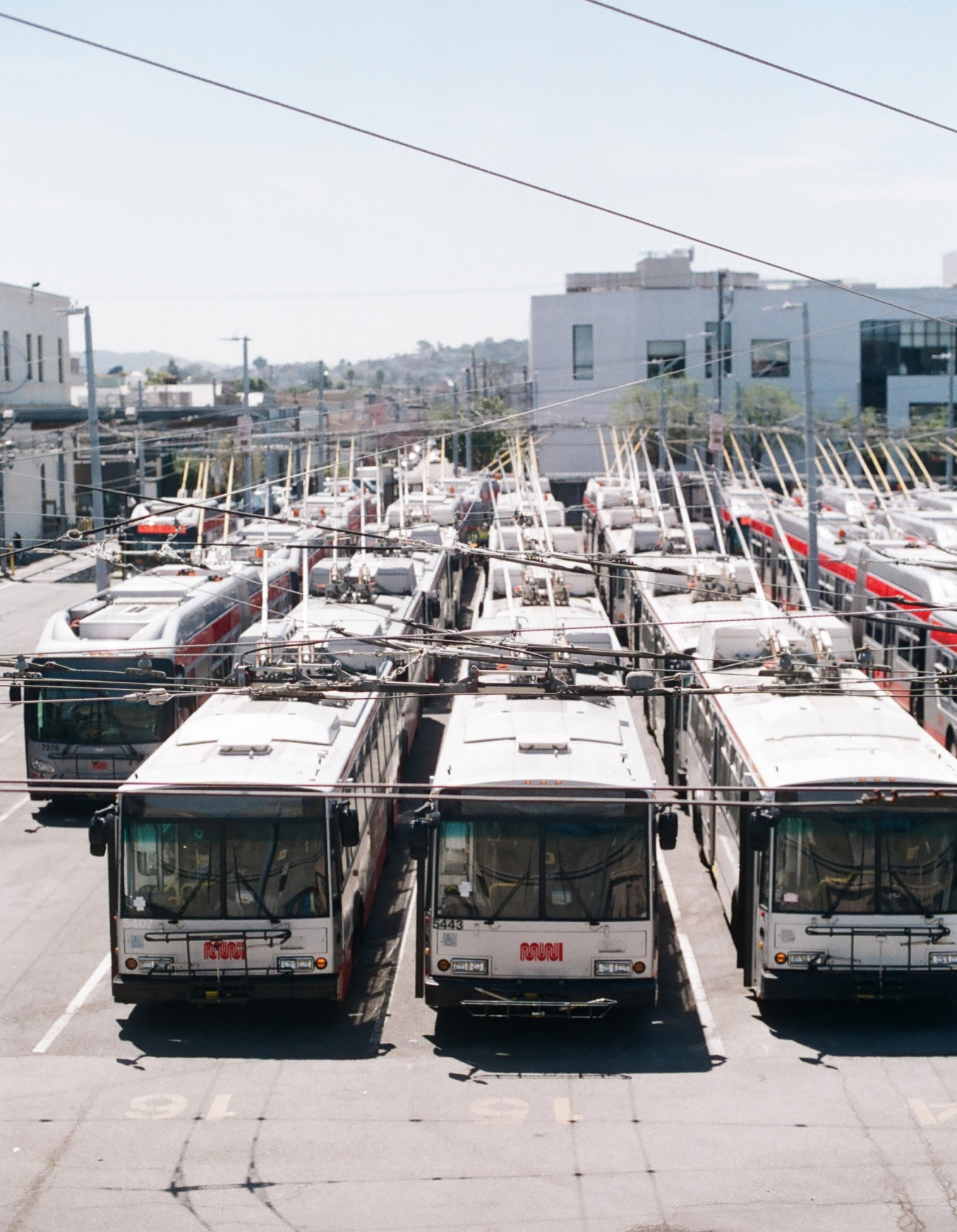 And the benefits of creating a sustainable transportation infrastructure are often layered. The transition to electric vehicles for city buses, school buses, paratransit, and other forms of mobility doesn't just reduce emissions; these vehicles can also serve as emergency energy resources and WiFi hotspots. We can also think of how to create green belt buffer zones. These have been proposed to serve as recreation areas, fire buffer zones, and firefighter staging areas, but they can potentially be used for bike networks that can double as car evacuation routes in case of emergency.
Disaster Recovery: Moving Beyond Band-Aids
Disaster recovery is often executed very poorly, merely puts forth band-aid solutions, and can have inequitable impacts based on who has access to the resources to rebuild their lives. For example, a Government Accountability Office report noted that FEMA's disaster support funds were given out faster and in higher amounts to better off, White communities than to others.
While disasters are always a tragedy, they can also present the opportunity to rebuild more sustainable, equitable mobility to prevent future tragedies and provide greater future economic opportunities. Access to mobility should therefore be a cornerstone of disaster recovery, as it serves as a critical lifeline to get people to jobs, education, healthcare, and other services, ensuring the resilience of people's livelihoods. Additionally, rebuilding post-disaster creates an opportunity to address racial inequities — reconnecting cities divided by highways, reversing overly car-dependent infrastructure and land use patterns, and rebuilding safer streets and transportation infrastructure in more climate vulnerable areas. Yet in reimagining more resilient mobility, we must center community needs and decision-making to guide how they should rebuild.
In the face of increasing climate disasters, access to clean, high-quality transportation options is a life saving and economic recovery measure. Ensuring that we have climate-resilient transportation infrastructure will not only save lives, but  can also anchor a smart, long-term strategy to improve the livelihoods and quality of life of frontline communities. While the vast majority of our transportation infrastructure is vulnerable in some capacity, we must begin to equitably future-proof our communities now, rather than simply reacting when the next disaster strikes. 
Victor Flores is Greenlining's Climate Equity Summer Associate. Follow him on Twitter.