The Greenlining Institute asks that you join us in Oakland on Monday, June 7th to testify on behalf of small businesses, families, and communities at an official CPUC Public Hearing to ask the question: Why is PG&E raising its rates by 30% during an economic crisis, while spending $44 million of ratepayer dollars to pass Proposition 16?
What: Public Hearing on PG&E's unnecessary $4 Billion (30%) Rate Hikes
Where: Elihu Harris State Building in Downtown Oakland (1st Floor Auditorium)
When: Monday, June 7th, at 2 pm and 7 pm
Why: To protest unnecessary rate hikes and Proposition 16
Who: You and your community!
Forward this message to a friend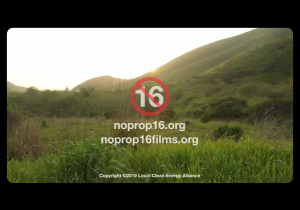 View NO on 16 Film starring Greenlining's own Belen Mendoza and Colin Miller
Greenlining Debates Prop 16 with PG&E – Live on the Air this Monday
Greenlining's Legal Counsel, Stephanie Chen, will be debating PG&E on Proposition 16 on KALW 91.7 this coming Monday from 11 am – Noon.  Please call in to the radio station and make a public comment to oppose Prop 16 and make sure your voice is heard.
To participate in the Radio debate on Proposition 16:
For More Information
1. Contact Greenlining's Prop 16 Organizer Colin Miller colinm@greenlining.org or at (646) 703-4837
2. Visit http://noprop16.org/.
3. Read Greenlining's Opinion piece published in the L.A. Daily News at
http://www.dailynews.com/opinions/ci_15190144
Thank You
Once again, thank you for supporting the work of the Greenlining Institute and for joining us in opposing Proposition 16 and PG&E's $4 billion rate hike. Forward this message to a friend