By now we have all had our "What the…?" moments concerning Donald Trump: From pretending to look at the sun during last summer's solar eclipse, to accusing former President Obama of wiretapping him, to questioning why immigrants from "sh**hole countries" should be allowed into America. While all those moments could be classified on a scale of your choosing, Trump's solar tariff can definitely be placed on the high end of any scale since the only logic behind it seems to be as an attempt to keep his campaign promise of "getting tough" with China (leaders of the world's solar power production). Unfortunately, the direct consequences of this trade tariff will hurt solar energy industry jobs and likely stifle economic growth in that sector.
---
CLICK TO SHARE AND TWEET: Thumbs down moment from Trump (yup, another one): placing a tariff on #solar. ?? This will hurt U.S. jobs & #ActOnClimate efforts.
---
As an environmentalist, that news headline had me screeching to a halt. Backing out of the Paris Climate Agreement wasn't enough? Going against one of his party's major ideologies of letting the "free market reign," the Trump administration heeded the concerns of two bankrupt, foreign-owned solar energy industry business and implemented a four-year, 30 percent tariff on solar panels. At a moment when the solar industry continues to grow at a fast pace (by 25 percent in 2016 alone) and employs over 260,000 Americans, this presents a real danger.
Recent tariff history in both the Bush administration (on steel) and the Obama administration (on Chinese-made car and truck tires) have taught us that trade tariffs meant to protect Americans actually cut jobs or do very little to boost the number of American jobs. The Solar Energy Industries Association estimates that this tariff will not only cost 23,000 jobs nationwide in 2018 alone, but it will also delay or cancel billions of dollars in potential solar investment opportunities. Unfortunately, this tariff not only has the potential to make solar power more expensive for Americans and increase reliance on fossil fuel-based energy, but it also endangers solar energy industry jobs that many Americans have trained in and are now employed in.
A bit of background on me: I am a policy advocate and environmentalist who works on how we can continue economic growth with a "green economy." I specifically work on projects that provide economic growth for low-income communities of color who have long been redlined and suffer first and worst in terms of living in polluted neighborhoods and having the greatest barriers to economic opportunities. In my state of California, policymakers have been advancing climate and clean energy laws such as the Single Family Affordable Solar Homes Program that help low-income families save money while opening career paths for everyday people. Programs like these have played an important role in providing pathways to the over 100,000 Californians who now work in the solar energy industry.
Right now I'm researching green jobs in California's Bay Area. Our team wants to know whether and how "green" investments have led to job opportunities for Disadvantaged Communities in the Bay Area and also how state, regional, local and private stakeholders can collaborate to increase economic opportunities. Through this project I have learned about many organizations like Rising Sun and Grid Alternatives that have used the solar energy industry as a way to train and create career pathways for people with high barriers to employment. With an average wage for solar installers of $26 an hour, and the fact that installers make up over half of the jobs in the solar industry, we need these types of jobs, for the survival of hard working families. In some cases, they provide a way out of poverty.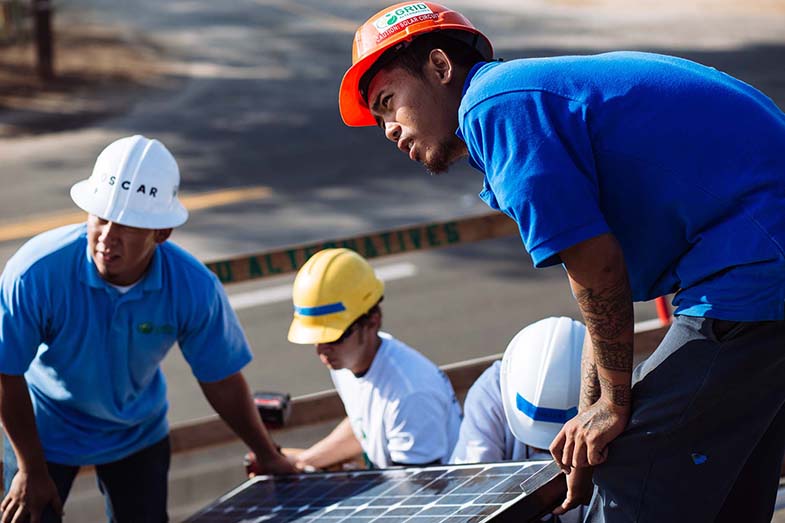 Unfortunately, many of Trump's seemingly simple policies have huge short and long-term ramifications on the American economy. Economics 101 teaches us that raising prices (or adding tariffs in this case), reduces demand. So, who will be affected by the loss of demand? The people whose jobs were created in order to meet that demand: solar installers. As I mentioned earlier, this solar tariff not only impacts solar jobs and investments, but it can also mean that more expensive solar panels means that fewer people might purchase them, causing another bump in our climate change efforts.
As a millennial, I know that the economy hasn't been doing me any favors, but to continuously add sprinkles on top, there seems to be no end in sight to what the Trump administration won't do to continually botch climate change efforts. Don't forget that you can make your voice and vote count by signing online petitions urging the Trump administration to reject the solar tariff and by calling your representatives and voicing your concern about the impact on jobs, the economy and climate change efforts that this solar tariff will produce.
Victoria Paykar is Greenlining's Environmental Equity Fellow. Follow Victoria on Twitter.