What Happens When They Grow Up and Enter the Labor Force?
For children of color, society seeks to change and control the child to suit the environment — while for White children, society tries to change and control the environment to suit the needs of the child. That's a key element of the school-to-prison pipeline.
In 2015, Sociology of Education published a study concluding that Black and Brown students were more likely to face disciplinary actions (such as suspensions, expulsions, police referrals or arrests) instead of supportive therapeutic treatments, even when being served under the Individuals with Disabilities Education Act (IDEA) or 504 education disability policies. For similar issues, their White counterparts were more likely to receive medicalized supports instead of disciplinary responses. For example, in the 2013-14 school year, 20 percent of Black IDEA students were suspended, compared to only 7 percent of White IDEA students. Some understand this as an example of the School-to-Prison Pipeline. These differences in treatment boil down to race and income.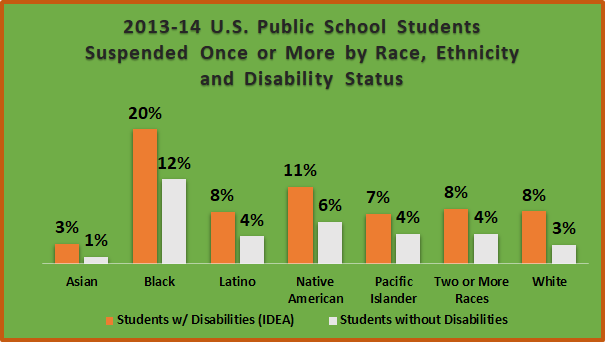 In an article appropriately entitled New School Study Shows Black Kids Get Cops, White Kids Get Docs, The Daily Beast interviewed the author and researcher of the study, David M. Ramey, writing:
Even when the level of misbehavior is the same, he says, the treatment is not. "White kids tend to get viewed as having ADHD, or having some sort of behavioral problem," he says. "Black kids are viewed as being unruly and unwilling to learn."
At the time this study was published, I was an education equity analyst — so I was very interested in and impressed by the extensiveness of the research, which reviewed data from over 60,000 schools and 6,000 districts across the United States. But, most importantly, the conclusions of this study highlighted aspects of my own life experiences as an African American transgender man who spent my teen years in the juvenile justice and foster care systems, amidst disciplinary actions like suspensions and expulsions from school.
The school-to-prison pipeline is real.
Since kindergarten, I have faced disciplinary actions in schools, in juvenile hall and court, and other environments because of challenges with concentration, memory, impulsivity and difficulty assessing time. Fortunately, most of my workplace experiences have been good and supportive. I've only had a couple of experiences in which employers chose disciplinary measures rather than support in addressing how I functioned differently.
I wasn't diagnosed with ADHD until my mid-thirties, a privilege afforded me by having somehow pushed my way into an undergraduate program at UC Davis. My late diagnosis would be unsurprising to Dr. Paul Morgan, who completed a study in 2013 finding that Black and Brown children were 69 percent less likely to be diagnosed with ADHD. This study found that the factors affecting the chances of students being diagnosed included access to comprehensive medical coverage and family income levels.
Twenty years ago, I served as a "shadow teacher" for students diagnosed with ADHD and other issues. The students with whom I worked were white male children from affluent backgrounds, whose parents could afford to hire me. I provided full-time 1:1 support, primarily for the purpose of intervening on occasions when their child was unable to participate in the classroom setting. They were never suspended, expelled or even faced mild disciplinary actions like detention — even for violent behaviors, for which students of color would surely find themselves in locked facilities.
[embedbox type="start" align="right"]
"White kids get medical help. Black and Brown kids get the school-to-prison pipeline. So, what happens to these students of color when they grow up and enter the workforce?"
[embedbox type="end"]
Extensive data on race, disability and workplace discipline (including firing practices) are not publicly available. But from the accessible data, it appears that employers overly scrutinize Black and Brown workers in general, and do so twice as much with Black and Brown employees with disabilities.
The CDC estimates that about 25 percent of Black people and 17 percent of Latinx folks have at least one disability. In 2016, the Bureau of Labor Statistics reported the unemployment rate of people with disabilities at 10.5 percent, compared to only 4.6 percent for people without disabilities. The unemployment rates for Black and Latinx folks without a disability were eight and six percent respectively, while the unemployment rates for Black and Brown workers with disabilities were 17 percent and 13 percent, respectively. Given the relationship between income and incarceration, and the tendency toward cops instead of docs for folks of color, it's sadly not surprising that an estimated 40 percent of inmates have a disability.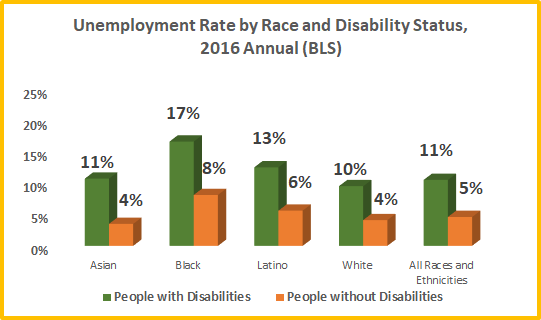 We can do a lot to address these issues at the intersection of disability justice and racial equity. Oddly, we can even pull ideas from diversity-challenged technology companies. Though Greenlining has critiques of tech culture, some firms offer examples of unconventional and people-centered workplace approaches.
For example, Google's workplace permits work-from-home and flexible work hours to support a variety of workstyles. If an employee works better at 2 a.m., then they'll just supply rooms with beds and cots. They also have playrooms, where workers who need to think or de-stress can go as they need. People aren't viewed as less productive for making use of these rooms. In other companies, if an employee has challenges with interpersonal skills, it's no problem. The company creates an environment that embraces relationally challenged folks by providing training to other staff. At the end of the day, anything these employees want or need in order to produce their best work can usually be negotiated.
Many of these ideas are also commonly recommended as workplace accommodations for people with learning and cognitive disabilities. If these things are being done for the tech field's majority white employees, they most certainly can and should be done in most jobs for Black and Brown folks with disabilities — which would make many workplace disciplinary actions unnecessary and would help to lower the unemployment rate.
Like tech, diversity, equity and inclusion work is an innovative enterprise because, historically, equity has not been done in our country. Workplace equity requires us to look beyond conventional workplace practices and relationships and to be radically daring in reimaging them.
Joe Jackson is Greenlining's Diversity and Inclusion Manager. Follow him on Twitter.