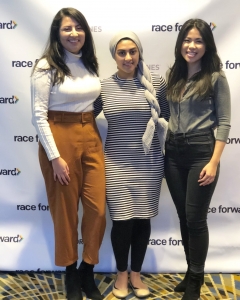 What's it like to be 3,500 racial justice organizers deep? It feels like home — and liberation — when you're at Facing Race.
Before I even arrived at the Cobo Center in Detroit, I stopped in Dearborn, Michigan, the city with the largest Muslim population in the country. I saw storefront signs with halal written on them, hijabis were on every street corner. I felt safe, I felt belonging in a place I've never been to. To feel that connection is so meaningful, especially in a time when the Ohlone land I was born and raised on often feels alienating.
As a first time attendee at the Facing Race Conference, I had no idea what to expect. The conference opened by collectively establishing layers of safety that didn't include police so we could take responsibility for each other's safety. We had folks trained in de-escalation and conflict resolution and a second layer of private security. We collectively agreed to go to these people before we EVER went to the police. As people of color, we know that calling the police can be a death sentence. This practice was powerful because the conference didn't just talk; we actually implemented an alternative safety system that didn't require police. We used our own power to stay safe as a community.
Throughout the weekend-long conference, we focused on key ideas like the importance of water, decolonization and reparations, our ancestral power, and the role of relationship building in creating systems outside of state violence. The stories shared reminded me of the tremendous amount of work that we have to do to achieve liberation and uplift the struggles of communities that are not at the forefront of the media. The indigenous community still doesn't have clean water in North Dakota. And Flint still doesn't have clean water, even though the media have completely stopped paying attention! Uplifting the struggles of local communities was something that was reiterated through the conference. Facing Race intentionally centered the host community of Detroit throughout the conference and committed to giving $100,000 to 14 community organizations for hosting us. Again, the conference created a system that practices collective liberation by shifting the way our relationships with people, land, and natural resources operate.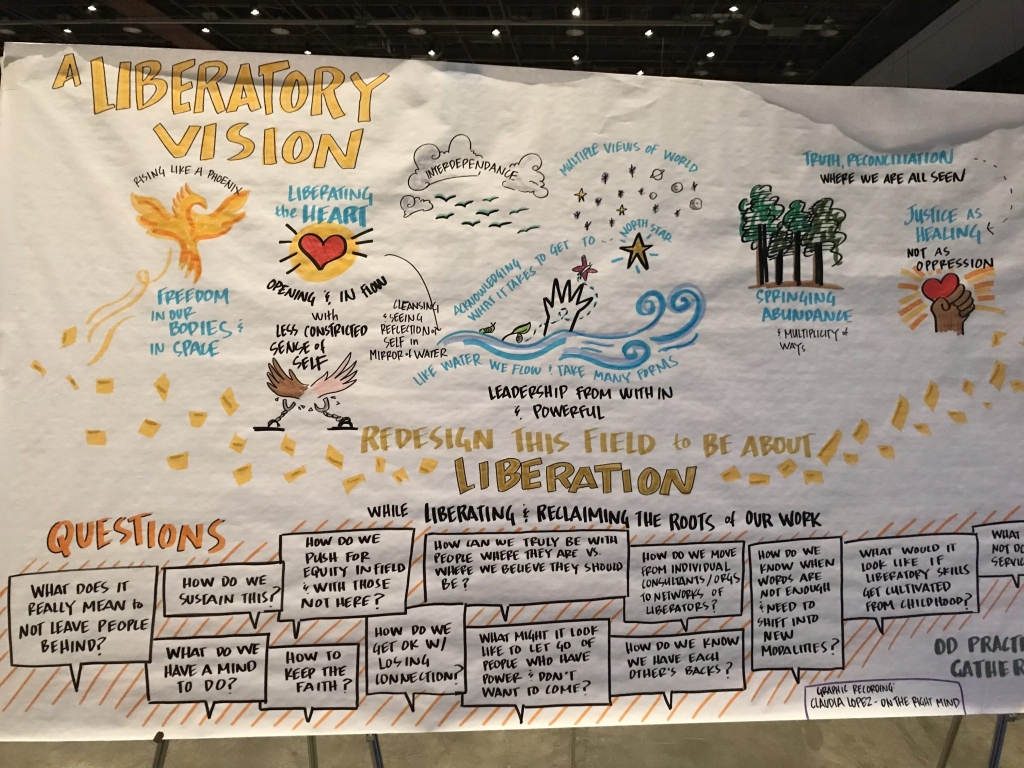 As someone who is constantly rushing at a packed conference, I felt at ease in this space despite the jam-packed schedule. There is something so healing about being in space that is in the process of decolonizing. In this space, the relationship with time and people change. As Tiny from Poor People Magazine's "How to never call the police EVER" workshop said, "when you are working towards something that will last forever, your relationship with people changes."
Throughout this event, I felt the love and more importantly, I felt safe — something that I haven't felt in a while. Here, people broke silence, sharing powerful stories of survival, liberation, and heartbreak. My heart was broken open and I allowed myself to fully feel the experiences and stories shared with me. I met kind people, filled with compassion and a fire to make change. I ran into old friends and mentors, who shared warm hugs and greetings. I met a Muslim father who shared his struggles with parenting a young Black Muslim woman and connected with the protege of Rosa Parks, a brilliant woman by the name of Mama Lila who shared the herstory of the land I was on and encouraged my young self to strive forward.
And finally, the keynote Tarana Burke, founder of #metoo, reminded each of us of the need to include a gender justice analysis in our fight to end racism, a long overlooked issue by men of color and advocates for social justice. She said that no matter what happens, you wake up the next day and keep doing the same work. As an energetic 20-year-old organizer, new to the work, her statement reminded me that this work will not stop and I will likely not see the end of gender-based violence in my lifetime. In this context, how do I want to conduct myself and focus on?
The Facing Race conference reminded me over and over again why relationships and structures must change, especially when it comes to community safety and sustainability. I was reminded of verse 9:71 in the Quran which says "the believing people are protectors of one another." After my weekend at Facing Race, I returned with a renewed intention to prioritize relationships with people over money/time and to make intentional moves to decolonize my life.
Building spaces where marginalized people can actually feel safe is more important than you can imagine. As someone who experiences street harassment daily, has been followed by men and taunted at with Islamophobic slurs, safety is priceless. I felt safe at Facing Race, I felt at home. We all deserve to feel this kind of safety, regardless of where we are. As an advocate for gender justice, my vision is to live in this world, where I can walk anywhere, anytime safely. Facing Race got me one step closer to this.