Something amazing is happening in California. California has taken bold steps to act on climate change, including regulations to cut our carbon consumption and charging polluters for the carbon that they emit. We put that money from polluters into a fund called the Greenhouse Gas Reduction Fund (GGRF) where it goes to work promoting the clean energy economy in communities across the state.
What's not amazing is that the infrastructure that California has created is enormously complex and hard to understand, even for someone like me whose job it is to track this stuff. And for the everyday renter, community-based group or local city planner, it can be dizzying to try to understand what resources are available to you and your community. Read on to learn what we've done to solve that problem.
But first, remember the bigger picture: Thanks to the work of the California Climate Equity Coalition, of which we are a part, 35 percent of those resources now go to investing in our state's most polluted and socioeconomically disadvantaged communities, communities that have experienced decades of disinvestment, redlining and heavy pollution. As of 2016, this has meant $419 million invested directly in projects in neighborhoods to save families money on their energy bills, transform concrete blocks with tree-lined streets, build permanently affordable housing and more. This remarkable achievement can be a model for other states and nations fighting climate change.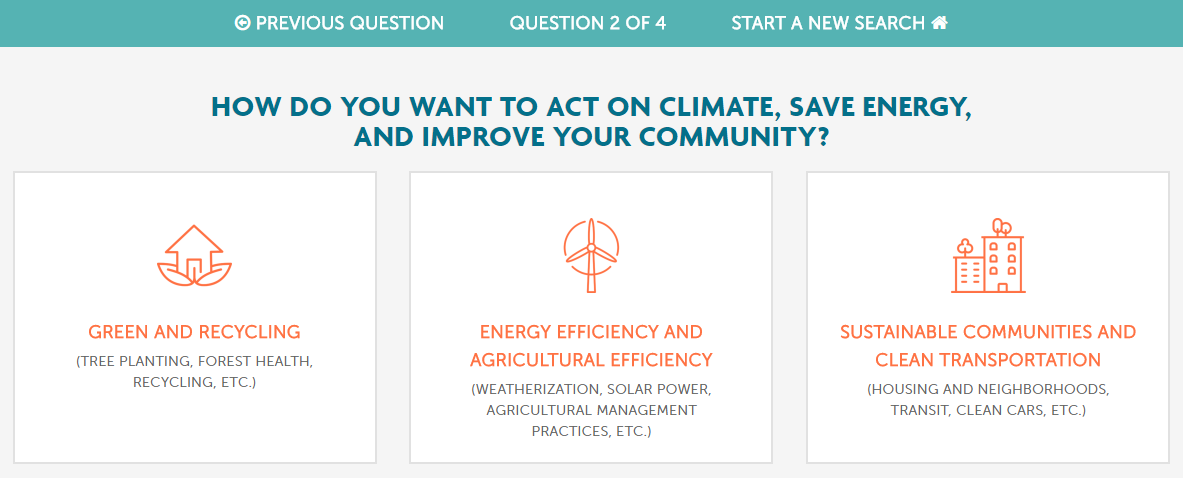 But these resources can't help people and communities fight climate change or embrace clean energy if they don't know about them. That's why we created the UpLift Resource Finder, to help folks navigate through the complicated world of California Climate Investments. The Resource Finder contains a comprehensive database of over 40 grants and rebates that individuals, families, community-based organizations, schools, municipalities, tribes and businesses can use to act on climate locally.
Whether you're a community group looking to plant trees or a family wanting to find electric car rebates, the Uplift Resource Finder makes it easier to find out how California's climate investments can help you. We offer the tool in two views:
Guided Tour

: Don't know where to start? We'll walk you through four questions to get you to your results.

Full Database

: Want to look at the full database? Skip ahead to the full listing and filter your results manually.
For communities to better be able to access funding to embrace clean energy, they first must know what resources exist. We hope that this tool will make it easier for anyone to see what grants and rebates are the best fit, so that all California communities can participate in our fight against climate change.
To find other climate and environmental resources that might be available, also check out the Funding Wizard and Energy Upgrade California's rebates and financing assistance resources. Emi Wang is Greenlining's Environmental Equity Manager. Follow her on Twitter.