According to a 2017 Federal Reserve Report, the U.S has reached record inequality: In 2016, the richest one percent of families controlled a record-high 38.6 percent of the country's wealth while the bottom 90 percent of families held just 22.8 percent. In the face of record inequality, what's the GOP's response? Preparing to pass a tax plan that drops 60 percent of its tax cuts into the pockets of one percenters. This tax plan is a repeal of footholds to economic stability and wealth creation that will only grow the racial and gender wealth gaps.
Wealth represents economic security, a safety net to weather emergencies, and economic mobility. Without wealth, it's harder to own a home or business, which could generate more wealth. For many reasons, working families – especially people of color — are at a disadvantage when it comes to building wealth. Due to the racial wealth gap, race strongly correlates with wealth holdings today: White families hold almost 10 times as much wealth as Black families, and one in five Black families have zero or negative wealth. For women of color, vulnerable to both the racial and gender wealth gaps, the picture is direr: while median wealth for single men is $10,150 and $3,210 for single women, median wealth for single Black women is $200 and $100 for single Latinas. For every dollar owned by single White men, single Black and Latina women own less than one cent.
---
CLICK TO SHARE AND TWEET: The #TrumpTaxScam: A present for the 1%, a lump of coal for the rest of us.
---
This tax plan isn't just bad for people of color and families with low wealth. A reported 49 percent to 78 percent of full time workers live paycheck to paycheck, and six out of 10 people don't have savings to cover a $500 emergency. These disparities mean that for a majority of people, the availability of government programs is critical. The proposed tax cuts jeopardize our ability to reach economic stability by crippling the government programs that improve quality of life.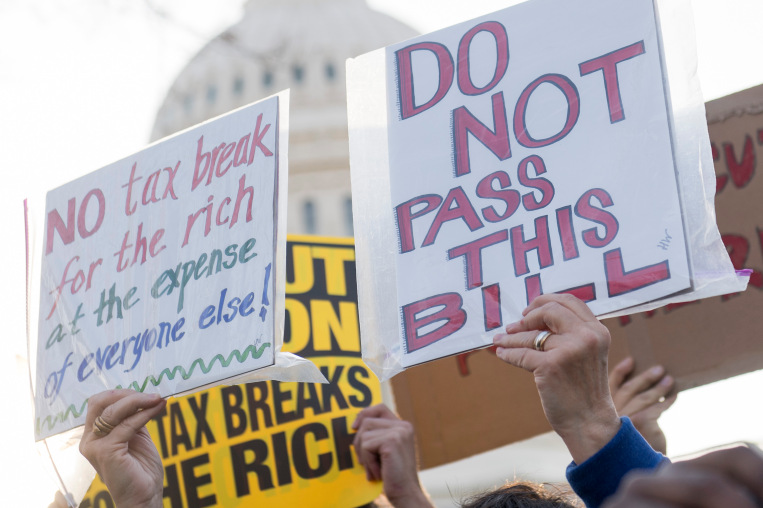 According to the Joint Committee on Taxation, the Senate tax bill will increase our national debt by $1 trillion. Prioritizing corporate tax cuts over community investments means that public programs will be scaled back or eliminated to offset that debt, which Paul Ryan confirmed. Already, the Senate tax plan includes cuts of $25 billion for Medicare within the first year, and $400 billion over 10 years. Other public assets in danger of historic cuts include Medicaid, Social Security, and programs encouraging private investment in affordable housing, such as housing vouchers, Low Income Housing Tax Credits, and New Markets Tax Credits.
Who doesn't get hurt by this? One percenters.
ONE PERCENTERS GAIN, WORKING FAMILIES TAKE A HIT
Workers earning less than $75,000 per year will also see their tax bills rise by 2027. In 2016, median household income in the U.S. was $59,000 — $39,490 for Black families, and $47,675 for Latino families. This tax increase will have a disproportionate impact not just on low to moderate income people and families of color, but also on mothers of color. Today, more women are their household's primary breadwinners than ever before. In 2015, an average 42 percent of mothers were primary breadwinners, with an average of 70.7 percent of Black mothers and 40.5 percent of Latinx mothers.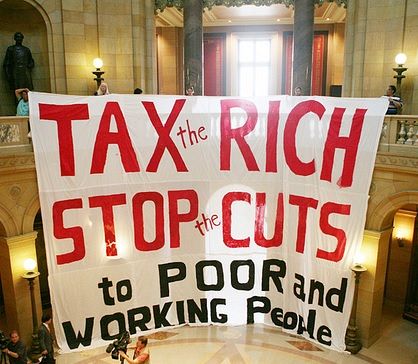 For low and moderate-income families, the House's proposed increase of the Child Tax Credit may also be inaccessible. According to the Center on Budget and Policy Priorities, one in three children in working families will be completely excluded or only partially benefit. Non-citizen families, many of whom are undocumented, filing taxes with an individual tax identification number would also be barred from claiming the Child Tax Credit unless they provided a Social Security number for each child. This would impact about one million undocumented children, and incomes for entire undocumented and mixed-status families would take a hit.
The elimination of state and local tax deductions is projected to increase taxes for workers across all income brackets who itemize, negatively impact homeownership and price stability. In response, state and local governments would be pressured to offset high federal taxes with local tax cuts, even for the wealthiest in each state. What does this mean for already cash-strapped low and moderate-income communities? Less state and municipal money going to areas like workforce development, hospitals, infrastructure, community development, and k-12 schools.
For k-12 schools, this would be a tragedy because approximately 90 percent of funding for public school systems come from state and local taxes. According to the Center for Budget and Policy Priorities, most states already provide less financial support for students than before the recession, with some states still cutting school funding eight years after the crisis. Although up to 90 percent of teachers in low-income districts purchase supplies needed for their classrooms (itself a sign that we underfund our schools), the GOP tax plan eliminates a $250 tax deduction for these teachers. With this background, instead of restoring public school funding, the proposed tax plan defunds our schools and gifts affluent families a tax break for private school tuition.
Though the ACA furthered health equity across race and gender by requiring health insurance for everyone and making it more affordable, the Senate's proposed tax plan eliminates the individual mandate, potentially crippling the system. According to the Congressional Budget Office, 13 million Americans would be stripped of health insurance by 2027 and premiums would increase by 10 percent, triggering a $2,000 increase for middle-class families.
TAX CUTS FOR CEO'S
Who'll be among the beneficiaries of whopping tax cuts?
Fortune 500 CEOs. Although Fortune 500 companies employ 17.5 percent – almost a fifth – of total U.S. workforce, in 2017 only four CEO's are Black and 32 are women. On average, these CEO's are paid almost 300 times as much as their typical worker.
At a time of historic inequality when the tax code could foster democratic wealth distribution, the opportunity for reform has gone to waste. Tax cuts for wealthy corporations and one percenters, coupled with a disinvestment in social programs on which people of color and working families depend, ensure record inequality for generations.
Sharon Velasquez is Greenlining's Economic Equity Manager. Follow Sharon on Twitter.