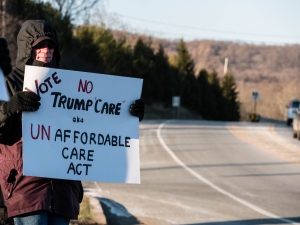 By the skin of their teeth, House Republicans voted yesterday to strip health coverage away from 24 million Americans. With the onus now on the Senate to act, I can't help but entertain the following questions…
I wonder what it's like to vote for a bill you haven't read, hasn't been scored by the Congressional Budget Office (so you have no clue about costs), and is only a day old – so basically, you didn't do your homework and don't care…
I wonder what it's like to support legislation that polls at 17 percent support, and is opposed by virtually every respected group in the health care community…
I wonder what it's like to tell lie after alternative fact over and over again, just to keep a blind campaign promise…
I wonder what it's like to go to work every day for eight years, attempt to get nothing done, and then pass that along as dignified hard work…
I wonder what it's like to go to work after those eight long years, and then figure out I have no clue what I'm doing…
I wonder what it's like to ignore massive grassroots protests across the country defending the gains in health coverage and the thousands of lives saved…
I wonder what it's like to pop champagne bottles, knowing your vote could sentence millions of people to an early death…
I wonder what it's like to care only about the interests of the wealthy and privileged…
I wonder what it's like to scapegoat the suffering and fault them for their afflictions …
I wonder what it's like to not give a damn about patients with pre-existing conditions like pregnancy, domestic violence, rape, maternity care, c-section – so basically all women…
I wonder what it's like to support the racial wealth gap, exacerbate racial and ethnic health disparities, and demonize honest, hard-working immigrants who MAKE AMERICA GREAT …
I wonder what it's like to know that someone we hold dear may have to cope with a diagnosis they didn't expect, and then deprive them of the care that could save their live in their hour of greatest need…
The fight isn't over. We mustn't allow the Senate to follow suit and deny millions of people access to vital health services. Pressure your senator to vote against the American Health Care Act by calling their Washington, D.C. office, writing a letter, sending a tweet, attending a local action, drafting an op-ed. Do SOMETHING. Do ANYTHING. And be sure to check Greenlining's weekly #ResistReport every Thursday for updates on this and other issues.
Bigotry and ignorance may have won the day, but the war is far from over. We mustn't let congress do away with the progress of the Affordable Care Act. I'm ready to #SaveObamacare.
What about you?
Anthony Galace is Director of Health Policy at The Greenlining Institute. Follow Anthony on Twitter @anthonygalace.