"After being in prison, I just wanted to live again…a second chance at life."

– Tio
During the height of the racist war on drugs, the police arrested my Tio (uncle in Spanish) and locked him up. He spent five years of his young life in Wasco State Prison, 170 miles away from family. His conviction: Armed with a brown body in this nation.
I was two years old when the carceral state took my Tio. Flash forward twenty years to April 18, 2017: I entered the state capitol carrying the weight of him and my ancestors to testify to the Assembly Public Safety Committee in support of Assembly Bill 1344. Authored by Dr. Shirley Weber (D – San Diego), this bill would raise awareness of the voting rights of incarcerated and formerly incarcerated individuals like my uncle by requiring the following:
The Department of Corrections and Rehabilitation must post the state's voting rights link on their website, and in the probation office
Probation offices must provide a hard copy of voting rights information if requested by parolees
"I would have voted had I known I could. What the government does affects my family."

– Tio
I called my Tio prior to the committee hearing to ask what he had been told about his voting rights. When he completed probation, the probation officer told him that he could never vote again. The state lied to his face. It's been 20 years since he's been off parole, never knowing he could vote. My energy then shifted to anger.
Black and Latinx communities make up roughly 44 percent of California's population and 70 percent of those incarcerated. Policing in communities of color fuels the criminalization of black and brown bodies. The penal system was designed to do just that.
Mass incarceration is an ugly and dehumanizing machine. Once incarcerated, you're reduced to being a second-class citizen. Being labeled "a felon" haunts you for the rest of your life, exacerbating health disparities including mental health and restricting access to housing, employment, and voting. Statewide, folks with records are legally required to answer yes to the intrusive question, "Have you ever been convicted of a felony?" In 2014, California "banned the box" by removing criminal history questions from only state and local government job applications.
It is a common myth that formerly incarcerated individuals cannot vote again Voting rights of current and former prisoners vary depending on the state where they live. In states like Maine and Vermont, felons retain their voting rights while in prison. In states like Florida and Virginia, a former felon must sign a petition or submit an application to the government in hopes that their voting rights may be restored. In California, ex-offenders' voting rights are restored after completing parole, and they must re-register to vote – but often are not told they can.
I promised my Tio I would not let him down with my testimony about his lived experiences to state officials. He assured me, "It would be awesome to speak and give my own testimony. You know I am not shy about it. [laughs]. Now, you have the opportunity to speak up for me. I know you'll do great." My body felt a surge of sadness, excitement, and responsibility.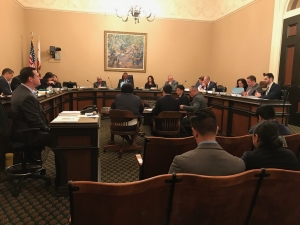 As I sat down to testify beside Dr. Weber and Sammy Nunez, Executive Director of Fathers and Family of San Joaquin, my heart beat rapidly. I was nervous. Yet I remembered I was in community alongside my colleagues at Greenlining, Policylink, and Fathers and Families of San Joaquin. The bill passed the public safety committee hearing and moves on to Assembly Appropriations Committee. One of the biggest wins for me was sharing my Tio's story.
I didn't testify to speak for my uncle. I can never do that. I spoke to amplify his voice and the voices of countless others. That's what authentic advocacy is about.
---
If you are reentry or have a loved one whose re-integrating, check out these helpful toolkits by Roots & Beyond on supporting the reentry process. 
Click here to visit the Jobs For Felons Hub, includes housing and legal resources 
Click here to visit California's Voting Rights Guide for Folks With A Background 
Daniel Cano is Greenlining's Health Equity Fellow. Follow him on Twitter.