It is a Saturday night and I'm at the Atlanta Hilton standing at the door of the Crystal Ballroom. I stand watching 100+ people of color and social justice activists dance and sway to the music, living. And I think to myself "Do you think they know?"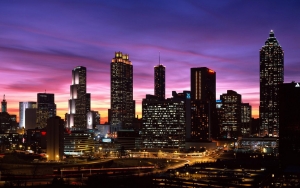 It is a few days after the election and I'm at the Facing Race conference, a conference dedicated to the racial and social justice movement. Workshops titled "Raza Que Raza: The State of Latinx Racial Justice" and "Keys to Interrupting the Impact of Implicit Bias" occupy my time. I hear speakers remind me of Audre Lorde's statement "The Master's Tools Will Never Dismantle the Master's House." I've spent the last 48 hours being surrounded by social justice activists, who exemplify strong, hopeful people of color. I've been listening to voices from the world of workers' rights, organizers, queer voices, philanthropic voices, and immigrants' rights, but I still can't face the news.
For the last few days, I've stuck my head in the proverbial sand. No news, no Facebook, barely skimming Twitter. You see, pre-election I had the news on in the background every moment I was home or had down time. I love 'Good Morning America' with Robin Roberts and George Stephanopoulos and most recently Michael Strahan. The last 72 hours I have shut out the news. You see, I'm very good at ignoring the negative – I grew up being bullied, harassed, and discriminated against and still graduated high school.
For the last few days, I fought the tears back each time I thought about what the next four years might bring. I remember California's dismantling of affirmative action through Prop 209, the fearmongering of Prop 187, and the loss of marriage equality in Prop 8. This week's feeling of loss is greater than what I felt after all three of those propositions combined; it feels like life ran over my ego and my pride and reversed over my confidence and trust in this country.  Never in my life have I felt so… lost, sad, and so worried about my people, worried about my finances, my living situation, about my cousin who doesn't have her shit together, mi gente, and my queer family – all moving across the intersections of identity. I work with and for brown and Black folks at the Greenlining Institute, I get to be part of Somos Familia, Chicana Latina Foundation, and I spend my time with folks from the movement, love them, and listen to them.
And tonight, the Facing Race attendees dance and sway to the music and they dance in the intersection of life and identity –  aware of the oncoming traffic coming each way. As they laugh, drink, love, dance, and hold each other, I watch them and think to myself – "Do you think they know?"
Do you think they know that the next four years are going to be hard?
Do you think they know that perhaps the organizations that sent them to Facing Race might not survive the onslaught of the policies of the next four years?
Do you think they know their kinfolk might support these harmful policies?
Do you think they know that we might lose some of the real work of the last eight years?
Do you think they know it's going to get A LOT harder?
Oh, yeah, I should mention, I worry a lot – about a lot, about my family and friends. You see, I love them, a lot. And for the last few days, I've been fighting the tears. Because if I start crying it means I'm losing them and then I'm losing a part of myself. Truth be told — I can't bear to watch them struggle more than they do now.
Tonight, I watch my people dance, laugh and drink and I hold the tears back and I think "do you think they know?" I watch them laugh and charm each other, I watch them hold hands to make a human-limbo stick, and it comes to me slowly and clearly:
They know and they are ready.
Tonight, they are just taking a break. Like when my mom gets tired and sits down for a few minutes before she finishes whatever she was doing.
I know they are going to wake up tomorrow morning and put their hair in a ponytail and get back out there.  They are going to drink some water, zip up their hoodie, open their laptop and type, organize, and make change. They show me that I must get back out there and join them — follow them, lead them, and most importantly, love them.
And as I walk to my hotel room, I think of the opposition: "Do you think THEY know?"