A few years ago, California started an ambitious program to charge polluters for the climate-changing greenhouse gases they put into our air, and then use that money to promote clean energy and energy savings while bringing the benefits of this growing clean energy economy to our most polluted and economically struggling communities.  How's that effort going?
We now have partial answers, and while incomplete, they're encouraging.
The California Department of Finance is required to submit an annual report to the Legislature on the status and outcomes of projects funded by the money polluters pay into the Greenhouse Gas Reduction Fund (GGRF).  The 2016 Annual Report lists the projects funded by the GGRF and describes their status. It also provides estimates of the Greenhouse Gas (GHG) reductions expected from project investments and provides key statistics on benefits to disadvantaged communities, demand for funding, and leveraging. The report provides fiscal data as of November 1, 2015, and program accomplishments through December 2015.
These are the top 9 things you need to know about how California is fighting pollution and poverty at the same time:
NUMBER ONE: The 2016 report only gives us a partial accounting of the benefits that California's Climate Investments are expected to generate.
There are several reasons why the 2016 report only gives us partial information.  The most important include:
NUMBER 2: While over $2 Billion has been appropriated for GHG reducing projects we only have data on concrete outcomes from $912 million in implemented projects through 2015.
While California's climate program has been ramping up for several years now,  we have only experienced one full year of investment (FY 2014-15) and one partial year of investment (FY 2015-16), because over $1 billion in FY 2015-16 was never allocated to implementing agencies.  This means that less than half of the total funded projects have reached the implementation stage (money that has actually been distributed for consumer-driven incentives and money for select capital projects or equipment upgrades).  A lot of projects have only reached the award stage and in some cases money has been appropriated to agencies but they haven't yet given it out.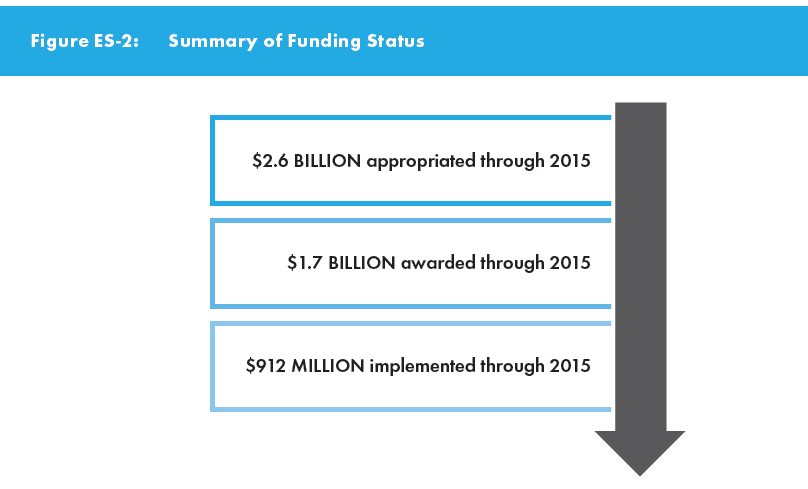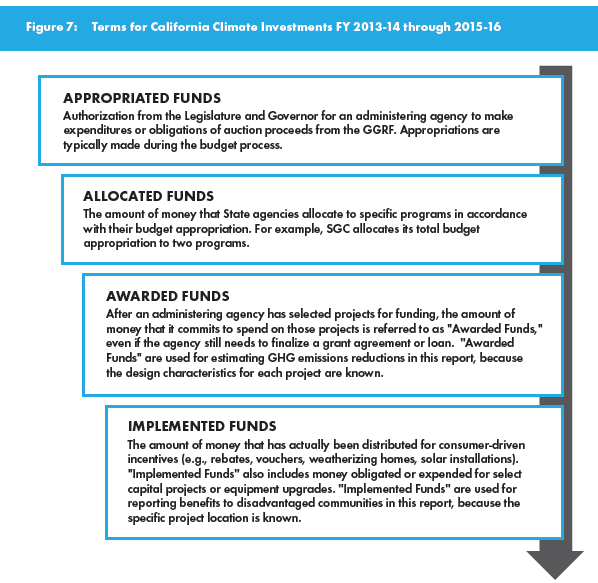 NUMBER 3: More money is benefiting disadvantaged communities than required by SB 535 (De Leon, 2012).
SB 535 requires that at least 25 percent of California Climate Investments are allocated to projects that provide benefits to disadvantaged communities, with a minimum of 10 percent going to projects located directly within and providing benefits to disadvantaged communities.  The 2016 Annual Report shows that over half the "implemented funds" have gone to projects that benefit disadvantaged communities and 39% of the funds went to projects located in disadvantaged communities. This is great news for California's fight against poverty and pollution.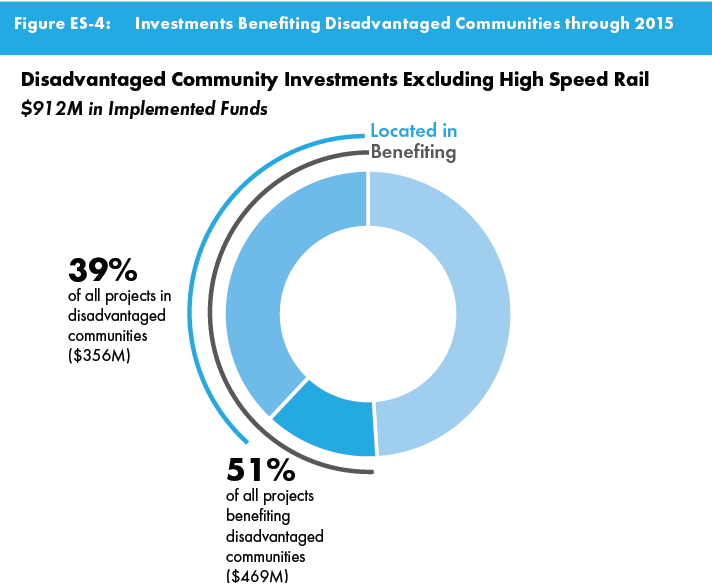 NUMBER 4: California will reduce GHGs by over 14 million metric tons of carbon dioxide equivalent (MTCO2e).
Over their lifetime, $865 million in projects selected for funding are expected to reduce GHG emissions by over 14 million metric tons of carbon dioxide equivalent (MTCO2e), based on methodologies developed specifically to quantify the GHG impacts of these investments.  The estimate is only a fraction of the total appropriated funds because over half have yet to be awarded to projects.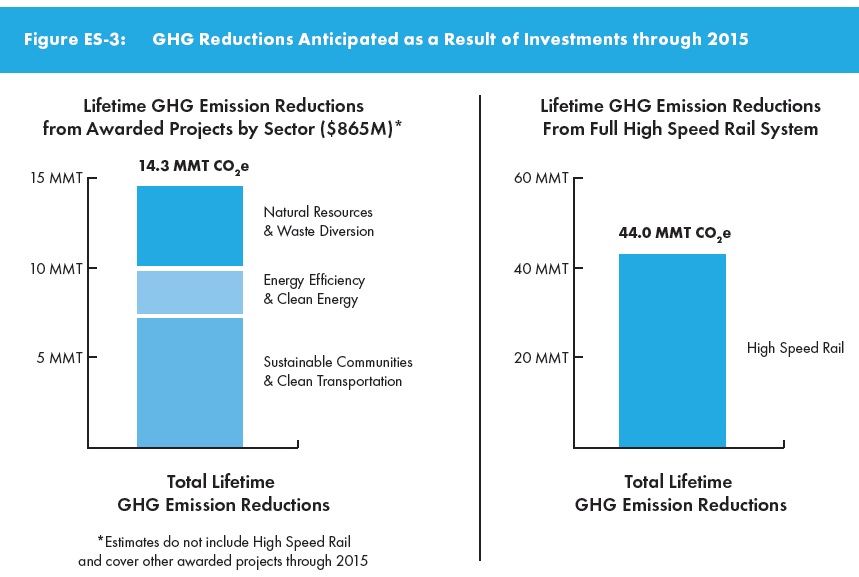 NUMBER 5: 87% of the state's disadvantaged community census tracts already have projects funded by California Climate Investments.
While not all disadvantaged communities have received the same level of investment, the fact that nearly nine out of ten disadvantaged community census tracts have already received projects funded by the GGRF is impressive.  It is also important to remember, that as described in key finding number two, over half the appropriated funds have yet to make their way to implemented projects.  Once all funds reach the implementation stage, the number of census tracts with GGRF funded projects should increase significantly.
NUMBER 6: In total, agency reports indicate the $1.7 billion in awarded funds have attracted over $5.7 billion in investment from additional sources, leveraging more than $3 for every dollar invested.
NUMBER 7: Bringing fuels under the cap in 2015 more than doubled the revenue for the GGRF.
Each year, the cap on greenhouse gas emissions is lowered and the number of allowances declines in proportion to achieve the intended emission reductions.
Beginning in 2013, the cap included GHG emissions from electricity and large industrial sources. Transportation fuels, and residential and commercial use of natural gas and propane, were included in the cap starting in 2015. Big Oil didn't like it, but this money is helping bring clean energy to millions of Californians.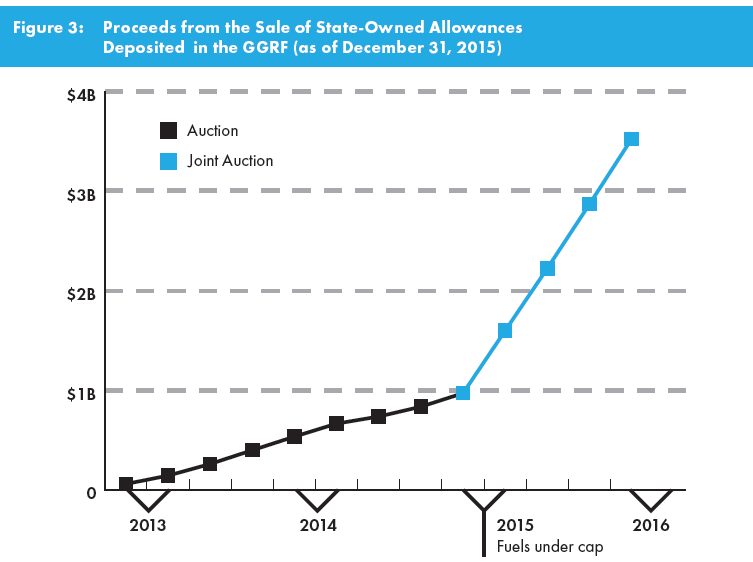 NUMBER 8: The Governor proposes to allocate $3.1 billion for GGRF programs for FY 2016-17.
While the final amount allocated for FY 2016-17 won't be set for a couple more months, some experts believe the GGRF can grow by as much as $1 billion between the Governor's January budget proposal and the May Budget Revision.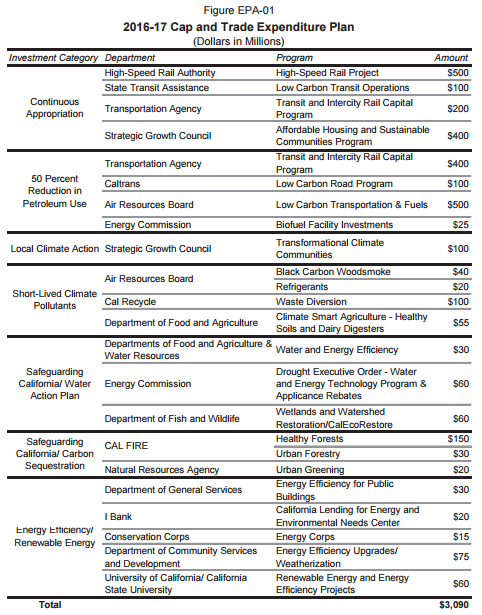 NUMBER 9: New legislation now being considered can help California make even more progress against both pollution and poverty. That's important enough that I'm going to devote a separate blog post tomorrow to explain it.
Special thanks to the additional members of the SB 535 Quad (Asian Pacific Environmental Network, Coalition for Clean Air and Public Advocates) for their help crafting this analysis.