T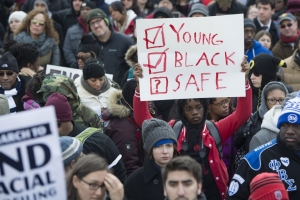 he genesis of the #BlackLivesMatter movement has forced this nation to confront the reality of anti-Blackness in structures and institutions in our society – a reality that many of us have the privilege to ignore and often benefit from. I remember hearing about the death of Trayvon Martin, Michael Brown, Sandra Bland, and so many more Black lives lost to police brutality. Every time, the same emotions would boil up: sadness, anger, and frustration at such a clear act of racially-motivated and state-sanctioned violence. As the names of Black lives continued to appear almost every day on the news, it became clear that we all have an obligation to do something about it.
Our voices aren't always present in debates about 'Use of Force' policies or racial bias training for law enforcement officers. But our voices in health advocacy have a critically important role to play in the #BlackLivesMatter movement.
As health advocates, we share a common goal: promoting good health for underserved communities. Whether we work to accomplish this goal through law, science, public policy, community-building, or other methods, we choose to dedicate ourselves towards reducing barriers to achieving healthy lives. We cannot ignore the impact that racism –on an individual and systemic level – has on our health. In order to achieve our common goal, health policy advocates must address racism and other forms of oppression head on. In this sense, health advocacy is fundamentally anti-racism, anti-oppression work.
#BlackLivesMatter is more than a call to end the police brutality experienced by Black communities. It is an affirmation that Black lives matter, unconditionally, and in all contexts. An estimated 216 Black people have been killed by the police so far in 2015. According to the Center for Disease Control's 2013 statistics data, 13,385 Black people died from diabetes, 96,535 from cardiovascular diseases, and 72,927 from chronic respiratory diseases. All of these Black lives lost – they matter and should be a call to action.
Good health requires safe, clean, and affordable conditions where we live, work, learn, and play. But as the recent strategic plan from California's Office of Health Equity reveals, racial inequity continues to be a barrier to good health for the Black community and communities of color. On average, for every dollar that a white family has, Black households only have 6 cents. 46% of low-income Black adults are not able to afford enough food compared to 35.9% of their white counterparts. Black children are four times more likely to be hospitalized for asthma than white children, largely due to increased exposure to air pollution. And this is just a part of the picture. Across the board, Black communities and communities of color experience inequity across all conditions that make up good health.
In reference to #BlackSpring (a phrase that emerged out of the Black Lives Matter movement in response to the murder of Freddie Gray), co-founder of #BlackLivesMatter Alicia Garza stated: "There is a Black Spring emerging where communities that have been under the boot of police terrorism, communities that have been attacked by poverty and unemployment are rising up, coming together and advancing new solutions and new visions and new demands to create a new world where Black peoples' lives matter".
Patrisse Cullors, also a co-founder of #BlackLivesMatter, stated in an interview on The HuffPost Show, "Black people are not a monolithic group, but what we are facing is something that's extreme – and that's poverty, homelessness, that's higher rates of joblessness, that's law enforcement invading our communities day in and day out – and we are uprising".
Racism kills – but it isn't always through police violence. Inequities in safe and affordable housing, nutrition, employment, education, and health care are literally a matter of life and death. There aren't always protestors with signs reminding us that #BlackLivesMatter in the ways we influence health policies daily. Yet, this critical lens of racial equity is entirely necessary in all health advocacy spaces.
This is a reminder that #BlackLivesMatter in all policies. We must work together to find strategic solutions that affirm this. We must work together to create systems that recognize the value of protecting Black lives from police brutality and create conditions that promote the health and wellbeing of Black communities. For health advocates, we cannot properly do our job unless #BlackLivesMatter is at the very core of our work.