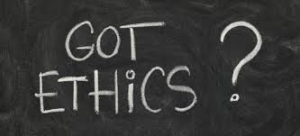 Last year, after receiving a citizen compliant, the Alameda County Grand Jury investigated an instance where Oakland's city contracting, purchasing, and hiring rules were circumvented by a council member to move forward a special project in their district, at a time when many other projects and programs were being cut. Read the Grand Jury report here.
The larger issue though, wasn't the actions of one city council member, but the structural problems that have allowed the ethics lines in Oakland to be fudged more often than they should without any real repercussions. Oakland has had a Public Ethics Commission (PEC) in place to act as a watchdog over local government, but since it has never really been given any real funding or resources to be able to do its job, watching is about all they can do.
Other ethics commissions, such as those in Los Angeles and San Francisco, have significantly more staff, independence, and enforcement authority than Oakland's PEC.
The Grand Jury report gives the council a small window of opportunity to do the right thing and restore public confidence in government by finally empowering the PEC to be able to do its job.
On July 15, the Oakland City Council will consider a charter amendment to give to the PEC the funding and resources it needs to truly be independent and effective. The amendment was introduced by Councilmember Dan Kalb, who put together a working group of community based issue experts last fall – including from The Greenlining Institute, League of Women Voters, and California Common Cause — to help him develop some recommendations for strengthening the PEC once and for all.
A report of the working group's findings and recommendations is available here.
Since drafting the charter amendment, which was initially based on the recommendations of Councilmember Kalb's working group, it has gone through a series of public feedback and amendments. If the full Council votes in support of the charter amendment, it will be placed on the November 2014 ballot where Oakland voters will have a chance to make it law.
The question now is, will council members actually put the measure on the ballot, and will Oakland finally get the first-rate Ethics Commission it deserves?
Show up at the meeting and tell the council what you think!
Tuesday, July 15, 2014
Oakland City Hall, 1 Frank H. Ogawa Plaza, Oakland, CA
City Council Chambers, 3rd Floor
The meeting starts at 5:30pm, but the PEC charter amendment is expected to be heard after 6:30pm. Download all the info on the charter amendment here. Meeting agenda here.
Can't attend? Send the council members a letter stating your support for the Public Ethics Commission charter amendment to be placed on the November ballot. You can email your letter to DL-councilmembers@oaklandnet.com.