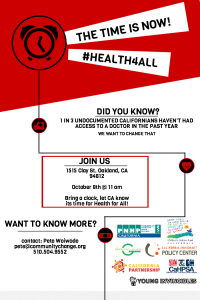 "Of all the forms of inequality, injustice in health care is the most shocking and inhumane."
– Dr. Martin Luther King Jr.
Four and a half years ago, the passage of the Affordable Care Act (ACA) marked a tipping point in the struggle to undo the injustices in health care that Dr. King spoke of. Despite a few hiccups, California is leading the charge to implement this law, as millions have transitioned to Medi-Cal or qualified Covered California health plans. For the first time in several generations, the prospects for health care look brighter. Californians should be proud of our state's strides towards greater health equity.
And yet, we still have so much more to do.
Despite the progress made by the ACA, it is still nowhere near enough. For example, these reforms explicitly left out undocumented immigrants. While the mere mention of this community is enough to make some politicians bolt to the nearest exit, Californians have stepped up to the plate once again.
During the 2014 legislative session, Senator Ricardo Lara, D-33, introduced SB 1005, commonly known as the Health4All bill, which would have extended full-scope Medi-Cal to low-income undocumented immigrants. Additionally, this bill would have created a parallel health benefit exchange, governed by the board of Covered California, to enroll undocumented immigrants into qualified health plans. Public support for the Health4All campaign has swelled, with numerous organizations throughout the state endorsing this proposal.
Recent polls also reflect this growing support. Not only is health care a basic human right, the political atmosphere has become more favorable. A survey conducted by the California Endowment recently showed that a majority of participants (54%) support extending health coverage to all low-income Californians, regardless of immigration status. This sends a powerful message for legislators in Sacramento to pass Health4All. Simply put, it's the right thing to do.
Advocates of Health4All must make sure these voices don't go unheard. So we hope you can join us tomorrow, October 8th at 11 a.m. for a rally to support an end to the unjust practice of denying health coverage to undocumented immigrants. This rally has been organized by a coalition that has been actively pushing for expanding health coverage to undocumented immigrants. Greenlining has been a strong supporter of Health4All since it was first introduced. We've met with state legislators and community organizations to build momentum for this campaign. Once the elections end and the next crop of legislators assume their position in the state capitol, we must make sure they prioritize health for all.
The Greenlining Institute channels Dr. King's vision and example in our mission to advocate for racial and economic justice. His legacy will be on full display as we continue to push for the expansion of health care in California to include all. We have the chance to exercise our voice on this very critical issue on Wednesday, and we can be sure that lawmakers will be listening.
We hope to see you there.