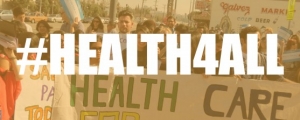 We are officially three weeks out from the end of the Affordable Care Act's first open enrollment period and there is a lot of reason to celebrate: In California, nearly 1.4 million people have signed up for private health insurance coverage through Covered California and 1.9 million have signed up for Medi-Cal. With these numbers, California has established itself as the leader in Obamacare enrollment but as others have rightfully indicated, it's too early to take a victory lap. Some of our neighbors have been left out.
I agree with what many others have said before—while the enrollment numbers are great, we still have a lot more work to do.  But I'm not just talking about improvements to outreach and enrollment and our online application system. Even with the Affordable Care Act in place, an estimated one million undocumented Californians still remain uninsured. This is not ok! Without insurance, individuals often have to choose to not seek critical health care services because of high costs and other barriers. This not only puts their long-term health in jeopardy but creates an added costly burden for everybody by limiting people's access to only the emergency room. As Mayra states while telling her story, "California's health does depend on everyone…the opportunity to see a doctor should be open to everyone in California."
We are working to make this happen and so can you! On Wednesday, April 30, the California Senate Health Committee will hear Senator Ricardo Lara's Health for All bill, SB 1005. This bill will make quality health insurance affordable and accessible for all Californians, regardless of immigration status, by setting up a parallel exchange for those individuals.
Sounds great, right!? You can help us move this bill forward by joining the #Health4All campaign. Our colleagues at Young Invincibles and other advocates are building awareness of who has been left out of the current system. To help, you can donate a social media post to their thunderclap, visit the state-wide Undocu-CARE-van and sign the petition to let your friends, family, communities, legislators and decision makers know that you support #SB1005.
And if that's not enough, call the Senate Health Committee and let the members know that you support SB 1005 and urge their "Aye" vote in committee next week. We cannot afford to leave millions of Californians behind without affordable and equitable access to health care. California is stronger when we're ALL covered! SB 1005 is the right way to get us there!