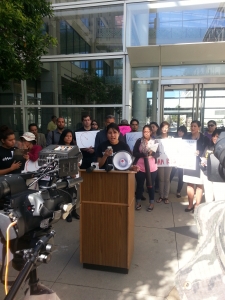 On Wednesday, October 8, advocates and legislators came together at a Health4All rally to publicly and emphatically support access to health coverage for all Californians, especially undocumented immigrants. The testimonies at the rally echoed the voices of a majority of California voters, who recognize that we can't wait any longer to provide health care to our undocumented neighbors and friends. At the rally, the Greenlining Institute joined Assemblymember Rob Bonta (D-Oakland), and several organizations, such as Asian Students Promoting Immigrant Rights through Education (ASPIRE), California Immigrant Youth Justice Alliance (CIYJA), California Partnership, California Immigrant Policy Center (CIPC), Educators for Fair Consideration (E4FC), Young Invincibles, California Health Professional Student Alliance (CaHPSA), Physicians for a National health Program (PNHP) California, Children's Defense Fund (CDF), Street Level Health Project (SLHP), and many others to urge Sacramento legislators to get on board and help make the Health4All campaign a reality.
California has unquestionably led the charge to implement the Affordable Care Act, and we have a lot to be proud of. During the inaugural open enrollment alone, 1.4 million Californians gained health coverage through Covered California. For many, this was cause for celebration, but to others, including us here at Greenlining, we chose to ask tougher questions like: "Who was left out of this expansion?" and, "How can we make sure that all our California neighbors can get the health care they need?"
The answer is quite simple. Providing coverage to undocumented immigrants will undoubtedly ensure greater health equity by expanding access to those who need it most. However, delaying health coverage for undocumented immigrants will mean that more Californians will be have to experience heartbreak similar to what Greenlining Academy alum and Pre-Health Dreamers co-founder Denisse Rojas went through.
When Denisse was a student at UC Berkeley, her mother was diagnosed with uterine fibroids but was denied health coverage due to her immigrations status, which forced her to seek health coverage in Canada. Due to her immigration status, Denisse is unable to leave the United States and her mother is unable to re-enter, causing them to remain separated during this time of need for both. Their story illustrates why comprehensive immigration reform is so desperately needed, but it is also serves as an example of how Health4All can keep families together.
Assemblymember Bonta said it best at the rally when he stated "There's a hole in the Affordable Care Act that you can drive a truck through." New legislation to bridge this disparity is currently being drafted. During the last session, Senator Ricardo Lara (D-Huntington Park/Long Beach), introduced Senate Bill 1005, which would have expanded health coverage to undocumented immigrants but it was unfortunately stalled in the Senate. This time around, advocates and allies must not relent in our efforts to ensure health care for all Californians.
We will only be healthy when we can all be healthy. I firmly believe that we, as Californians, have an obligation to lead on this issue. For one, leading is something we're used to; and secondly, we have so much to gain from this. Our hope is that in leading the charge to expand health coverage to all Californians, other states will follow suit. Join us in supporting Health4All, and our futures will be better off because of it.