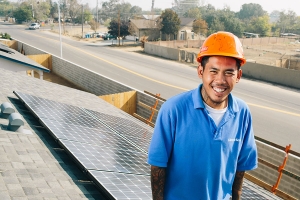 When I was in high school, my family lived in an affluent, very white neighborhood on the Palos Verdes Peninsula, several miles southwest of Los Angeles International Airport. On top of a hill, we were literally above the smog that shrouded most of L.A.
From time to time we would drive down the hill from our upper middle class perch into Wilmington, a nearby town that was predominantly Latino and much, much poorer. You could literally watch the air change as you went down the hill, into an area where frayed-looking houses and apartments were tucked in between oil refineries and enormous fuel storage tanks.
There were no oil refineries in my neighborhood.
Too often in this country, money buys you access to clean air, trees, parks and a safe, healthy environment. That needs to change. Your income, ethnicity or ZIP code shouldn't determine whether or not you get to breathe air that's clean and isn't slowly killing you.
That simple proposition is what Greenlining's Environmental Equity program is all about. Among other things, we've fought to make sure that California's strategy to fight climate change also helps bring clean air, jobs and investment to communities like Wilmington – and so many others – that for too long have been used as toxic dumping grounds.
The good news is that what we're doing is working. The bad news is that all this progress is under attack by the oil lobby, with its well-financed phalanx of lobbyists and lies. But we're not backing down.
Today we unveiled the next step in our fight to make sure all of California's communities have access to both good jobs and clean air, a new website called UpLiftCA.org. It has facts and stories you probably haven't seen in the mass media, stories Californians need to hear.
Please visit UpLiftCA.org, learn about the amazing things that are beginning in our state, and invite your friends to check it out as well.
The lungs you save may be your own.