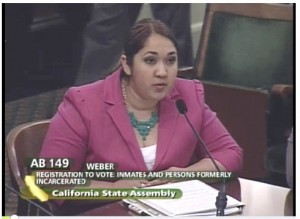 California's voter registration rate is appallingly low. We rank 45th out of 50 states, and currently have about 6 million citizens who are eligible to vote but are unregistered.
Why? Some citizens don't even know they are eligible to vote.
I testified recently at the Assembly Public Safety Committee about a bill that will help solve this problem by ensuring that people with prior criminal convictions know about their right to vote. Assembly Bill 149, introduced by freshman Assemblywoman Shirley Weber (D-San Diego), is important for voting rights, civil rights, and our public safety. Watch the clip of my testimony here.
At Greenlining Institute, we are proud to co-sponsor this bill. If passed, the bill would require the Department of Corrections to notify inmates and former felons of their right to vote as they become eligible, and to provide them with a voter registration card and the current guide to voting rights for inmates and former felons.
In California, only people on parole or in state prison are denied the right to vote. Those on probation, in county jail, or who have completed their sentence are immediately restored their voting rights. The problem is, no one is currently letting them know this, and many who've been released from prison still think they can't vote 10, 20, or even 30 years later. Did you know what the laws were related to voter eligibility for those with prior criminal convictions?
I didn't think so.
According to the Bureau of Justice Statistics and the California Department of Corrections, in 2010 there were about 310,000 people on either parole or probation. This population accounts for about 5 percent of our total unregistered citizens. If they were informed about their right to vote, many more would register and perhaps we wouldn't rank so low in voter registrations.
More importantly, with more than 75 percent of our state prison population being either black or Latino, it is crucial that we address these barriers, such as misinformation, if we are ever going to achieve fair electoral participation.
If you have a story to share about why AB 149 is important to you, we want to know. Please send us your story to micheller@greenlining.org.