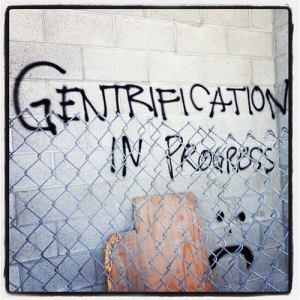 For years I have been hearing from Oakland natives who are concerned about the city's change in demographics. A city rooted in the history of African American civil rights and culture and once the center of Northern California's black community, Oakland has lost nearly one-fourth of its black population to mass gentrification.
As an Oakland native, I'm torn by the city's new "revival." A recent NPR article, "Seeking Oakland's Soul In the 'New Oakland,'" echoed my frustrations and disconnect with this new place. The city is more beautiful than ever, attracts a wealth of people and was #5 on the New York Times list of Places to Visit in 2012. Yet it is unnervingly clear that the city is now attracting a different demographic that has no connection to the Oakland we knew. Rents are high, restaurants are expensive, access to single family property is scarce, unemployment has skyrocketed, and the city has made no real effort to preserve and protect affordable housing options for low-income consumers, especially consumers of color.
So the big question is what can be done and what should WE do? A recent report  provides context for how San Francisco achieved some success at preserving affordable housing due to four key factors: dedicated community advocacy and strong coalitions, development of and access to substantial funding sources, a holistic vision of building "not just housing, but communities," and constantly evolving housing programs that meet the new challenges and opportunities. Though San Francisco is still battling to solve this issue, it's a living case study of how rampant gentrification is and provides good models for action. Oakland can learn from this and other best practices in combating gentrification.
As a community of advocates, we need to work together to fight this already-moving train. At the local level, we have to push cities like Oakland to look at urban renewal plans more comprehensively, and understand that redlining is often subconsciously embedded into the planning process. Furthermore, we have to improve the current infrastructure for handling foreclosed properties in the city, from forcing owners of blighted properties to pay to pollute, to ensuring that foreclosed properties in Oakland go back to nonprofit organizations and low-income consumers. Oakland has a blighted property registry and code enforcement, though it has not lived up to its intent. Strategies for improving neighborhoods can include community land banks, land trusts, and other mechanisms to reintegrate these homes back into the surrounding community, rather than letting them become vehicles for investors and speculators.
We must also ensure that local hiring and supplier diversity are key elements of urban renewal and neighborhood revitalization efforts. From local realtors of color to the maintenance involved in rehabilitating blighted homes, there should be plenty of opportunities for job creation. And based on the April 2013 jobs report, more opportunities for job creation are urgently needed in communities of color.
Of course, some of these community development issues — especially involving homeownership — are much bigger than any one city or county. That's why on a national level we need a proactive agenda designed to keep the dream of homeownership alive for people of color and all Americans who are hard-working but not wealthy.