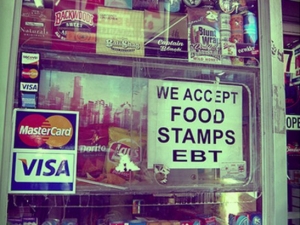 Astronomical housing prices and the sluggish job market are familiar realities for most Californians. But what may come as a surprise is that the overall high cost of living is driving many families into poverty. A shocking 22 percent of Californians are living in poverty, according to a new poverty index released yesterday by Stanford's Center on Poverty and Inequality and the Public Policy Institute of California. And this burden falls on different families in different places very unevenly.
Unlike the standard Federal Poverty Level, this new index considers the local cost of living in when it measures poverty. That makes a huge difference, and provides a much-needed reality check to the official poverty rate for California, which stands at 16 percent, according to the U.S. Census Bureau. That's over 2 million more impoverished Californians than the official measure, 8.1 million altogether.
Let's talk about the numbers. Most Californians spend way more on housing than people in other states, and the new poverty index found that poverty thresholds for a family of four ranged from $29,500 to $37,400. Contrast this with official poverty threshold of $22,811 for a family of four—in any California county. Part of the difference we're seeing is that the new figures account for non-discretionary expenses like medical bills and the cost of getting to work.
As a Bay Area resident, I can personally attest to the cost of living here. San Francisco, for example, which is generally thought of as rolling in tech-generated wealth, has one of the highest poverty rates in the Bay Area—higher than Alameda, Contra Costa or Solano—because of the sky-high cost of living, especially the cost of housing. As the wealth gap rises, two San Fransciscos are emerging: those prospering in the tech boom, and those barely keeping a roof over their heads.
Another very important takeaway is the critical role of federal and state safety net programs, which protect many more families from falling into poverty. These include CalFresh, the state's food stamp program; CalWORKs, the state's cash assistance program; and the federal Earned Income Tax Credit.
As it is, 25 percent of California's children are poverty-stricken. Without safety net programs, this figure would climb to 39 percent. In other words, that's 1.1 million children lifted out of poverty.
And it's not only children who experience poverty disproportionately. California's wealth inequality continues to hit some communities harder than others. Examples of the demographic disparities are stark: among the higher poverty rates are 30 percent of immigrants in California, 32 percent of Hispanic men, and 24 percent of black women. And contrary to stereotypes, 19 percent of Asian men are in poverty. This stands in contrast to less than 14 percent of white men and women in poverty.
For a nation-wide perspective, check out the "20 Facts About U.S. Inequality that Everyone Should Know" from the Stanford Center on Poverty and Inequality.