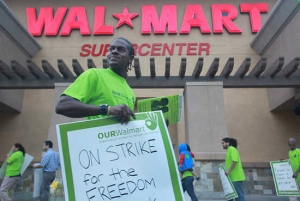 "We are not expendable!" shouted a Pastor from Brentwood, a town in Contra Costa County. The Pastor shared the story of his time working in construction, and his boss would frequently tell him: "You're worthless to me if you get hurt. You get hurt, I'll fire you." This was just one of many compelling testimonies shared throughout the day at the PICO Economic Summit held this past Saturday.
Speakers focused on the exclusion of people of color from jobs in the Bay Area's thriving growth sectors like tech and health care. Testimony after testimony shared stories of people excluded from the economy because of a criminal history, homelessness, racial profiling, immigration status, illness, etc. We have created a system that systemically locks people out of employment. As David Simon, creator of The Wire has put it, we have created two Americas.
The Summit was hosted by PICO affiliates Contra Costa Interfaith Supporting Community Organization, Oakland Community Organizations, East Oakland Building Health Communities, and Richmond Building Healthy Communities, among a slew of other organizations dedicated to working towards building an inclusive economy in the Easy Bay region and San Francisco Bay Area. The goal: changing the inequity in our job market by supporting excluded workers through organizing, advocacy and public actions.
I had the pleasure of participating in the summit and bringing to light the barriers people of color face in accessing health careers, particularly the barriers for the formerly incarcerated. Greenlining has been working hard to reduce these barriers by focusing on creating a more equitable process for fingerprinting and background check requirements and working towards changing our state policy so that it comes in line with recommendations from the U.S. Equal Employment Opportunity Commission (EEOC), which enforces U.S. regulations to ensure non-discrimination in employment. Part of this includes offering a fair chance for employment to those who have once made a mistake by committing a crime.
This is simple common sense: The best way to ensure that ex-inmates stay on a positive, productive path is to make sure they have a fighting chance in the legal economy. If we want people to give up crime, we simply have to give them a legal way to support their families.
Luckily, California has started to adopt some of the EEOC's recommendations by passing legislation to "Ban the Box" for state jobs—meaning the job application doesn't ask the question, "Have you been convicted by a court?" Oakland and San Francisco also have such ordinances, and now San Francisco Supervisor and Greenlining Leadership Academy alum Jane Kim is attempting to take it one step further by banning the box on job applications for most private employers, publicly funded housing providers and city contractors.
These policies cannot come soon enough. To prepare for their Summit, PICO surveyed approximately 1500 of their members from Alameda and Contra Costa counties. Their findings: Less than one third were employed full-time and 41 percent were unemployed, a rate nearly 4 times higher than Alameda and Contra Costa Counties as a whole. And of those who are working, 57 percent don't make a living wage; meaning they can barely afford to pay rent or buy groceries for their families. As one guy joked, too many of them have DGS health insurance. "Never heard of DGS health insurance?," he asked, "It stands for Don't Get Sick."
Too often when I am advocating for breaking down the barriers to employment, particularly the barriers related to those with a criminal past, I hear remarks and fears from people who say that we should never open the door for criminals to work—there is just too much risk. However, data demonstrates that this attitude is wrong. As one pastor put it at the Summit: For those communities with high unemployment rates, there are also high rates of crime—there is a correlation here! If we show people there are good jobs, they will listen. When individuals in a community lack opportunity to be a part of our economy, then they must find other ways to build that opportunity. Unfortunately those other ways are often through non-legal means. If shown that there is a way to have a good job that provides a living wage with benefits and meaningful work, people will jump at that chance. We have an urgent need to build an inclusive economy.  As Homeboy Industries puts it: Nothing stops a bullet like a job.