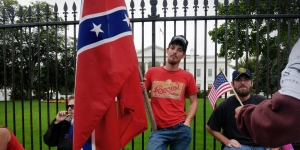 It's being reported this morning that Senate leaders have reached an agreement that may – underline may, because it must still be approved by the full Senate and the increasingly unruly House – reopen the federal government and prevent a U.S. default. That's good, but let's not forget the damage this has done.
And let's not forget that most of this damage has been done to the poor or near-poor.
Yesterday, for example, the Washington Post published a disturbing roundup of ways the shutdown has hurt those in need. Among other things, this includes states shutting down offices that provide nutrition assistance involving federal funds and stores refusing to accept food stamps, fearing they won't be paid. Child welfare services and public housing are also taking a hit, along with job training for food stamp recipients. And let's not forget the low-wage workers such as mailroom clerks doing without their paychecks — including many who work for the government, who will eventually get their back pay, and many who work for government contractors, who won't.
And legal services attorneys who work with low-income, elderly and disabled clients say some of the most vulnerable people in America are being hurt badly – for example, a woman facing a health insurance emergency who can't get the documents she needs because the government workers who could provide them are furloughed.
Meanwhile, as Greenlining's Orson Aguilar and Carla Saporta noted in a recent column, there is a disturbing racial element to this whole crisis. That only seems to have been magnified in recent days, with ugly explosions of racism, including a White House protest featuring Confederate flags and a speaker falsely condemning "a president who bows down to Allah."  And remember "Joe the Plumber" from the 2008 presidential campaign? He tweeted the other day that "America needs a white Republican president."
This crisis has been many things, but most obviously it has been an increasingly open attack on the poor and Americans of color – while right-wing commentators like David Limbaugh dismiss those who "hyperventilate over these mini-crises involving the temporary shutdown of small parts of the precious federal government."
Even if it's about to be solved – which I fervently hope it is – this man-made disaster has been one of the most shameful episodes in recent American history.