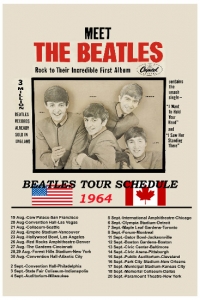 There have been lots of momentous civil rights anniversaries this year, and there will be more next year. This one isn't momentous, but it shouldn't be forgotten: It happened exactly 49 years ago today and involved four white guys from Great Britain.
The Beatles, on their first-ever U.S. concert tour, were astonished to find that the Jacksonville, Florida Gator Bowl where they'd been booked to play was racially segregated — despite the passage of the Civil Rights Act of 1964 earlier that summer. That's when the band did something rather nervy for a bunch of foreigners playing in the U.S. for the first time (and who, it should be remembered, were widely thought to be just another teen sensation who'd be forgotten in a year or two, not the cultural icons they later became):
They refused to play until the promoters and local officials agreed to desegregate the stadium and treat all races the same. "We never play to segregated audiences and we aren't going to start now," said John Lennon at the time. "I'd sooner lose our appearance money." The band also refused to stay at a segregated hotel. And instead of handling it quietly behind the scenes, the band put out a press statement saying, "We will not appear unless Negroes are allowed to sit anywhere."
That drew some hostility from the local press, but officials backed down and the concert went on as scheduled on Sept. 11, 1964.
When they returned for another U.S. tour the following year, the Beatles took no chances. They had it written into their contract that they would "not be required to perform in front of a segregated audience."
Two years later, Paul McCartney explained, "We never wanted to play South Africa or any places where blacks would be separated. It wasn't out of any goody-goody thing; we just thought, 'Why should you separate black people from white? That's stupid, isn't it?'"
The Beatles didn't put a lot of politics in their songs, but McCartney's "Blackbird" was a veiled tribute to the civil rights movement.
Some people complain when entertainers get involved in political issues. Personally, I like it when celebrities are willing to risk their income to do what they think is right, and have the nerve to refuse to play it safe. "We can do what we want, we can live as we choose," McCartney sings in his latest recording. Works for me.