Why Californians Deserve an Office of Racial Equity
COVID-19 has illuminated in the most vicious way possible that our economy runs on an engine of inequality and white supremacy. When I first saw the map of how COVID-19 has impacted Oakland, where I live, I couldn't help but notice the striking similarities with two other maps that I know too well; Oakland's 1937 Redlining map and Oakland's 2021 CalEnviroscreen map.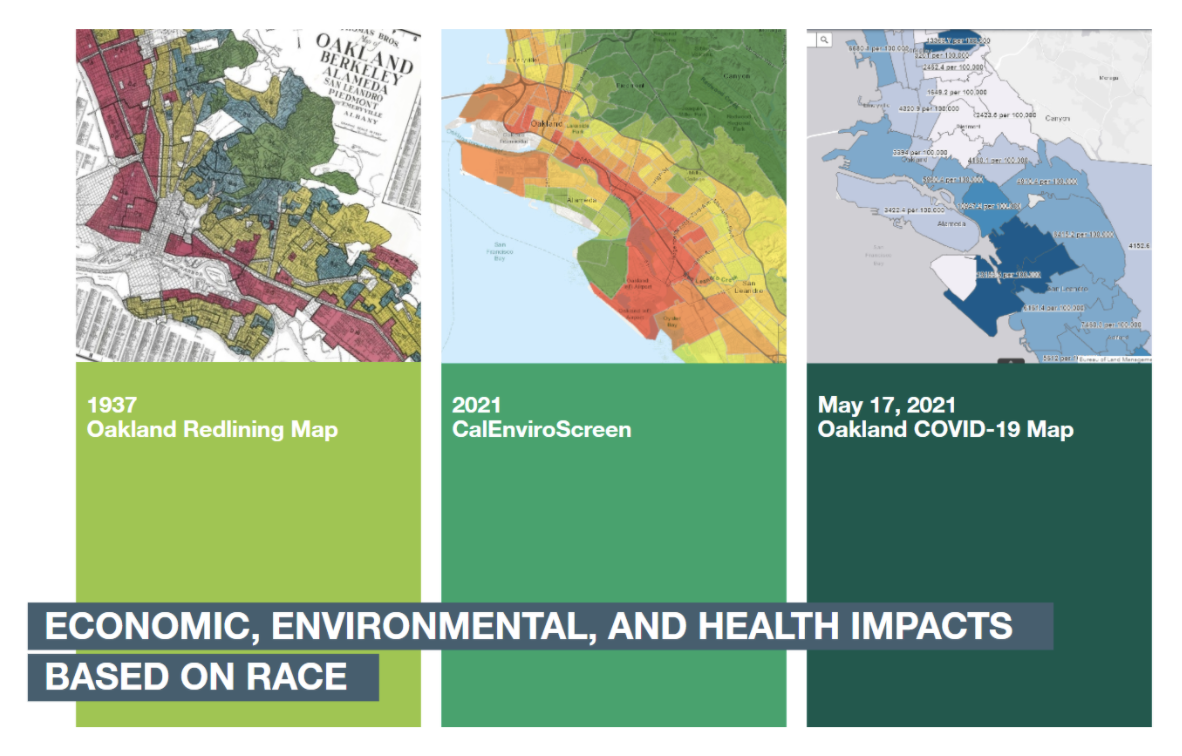 Low-income people of color are the most vulnerable to the devastating impacts of the pandemic, due overwhelmingly to decades of housing segregation, community disinvestment, lower access to quality healthcare and transportation, among other underlying conditions. Redlining is a practice that intentionally restricted investment in parts of American cities based largely on the race of the people that lived there, and disenfranchisement allowed polluting facilities like freeways to be located in communities of color, sealing the fate of low-income families of color to live near activities deemed detrimental to human life. The concentration of poverty and pollution in communities of color resulted in all too predictable deaths at the hands of a disease that attacks the respiratory system.
Another all too predictable outcome of this pandemic is the crippling economic impact it is having on low-income people of color, particularly women of color. Millions of people have lost their jobs, fallen into poverty, and risk becoming homeless due to mounting rent, mortgage, and utility debt. The ongoing global health crisis and economic collapse have revealed to the general public what racial justice advocates have known for a long time: our economic system is fundamentally and profoundly broken. The structural racism that puts people of color at a disadvantage came from deliberate policy choices, and it will take deliberate policy choices to fix it.
In recent years the California state government has taken discrete steps to resolve and atone for past racist policies such as establishing a Task Force to develop reparations proposals for African Americans or committing state agencies and organizations to take action to promote racial equity. But there has not yet been a holistic effort to dismantle the racism that pervades in our state's policies, nor have we dedicated government-wide efforts to prioritize racial equity and ensure that all future policies are anti-racist.
Greenlining's work over the last three decades has shown us that racial equity will not just "happen." It will be created with intentional, decisive, immediate action. We must confront systemic racism at its root and build enduring, transformative new solutions.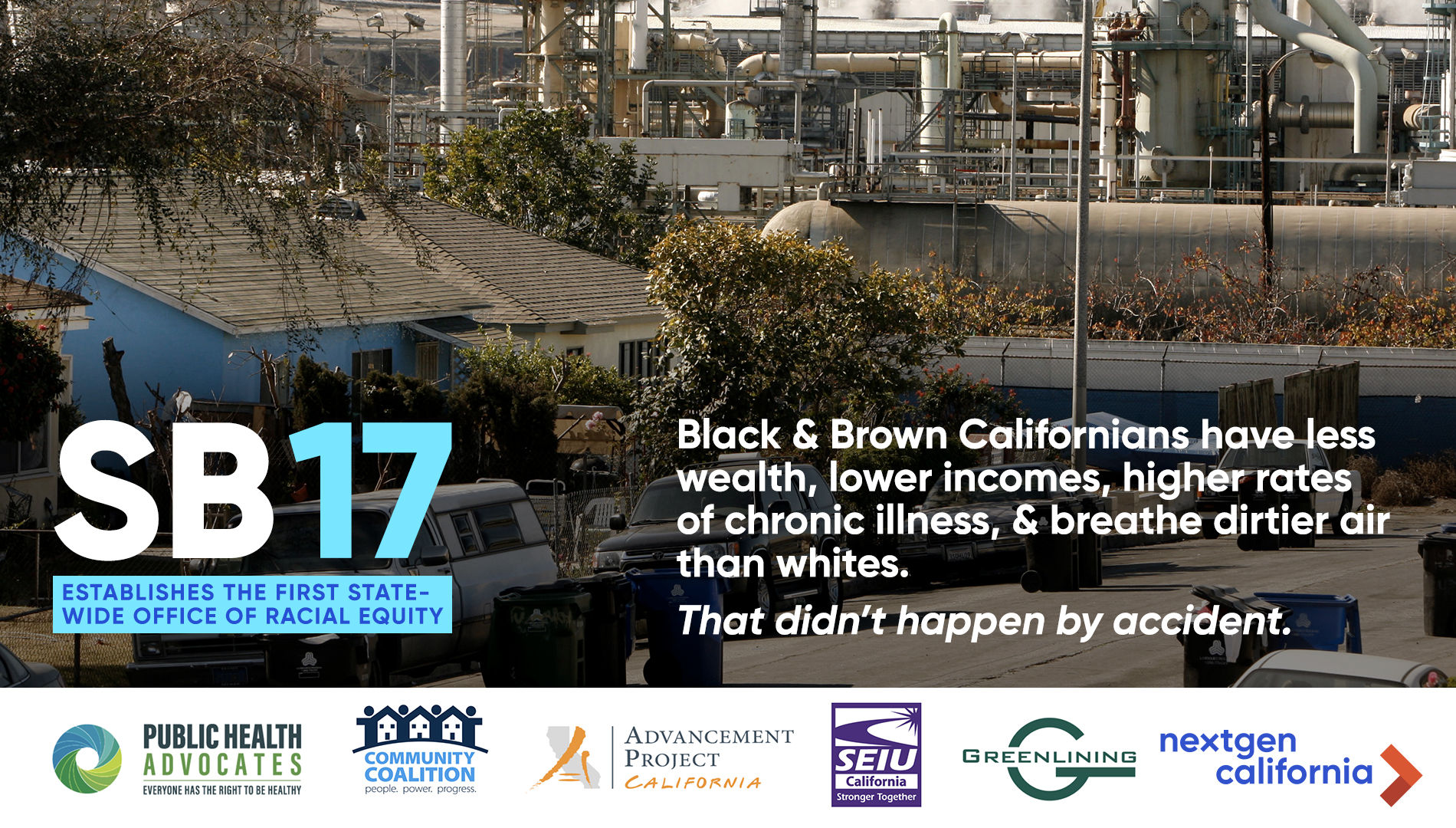 Tell Governor Newsom to fund anti-racism efforts in California
SB 17, authored by Sen. Richard Pan is our opportunity to make equity real in California. SB 17 establishes the Office of Racial Equity and the Racial Equity Advisory and Accountability Council. Establishing an Office of Racial Equity will help the state practice equity — turning our commitment into actionable equity strategies in our immediate response to the COVID-19 crisis, our recovery efforts, and as the world reshapes the global economy. The bill also publicly declares that racism is a public health crisis.
SB 17 recently passed out of the Senate and heads to the Assembly for consideration. In tandem, the joint Assembly/Senate budget plan includes: $588,000 to establish a Chief Equity Officer to create a more inclusive, respectful, and equitable state workplace and $10 million to establish the Office of Racial Equity.
This funding allocation helps build the long-term infrastructure to practice racial equity in the state by working in conjunction with the Administration's proposal to establish a Chief Equity Officer, as well as with several other legislative proposals currently being considered and existing processes and initiatives. It is imperative that we work to support the health and well-being of our most historically vulnerable Californians.
Greenlining applauds the Senate and Assembly for making this commitment to investing in racial equity and urges Governor Newsom to adopt these budget proposals and include this critical investment in his final budget.
Instilling equity in our work means learning from the past to make the future better for all and especially for those who have been traditionally left out. Equity binds us together to make us strong and resilient. Getting it wrong on equity as we move forward will only create new problems and injustices. Ignoring the root causes of our current health and economic crises leaves us vulnerable to the next crisis. Our vulnerability ends only when all members of our ecosystem — people and planet — are strengthened, and we radically meet the needs and priorities of the most vulnerable among us. California must approve and fund SB 17.