Publication
The Greenlined Economy Guidebook
Economic Equity
Publication
Executive Summary
Before the COVID-19 pandemic started, our system was already broken. The racial wealth gap, displacement and gentrification were destroying communities of color, and climate disasters were already a predictable part of the national news cycle. Now, on the verge of the worst economic downturn in decades, we have a collective moral imperative to reimagine the purpose of our economy: This is our time to build a new economic system that radically meets the needs of the people who have suffered the most under our current paradigm, particularly people of color. Reimagining our economic system in this moment is not opportunistic; it is our responsibility if we want to have a truly just, resilient and anti-racist world.
For real, transformative change, we need to think bigger than individual industries or actors. The COVID-19 pandemic, crisis of police terror, and oncoming recession have underscored what we already knew: For true growth and resilience, we need to rebuild in a way that ensures communities of color thrive for generations. We need to shape a new anti-racist economy, not rebuild the old one. We need to greenline the entire economy.
The Greenlined Economy we envision is:
Cooperative: Our current system is highly individualistic, with wealth and ownership concentrated among just a few people. In a greenlined system, wealth is equitably generated, shared and distributed by communities.
Regenerative: The existing economic paradigm has profited off the extraction and destruction of our natural resources. A greenlined system is non-extractive, sustainable and ecologically resilient.
Democratic: Everyone has the right to shape the decisions that impact their lives. A greenlined system is participatory, democratically governed, and led by those who historically have been shut out of decision-making power.
Non-exploitative: The exploitation of labor and resources that anchors racial capitalism cannot be carried into our future. A greenlined system is anti-racist and rooted in justice and equity for marginalized communities.
Inclusive: Our current system is deeply segregated and defined by systems of oppression such as racism, classism and patriarchy. A greenlined system enables everybody to participate in shared prosperity.
At the center of this vision, community anchors these five principles. Together, these principles help communities build power and advance equity in every piece of the system. This framework forms the pillars of our long-term vision for an economic system with racial equity at its core.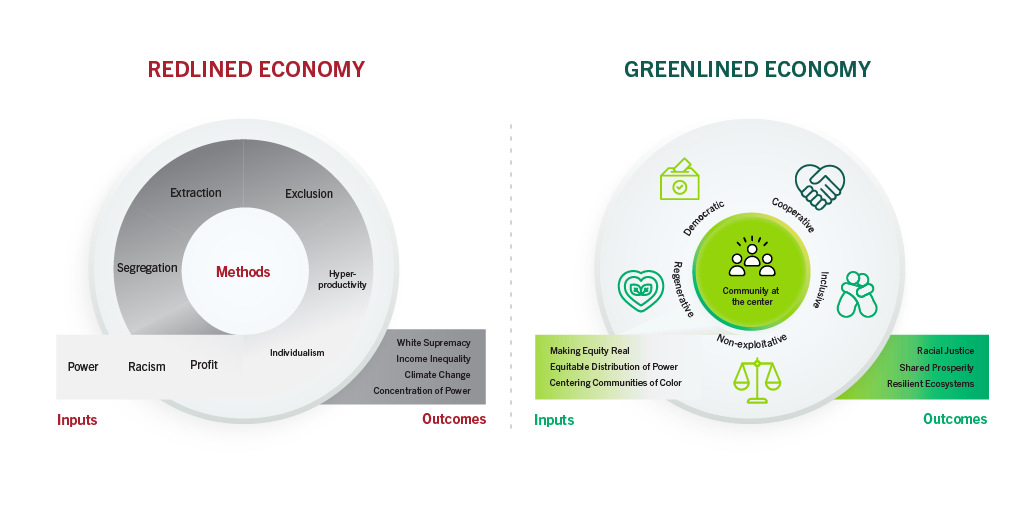 Community Investment Standards
One of our approaches to making a Greenlined Economy possible is by establishing rules or standards for equitable community investment. Of course, community investment is just one small piece of a much larger economic system. Over the past three decades, the Greenlining Institute has helped to redirect billions of dollars into the communities we represent, but always within the confines of an extractive and exclusionary economic system. The standards in this section are intended to address the system-level barriers outlined in the Findings section of the guidebook.
We use the phrase "community investment" broadly to refer to community-oriented projects in disinvested communities across many different sectors, including housing, real estate, infrastructure, transportation, parks, food and nutrition, health and small business, to name a few. In this guidebook, we focus on large-scale community investments, particularly those that have the potential to accelerate or catalyze significant change in a neighborhood.
To greenline community investment, we have developed a set of rules to govern funds and programs intended to address poverty and inequity. Without standards, we end up reinforcing the structures that caused these problems in the first place. These standards are meant to address failures of equity in our current community investment model. We imagine that these standards could be applied to community investments by diverse actors, including public agencies, philanthropic organizations, private investors or community-based organizations advising or developing their own investment strategies.
Six Standards for Equitable Community Investment
Emphasize race-conscious solutions. Race-conscious policies like redlining and urban renewal got us to this point, and race-neutral approaches can't fix the underlying inequities. Investment needs to target and prioritize the most impacted communities.
Prioritize multi-sector approaches. Programs may be siloed, but problems are not. We need to prioritize approaches that address multiple issues and sectors at once.
Deliver intentional benefits. Benefits cannot trickle down to communities; they need to go directly to the people in the most impactful ways, while avoiding increasing or creating new burdens.
Build community capacity. Long-term disinvestment and discriminatory policies can erode a community's capacity for leadership, organizing or political capital. Acknowledging the ways that structural racism has impacted the capacity of communities of color to undertake community development projects is a key part of improving investments.
Be community-driven at every stage. Lifting up community-led ideas and sharing decision-making power is an important element of truly community-centered investment. Community members and organizations should be part of every phase of the project or policy, from goal-setting to analysis.
Establish paths toward wealth-building. We need community ownership of assets and opportunities to continue building wealth. In a Greenlined Economy, as many people as possible should be able to participate in wealth building, which will include a broader set of pathways beyond homeownership with lower barriers to entry.
We imagine that these standards could be applied to community investments by diverse actors, including public agencies, philanthropic organizations, private investors or community-based organizations advising or developing their own investment strategies.
Policy Recommendations
Greenlining our system and making community investment equitable will require ambitious changes in how we operate. Our recommendations fall into two categories: policies to advance the Community Investment Standards, and policies to support high-level systems change. The expanded policy recommendations are listed in the full report.
Advance the Community Investment Standards: Government, philanthropy and private investors should work on shifting values, redistributing power and advancing culture change within the community investment sector. This includes implementing policies that shift and grow community power, making equity a core piece of any project rather than an add-on, and requiring program applicants and investors to articulate how equity shows up in community investment projects. We also need policies that infuse equity into the process and implementation of the standards, such as setting criteria for equity beyond demographic targeting, accountability for spending, and strong value capture mechanisms.
Make lasting systems change: We need to pave a road for race-conscious investments at every level of government. This includes reparations for Black and Indigenous people, progressive restructuring of our tax code, more pathways to community ownership and wealth-building, and the creation of an Office of Racial Equity at the local, regional and state levels. Finally, we need to change our financing system, particularly for community investment. This would mean divesting from extractive and exploitative industries and proactively investing in justice, democratizing our funding processes through participatory budgeting and Green Public Banks, plus requiring banks to accurately quantify risk and to report on the economic or environmental externalities of a project.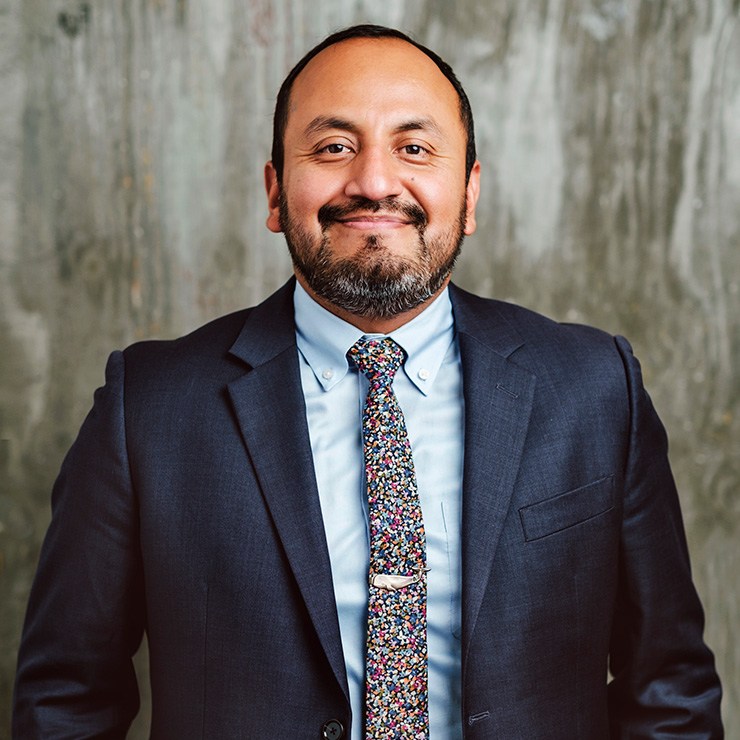 Alvaro Sanchez
Vice President of Policy
Contact