Publication
Fighting Redlining and Climate Change with Transformative Climate Communities
Climate Equity
Publication
Transformative Communities
The COVID-19 pandemic has heightened awareness of structural inequities in the U.S., and it has become undeniable that the climate crisis does particularly severe harm in under-resourced communities, including communities of color and low-income communities.
In order to build a future where all communities can build wealth, live in healthy places filled with economic opportunity, and are ready to meet the challenges posed by climate change, the U.S.'s efforts to combat the climate crisis must confront this reality.
California has pioneered a unique approach to fostering community-led solutions that meet the needs of those hit first and worst by climate change through a program called Transformative Climate Communities. TCC, managed by the Strategic Growth Council, is unique in two ways:
TCC puts community leadership first, requiring all projects to develop a collaborative governance structure between stakeholders such as local government, community-based organizations and residents. The process works to ensure that projects are derived from resident-identified needs, giving community members ownership over changes taking place in their own neighborhoods.
TCC then funds communities to develop and implement holistic, connected visions for how to transform their neighborhoods to reduce CO2 emissions and provide meaningful community benefits such as cleaner air, improved health and job opportunities. For example, this might include building affordable housing near transit, planting an urban street canopy and installing solar on homes, all at once.
TCC was created by AB 2722 (Burke, 2016), cosponsored by The Greenlining Institute and the California Environmental Justice Alliance. Since then, it has provided Planning Grants to 18 communities to develop their projects, and eight Implementation Grants enabling on-the-ground work to begin.
Five years after the program's establishment, The Greenlining Institute is examining TCC's progress thus far, and is beginning to gauge both successes and areas for improvement. Greenlining conducted an intensive qualitative evaluation of how TCC's components work together to deliver equity outcomes. This evaluation includes four detailed Case Studies from Ontario, East Oakland, the Northeast San Fernando Valley and Stockton, which examines specific local planning and implementation efforts in greater detail.
Overall, climate equity experts found substantial success in creating new models for community-centered governance leading to climate action plans that can deliver meaningful benefits to underserved communities while reducing carbon emissions. Below is an overview of Greenlining's policy recommendations:
Key Findings
1. The TCC model is working.
With 18 planning grants and eight implementation grants issued so far, the TCC model is working — helping communities design and implement real change based on needs they themselves identify, fighting climate change and improving their neighborhoods. "Residents know their voice is not only being heard but we're doing something about it," said Jasmine Silva of Community Partners, administrator of the Northeast San Fernando Valley project.
2. TCC Communities are drastically reducing CO2 emissions.
Even though implementation has only recently started in many places, TCC is already producing concrete results, from a new bikeshare program that's expanding clean transportation and creating jobs in East Oakland to a formerly neglected alley now reclaimed as a community green space in Pacoima, part of the East San Fernando Valley TCC effort. Projects in the works include affordable housing near transit, EV charging, solar panels for low-income households and more. Overall, these communities are on track to reducing nearly 200,000 metric tons of CO2 emissions over the next five years, equivalent to removing nearly 43,000 cars from the road.
3. TCC should be replicated nationally.
TCC represents a new model for climate action that should be expanded within California and replicated nationally. Contrary to the false narrative that climate action means a loss of jobs, TCC shows how communities can use efforts to cut CO2 emissions to create jobs and build healthier, stronger neighborhoods.
4. Despite these great successes, challenges remain.
Inconsistent and inadequate funding has greatly limited the number of projects that could be funded and made it difficult for communities to plan. Also, California should reduce administrative and financial burdens that make it difficult for under-resourced cities and counties to participate. Advocates were heartened by a funding increase approved in the recently-concluded California state budget process, but future funding is not guaranteed. The state must adequately and consistently fund the pathway from planning to implementation, and support the local ecosystems needed to support community transformation.
Report Recommendations
1. Funding must be adequate and consistent.
TCC can only fund catalytic, transformative, community led-change if it is adequately funded. Governor Gavin Newsom's 2021-2022 budget recently proposed $420 million over three years for TCC, and this represents a good start. To sustain community transformation, the governor and legislature should explore ways to establish a consistent funding source for the program.
2. Remove needless funding barriers.
The State of California should allow advance payment so that community organizations don't face insurmountable cash flow challenges. Restrictions that hamper community outreach, such as inability to use State funds to pay for child care or food for participants, should be removed immediately.
3. Help communities build capacity.
To meet capacity challenges and support TCC communities from planning to implementation, the Strategic Growth Council should provide increased guidance, resources, technical assistance and peer learning, fully stepping into the role of a State partner facilitating, supporting and incubating community-led transformation. SGC should clarify and streamline overall guidance, provide publicly accessible models and best practices, offer tailored technical assistance and solutions thinking, and facilitate peer-to-peer learning.
4. Expand TCC nationally.
As the federal government and state governments expand their climate change efforts, they should use TCC as a model for programs to be implemented all over the U.S. To simultaneously fight climate change and build community health and prosperity, funders and policymakers must invest in community capacity and community-led transformations at all levels. The U.S. must fund a pathway from planning to implementation, as well as support the local ecosystems needed to support community transformation.
Conclusion
Transformative Climate Communities is a community capacity-building model for fighting climate change, building economic prosperity and redressing the historic systemic disinvestment of low-income neighborhoods. The TCC model empowers the communities most impacted by poverty and pollution to choose their own goals, strategies and projects to reduce greenhouse gas emissions and deliver multiple tangible benefits.
This approach represents a model for national climate change efforts that should be replicated at both the federal and state levels. For our full analysis of the Transformative Climate Communities program, download the complete report.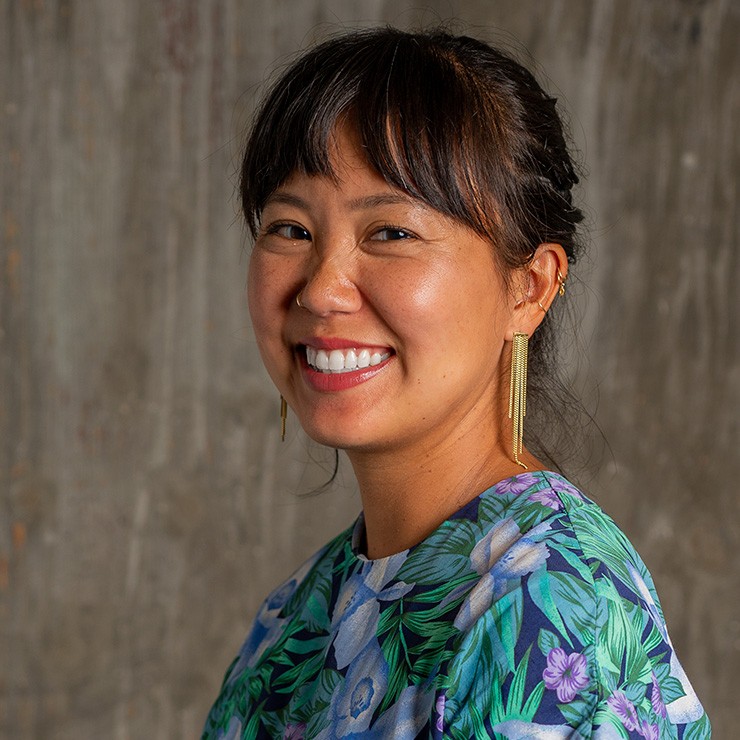 Emi Wang
Director for Capacity Building
Contact