Research consistently shows that a person's zip code, not their genetic code, is the strongest predictor of health. Whether we are healthy or not is mainly determined by factors outside of the doctor's office or hospital walls. Greenlining believes that everyone should have access to what they need to maintain good health – not just medical care, but also nutritious food, exercise, clean air and water, safe neighborhoods, safe and affordable housing, and quality jobs. Unfortunately, preventable chronic diseases are draining California's economy at a rate of $22 billion a year in medical costs and lost productivity. Communities of color, especially African American communities, are still more likely to have worse health outcomes compared to their white counterparts, even at the same income level.
Greenlining is a leader in bringing capital back into communities of color and low-income communities, often using legal vehicles like the Community Reinvestment Act (CRA). A mechanism somewhat similar to the CRA exists for not-for-profit hospitals, known as community benefit. Not-for-profit hospitals receive tax-exempt status in exchange for fulfilling a duty to provide "community benefits," required by state and federal laws. While not-for-profit hospitals are tax-exempt nonprofit institutions, many of them are huge enterprises – some are the largest hospital systems in existence, often generating billions of dollars in revenue. The Affordable Care Act updated several community benefit regulations and provided a clear and timely opportunity to look at community benefit as a vehicle for investing in low-income communities and communities of color in order to improve community health.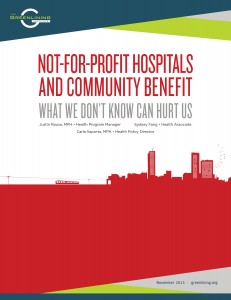 In 2013, the Greenlining Bridges to Health team published a report that benchmarks the current state of community benefit using financial data from 2010 and 2011. Unfortunately, legal loopholes and opaque reporting made it difficult to get a clear picture of where community benefit dollars actually go. What we did find was that the seven largest not-for-profit hospital systems in California (excluding University of California teaching hospitals) spent on average approximately 7.2 percent of their budgets on community benefit, with wide variation between hospitals within each system, and across systems. Only 1.1 percent of these dollars were spent on community benefit programs that seek to improve health beyond the hospital walls, in the community. We strongly believe that community benefit needs to be updated to reflect the realities of health care and community health needs in the 21st century.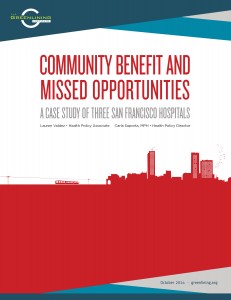 In 2014 we took a close look at community benefit practices of San Francisco's three largest not-for-profit hospitals. Again we found a disturbing lack of transparency, with public data often fragmentary and incomplete. Hospitals had different interpretations of state and federal regulations, making it impossible to compare programs and services. For all hospitals studied, a majority of community benefit spending consisted of subsidized health care or writing off the reimbursement shortfall of government programs like Medi-Cal and Medicare, with very little invested in improving community health outside of hospital walls. Additionally, we found that hospitals did not meaningfully engage the community. Community stakeholders reported that input was solicited but not listened to. Many community representatives were not aware of how their input would be used by hospitals, and many felt communication and information sharing was poor. We need stronger standards for community benefit reporting to allow the public to see what hospitals are doing and how they compare to each other. Community stakeholders, especially those who represent communities of color, need a more active voice in influencing hospital community benefit investments in their communities.
We urge not-for-profit hospitals to better align their community benefit efforts with programs and investments that keep low-income and diverse communities healthy – an approach that will benefit both communities and the hospitals. Investing in prevention programs has been shown to save hospitals money: Healthier people are less likely to use the emergency department for medical care, and if hospitalized they tend to stay in the hospital for a shorter time, driving down costs and helping the hospital's bottom line. As not-for-profit hospitals invest more community benefit dollars outside of the institution's walls, communities will not only stay healthier, but they will also come to see the value and leadership of their local hospital in keeping them healthy.
We will continue to do research and advocacy to promote transformational change of community benefit policies and practices, so that they are fair, transparent, and address the needs of California's diverse communities.