Economic Summit 2019: "Reclaiming Our Time"
April 26, 2019 * Oakland, California
Fierce, renewed determination to fight for justice – at times mixed with memories of past battles – dominated the mood at The Greenlining Institute's 26th annual Economic Summit, which took place April 26, 2019 in Oakland, California. Attendees grappled with new challenges and laid out bold ideas for building a more just America while recognizing the struggles of the past. "This is the place to continue the fight," said longtime Greenlining board member Olga Talamante, who served as the day's host.
After a video greeting from Rep. Maxine Waters – whose viral "reclaiming my time" moment had inspired the day's theme – the day got off to an energetic start with a powerful spoken word performance by poet and playwright Chinaka Hodge, who had a message for daughters everywhere: "Tell her she was born just in time to lead."
The opening plenary, moderated by She The People founder Aimee Allison and featuring Dream Corps President Vien Truong, California Assemblymember Wendy Carrillo and Greenlining Tech Equity Fellow Haleema Bharoocha, expanded on the Summit's theme, connecting the dots between the Me Too movement, racial justice and U.S. politics. "It all comes down to women owning their power," Vien Truong said. "We really have to do it for moral reasons."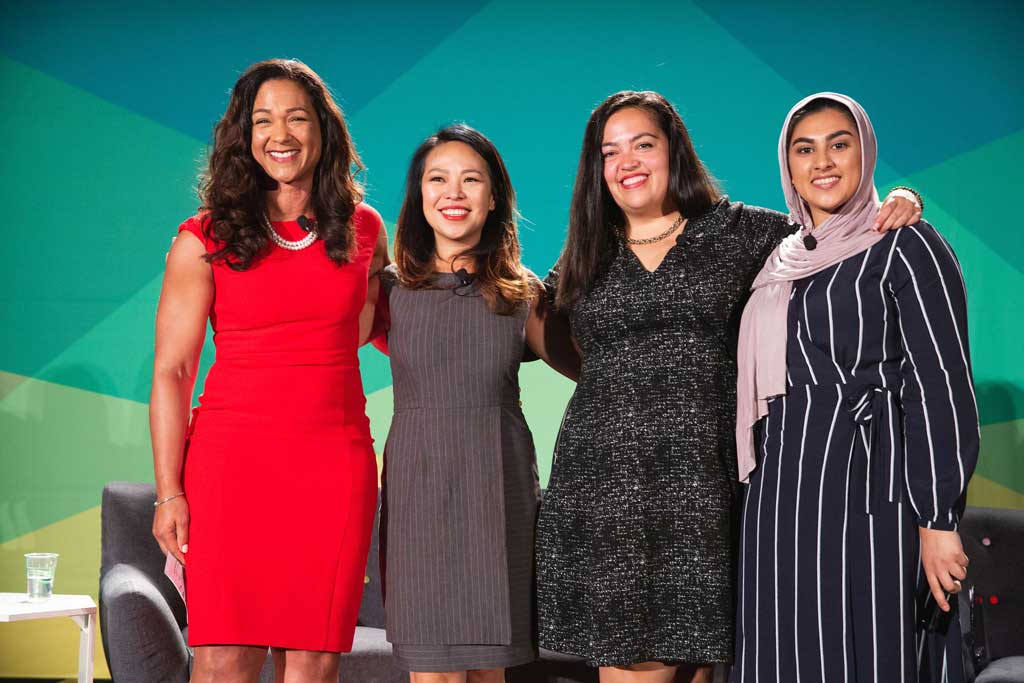 Using hurricane Katrina as an example, Haleema Bharoocha drew connections between climate change and gender-based violence, saying simply, "No more keeping quiet." Moderator Aimee Allison made the point that at their core, poverty and climate change are the same crisis.
Inevitably, the already-intensifying 2020 election campaign loomed over the discussion. Allison warned candidates to take nothing and no one for granted: "You must earn our votes. I don't care if you're a Republican or a Democrat." Assemblymember Carrillo laid out a challenge to those seeking support: "I want to see candidates talk about criminal justice, climate change, jobs… I want presidential candidates to understand that the majority of Americans aren't coming from the left or right. We're coming from the bottom up."
But elections aren't everything, as rapper and filmmaker Boots Riley reminded the audience in his "fireside chat" with Chinaka Hodge. "The left didn't spend all their time trying to get FDR elected," he said. "They spent time building a movement that could shut down mines, shut down factories" – and thereby making Roosevelt's reforms possible. Riley also called on his fellow artists to be more active, saying, "Art isn't enough. … It attempts to expose a problem or question and that is just not enough. … Artists have to be involved in movements to understand what the question actually is. Movements are things that look for power and try to change them."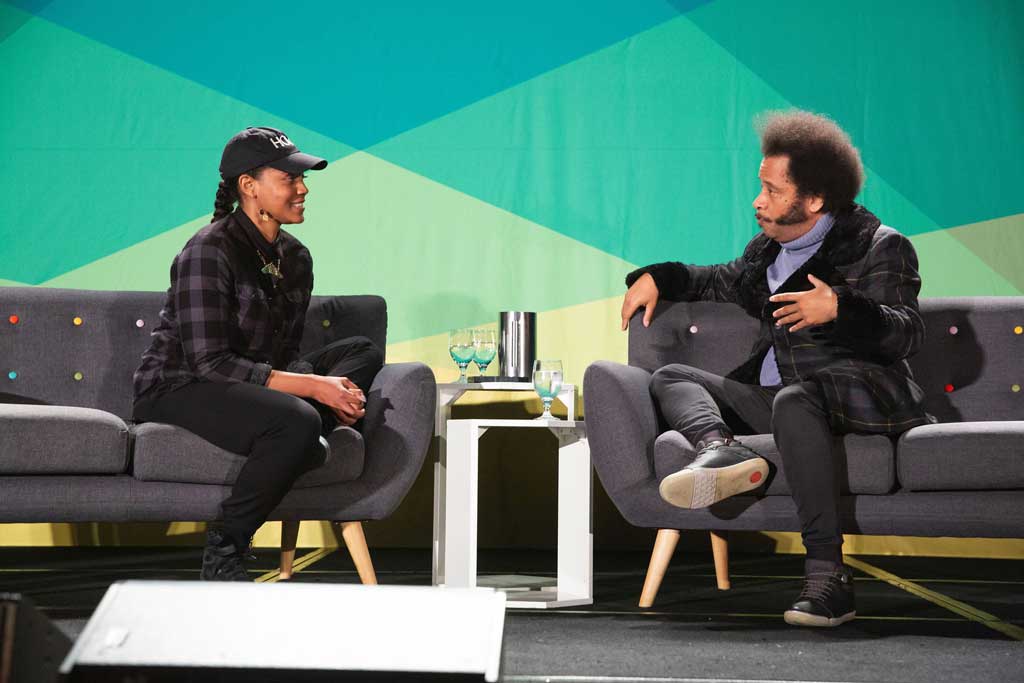 This year's Summit featured more breakout sessions than ever before, featuring in-depth discussions of banking and Community Reinvestment Act reform, equitable transportation planning, tech equity, the connections between health and community development, leadership development, and building clean energy communities. The panels were filled with advocates and experts with real, hands-on expertise, from Huron Mayor Ray Leon to policy advocate Angela Islas of the Central California Asthma Collaborative and Washington, D.C.-based activist (and Greenlining alum) Ian Madrigal, perhaps better known as the "Monopoly Man," regularly seen haunting the hypocritical at congressional hearings.
In what has become a recent tradition, the Summit wasn't just people standing on stage talking while the audience listened. The retooled Equity Lab gave participants a chance to do some hands-on practice at putting racial equity to work in the real world. The audience became participants in workshops on Operationalizing Equity, Development Without Displacement and Narrative Strategies for Justice – working with real policy and advocacy tools and exploring how to put them to work.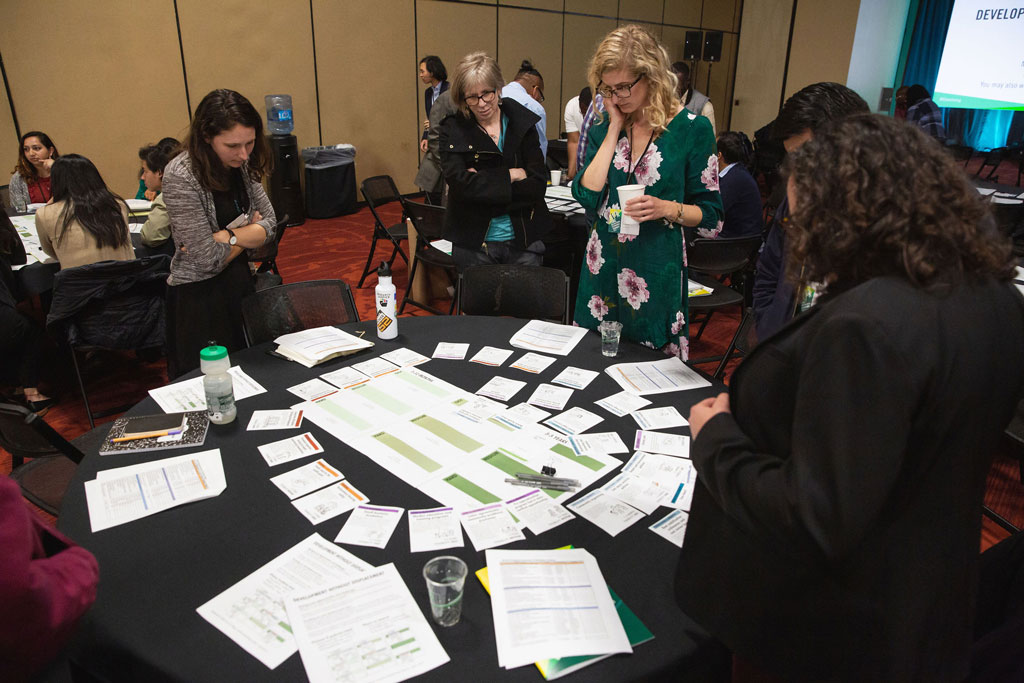 The 2019 Economic Summit also marked Greenlining's official farewell to longtime President Orson Aguilar as he finished up two decades with the organization. Aguilar recalled his childhood in East L.A. "My parents came to this country as undocumented immigrants from Guatemala and I am always grateful for their sacrifices," he told the audience. "Never forget where you come from is something I always tell myself."
At the Awards Luncheon, Rep. Barbara Lee presented our outgoing president with a commendation she had entered into the Congressional Record outlining his achievements: "Mr. Aguilar has always worked toward one overarching goal – an America where communities of color thrive and race is not a barrier to economic opportunity," the statement read. "On behalf of the 13th Congressional District, I commend Orson L. Aguilar for his lifelong work advancing employment, education, and racial equity in the Bay Area and around the country."
"Throughout his 20 years of service," Lee added, "he has constantly led with kindness as well as with his intellect."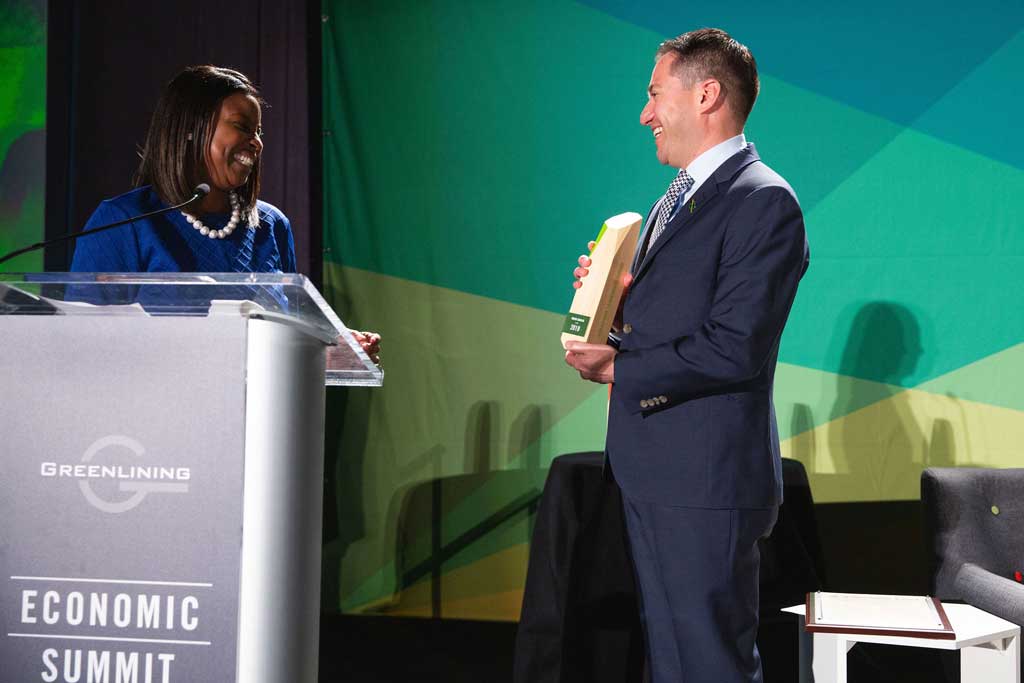 Greeted by a standing ovation, Congresswoman Lee also received Greenlining's Lifetime Achievement Award, a testament to her career-long fight for equity and justice. In a rousing speech, Rep. Lee recalled over two decades of working with Greenlining, first as a state legislator, then in Congress.
"I hope you understand that I'm part of the Greenlining family, for real," Lee said.  "Greenlining has always been central to my legislative and my community work. … I can remember so many meetings in my office in the early nineties with Bob and John and the early founders of The Greenlining Institute. And you all have kept this legacy of fighting for racial and economic justice a reality. But let me tell you, all of this is at risk now because of this current Trump administration. But because of Greenlining, because of you, we're not going to let them turn us back, are we?"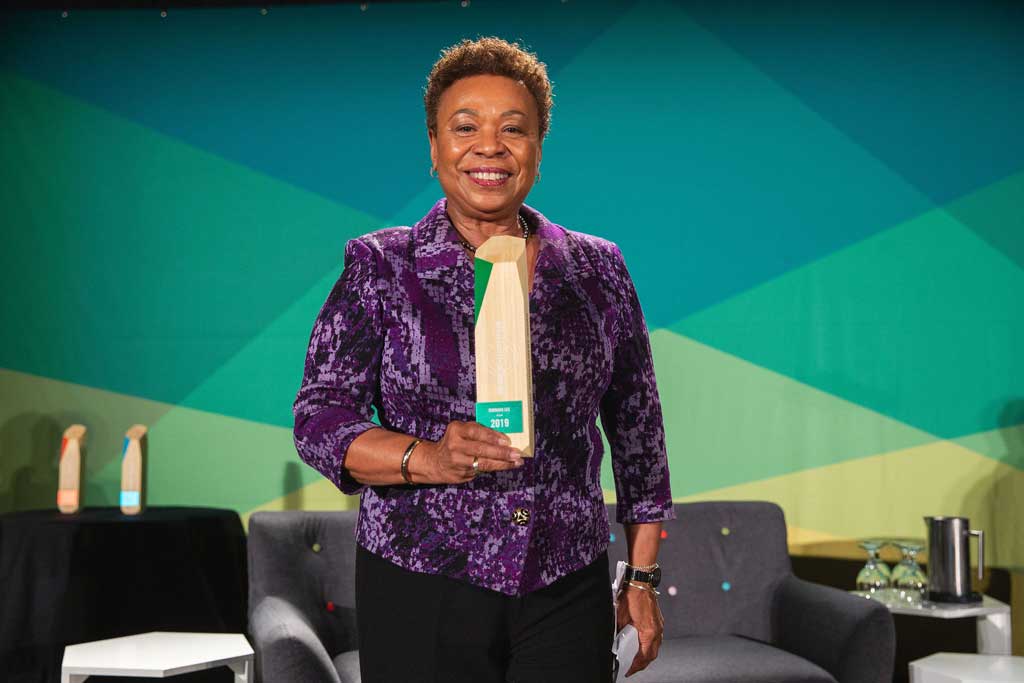 No one in the room seemed to doubt that this crowd would keep up the fight.