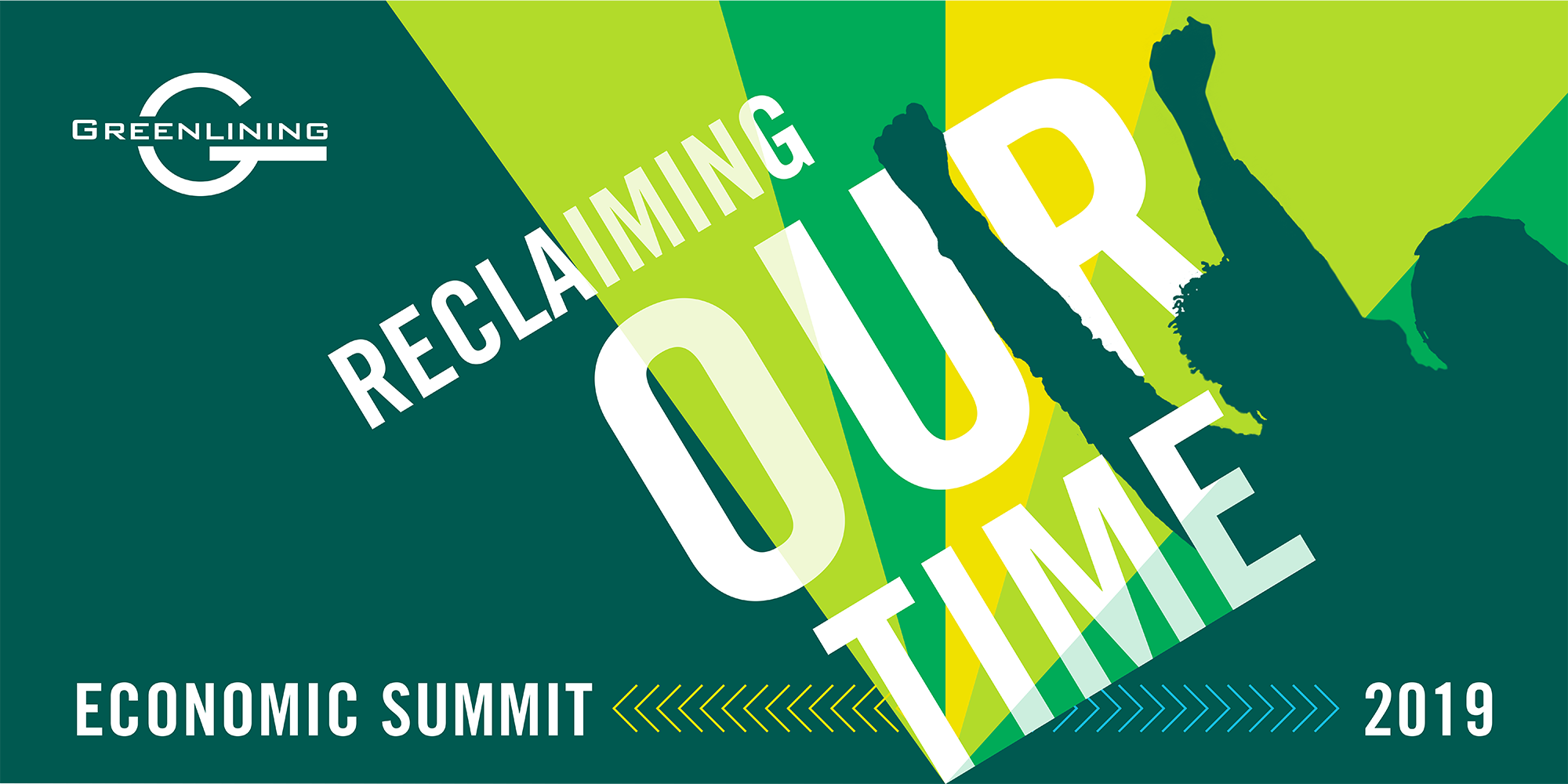 About
Agenda
Details
Register
Volunteer
This year's Economic Summit features a stellar lineup, including U.S. Rep. Barbara Lee, acclaimed rapper, activist, producer, screenwriter and film director Boots Riley, She the People founder Aimee Allison, and Ian Madrigal (aka the Monopoly Man) exploring how to move America toward true justice and equity.
Each year Greenlining brings together powerful voices for change—grassroots community leaders, nationally known advocates, artists, elected officials and more—for a unique event that focuses like a laser on how to build a more equitable, just society. This is more than a conference; it's a one-of-a-kind event where innovation, art and activism meet.
In 2018, we saw that people of color will no longer just play defense against attacks on our rights; we will lead America toward a vision of equity and justice. Taking inspiration from the words of Representative Maxine Waters, this year's Economic Summit will highlight the leaders — especially here in California — who refuse to stay silent in the face of injustice.
We invite you to join us for what promises to be an exciting, informative and inspiring gathering.
Greenlining's 26th Annual Economic Summit
Reclaiming Our Time
April 26, 2019
Registration
You may register online for the 26th Annual Economic Summit here. You may register online for the 26th Annual Economic Summit here. Online registration ends April 24, 2019 at 11:59 p.m or until tickets sell out.
What does registration include?
Economic Summit registration includes access to the following conference sessions: Opening Plenary, Breakout Sessions, Equity Lab, and the Networking Reception. For those purchasing an Early Bird ticket, the Lunch Program & Awards Ceremony is included as well.
All tickets include a continental breakfast and complimentary drinks and hors d'oeuvres at the Networking Reception.
Does registration include lunch?
Space is limited for the Lunch Program & Awards Ceremony. In order to make this session accessible to a range of income-levels, lunch spots are included in all Early Bird tickets and on a first come, first served basis with General Admission tickets.
Unfortunately, the Lunch Program is sold out. We invite those with a 'Lunch Overflow Ticket' to join us in the Overflow Room for a livestream of the Lunch Program. Although Lunch Overflow Tickets do not include lunch, there are a variety of restaurants within a 5 minute walk of the Oakland Marriott. Look here for options.
How do I choose which 'ticket level' to purchase?
In an effort to keep this event as affordable and accessible as we can, we offer four ticket levels: Community, Ally, Supporter and Sustainer.
We've provided ticket descriptions to help attendees decide which level to choose. However, it is entirely up to you to decide. We do not ask for any documentation or application for subsidized tickets.
Make sure to get your tickets early, as your preferred ticket level may sell out.
Do you offer group discounts?
Yes! We offer discounts for groups of 5 or more. Please contact events@greenlining.org for more information.
What is your refund policy?
If you are no longer able to attend the 2019 Economic Summit, please follow these steps to request a refund. Our staff can only respond to refund requests made directly through Eventbrite.
Cancellations received before March 26, 2019 will receive a refund for their registration fee as follows:
80% refund until February 26, 2019
50% refund until March 26, 2019
Please note: no refunds will be processed after March 26, 2019. Refunds will be issued in the form of original method of payment to the person or organization that made the payment. Please allow up to four weeks for the refund to be processed.
Can I transfer my ticket to another person?
You may also transfer your registration to someone in your organization or network. To transfer your registration, follow these steps. Attendee information must be updated to reflect the new attendee's information. Transfers must be made before 5 p.m. on Thursday, April 25.
Are scholarships available?
Yes! Greenlining is committed to breaking down barriers that prevent people from attending this event. A limited number of scholarships are available for those in need of financial assistance. In addition to scholarships, we offer tiered ticket pricing.
If you are interested in receiving a scholarship, please fill out this form. Applications are accepted on a rolling basis until spots are filled.
Location
Greenlining's 26th Annual Economic Summit will be held at the Oakland Marriott City Center. All panels and sessions will be held in the East Hall, Grand Ballroom, and breakout rooms on the 2nd floor of the hotel. Refer to the Agenda for details on where each panel and session will be held.
Oakland Marriott City Center
1001 Broadway,
Oakland, CA 94607
Accommodations
There is no designated hotel block for Greenlining's Economic Summit. However, we invite Summit guests to consider staying close to the conference either by booking rooms at the Oakland Marriott City Center or the nearby Marriott Courtyard Oakland Downtown.
Are There Restaurants Nearby?
The Oakland Marriott City Center Hotel has a wonderful list of onsite and nearby restaurants. You can find the detailed list here.
How Do I Get There?
The Oakland Airport (OAK) is the closest airport to the event venue. The subway (BART) station is located on 12th Street, just two blocks from the Oakland Marriott. We encourage use of public transportation, bikes, carpooling, and other modes of sustainable transportation.
More information, including parking information, is available on the Marriott's Maps & Transportation page.
Registration
You may register online for the 26th Annual Economic Summit here. Early Bird Tickets are available now through February 22, 2019. Online registration ends April 24, 2019 at 11:59 p.m or until tickets sell out.
Become a Volunteer
Our volunteers are a treasured part of the Summit Team and play a critical role in the success of the day. Volunteer shifts are typically 2.5 hours long and include a complimentary meal for those working through lunch.
As a volunteer, you'll get to:
Develop connections with and work alongside Greenlining staff
Attend Summit activities at no charge for the rest of the day
Connect with others who are passionate about economic equity and racial justice
To become a volunteer, please complete this form and we'll get back to you ASAP with details.