Reimagining "Normal" — If Not Now, When?
The world is changing in unimaginable ways seemingly hour by hour. A global pandemic has virtually shut down most of the world, bringing the economy to its knees and creating incredible uncertainty. There is no way to tell when we will get back to some semblance of normalcy. In fact, the new normal may be completely unrecognizable. But let's face it, normal may have been what we were used to but there was nothing normal about it.
Back when things were normal we had one of the most unequal economies in the world, a situation that's only been made worse by COVID-19. Back when things were normal, healthcare was out of reach for millions of people, despite the fact that the U.S. spends the most on healthcare per capita and none of it prepared us for COVID-19. Back when things were normal, hundreds of communities, mostly where people of color live, were disproportionately exposed to pollution and environmental hazards due to discriminatory policies. Today those communities may face some of the most severe health consequences of COVID-19. Back when things were normal, hatred and racism, spewed from the highest ranks in our government, a fact that has remained unchanged despite facing one of the most uncertain, challenging, and perilous moments in world history.
So our goal in recovering from this pandemic and the economic crisis shouldn't be to get back to normal. Normal is a big part of the problem. Our goal must be to make the world a better place for everyone. And if not now, when?
This pandemic is exposing all the inequities in our country. It is clearly demonstrating that we belong to a larger, interconnected ecosystem that for too long has been dominated by a small minority in order to amass grotesque wealth at the expense of families, workers, and the natural world. Our response to this crisis represents an opportunity to meet those inequalities and injustices head on to create a stronger and more resilient planet and people.
Of course it won't be easy to fight against entrenched systems and interests that prefer a divided world that is easily exploited for their self interest and preservation. It's never been easy to fight these forces, but now more of us must unapologetically demand an end to our current exploitative and oppressive economic system. Now we must in mass demand a just and sustainable economic future. If not now, when?
"Normal is a big part of the problem. Our goal must be to make the world a better place for everyone. And if not now, when?"
Equity is not an obstacle, it's a foundation for a prosperous future.
At Greenlining we have always stressed that equity is not only a commitment, it is also a practice. Now more than ever we have to embrace equity, ensuring that those experiencing the most hurt feel the most care. We have to practice equity, turning our commitment into actionable equity strategies in our immediate response to the crisis, in our recovery efforts, and as the world reshapes the global economy.
Some will say that equity is not as important as quickly addressing the crisis. To them I say they are both important and not mutually exclusive. Equity is not about slowing down, it's about speeding up with intention. We can speed towards recovery and bring about a sense of normalcy, but without equity at the center we will replicate and reinforce the same ills that made this pandemic a global calamity. If we want to develop a relationship with our fellow humans and our planet that can actually create a healthier future, we need to revisit our commitment and relationship to each other. We need to dig deeper to address the root causes of the ills that plague our people — root causes our society accepted as normal. We need to lift each other up, particularly those who have been left behind, if we want to truly transform our economy, our society, and our planet.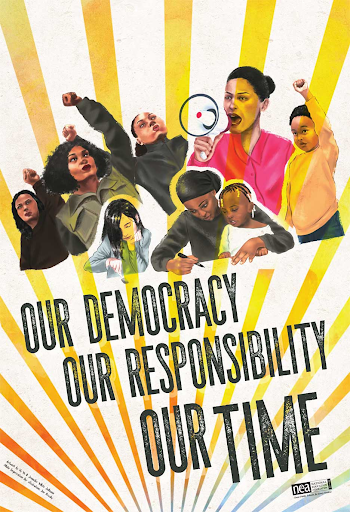 Equity is not an obstacle, it's a foundation. Instilling equity in our work means learning from the past to make the future better for all and especially for those who have been traditionally left out. Equity binds us together to make us unstoppable and resilient. Getting it wrong on equity as we move forward will only create new problems and injustices. Ignoring the root causes of our current health and economic crises leaves us vulnerable to the next crisis. Our vulnerability only ends when all members of our ecosystem — people and planet — are strengthened and we radically meet the needs and priorities of the most vulnerable among us. Seriously, if not now, when?
Today I'm inspired by those on the front lines caring for the ill and caring for all of us. Healthcare workers, store clerks, bus drivers, farm workers, home health aides, janitors — the essential workforce that can't work from home and are out making sure we can survive while putting their own health at risk. I'm inspired by the quick mobilization of community-based organizations, advocates, liberators, and caring individuals who are pushing for immediate relief for those most at risk and who will hurt the most from the dual health and economic crises. I'm inspired by fast acting movements, thought leaders, journalists, and champions who are quickly drafting plans and recommendations for a just, sustainable recovery. I'm inspired by the small and big acts of kindness that neighbors are showing, the empathy and care that my co-workers are giving each other, and the love that families and friends are demonstrating to each other on a video call or through a window. I'm inspired by these acts of solidarity and hopeful that we have an opportunity to create a better future for all of us. I'm committed to working with them and many more to turn this crisis into our moment to demand what we need to make a better world and not simply go back to normal — a normal in which a virus easily brought our way of being to a stop.
These are some of the things that are inspiring me. I hope they inspire you too.
COVID-19 Resources for Fellow Equity Advocates:
Immediate Relief Efforts:
Solutions to Hardships Created by COVID-19:
Plans For A Better World:
Making Equity Real:
Remember to stay home, wash your hands for 20 seconds, practice physical distancing, and take care of your mental and physical well being. We need you to make a better world possible.
Alvaro Sanchez is Greenlining's Environmental Equity Director. Follow him on Twitter.
Credits:
"We Keep Each Other Safe" Artwork and words by Monica Trinidad // @itsmonicatrinidad
"Our Democracy" Artwork and words by Jennifer White Johnson and Vy Vu