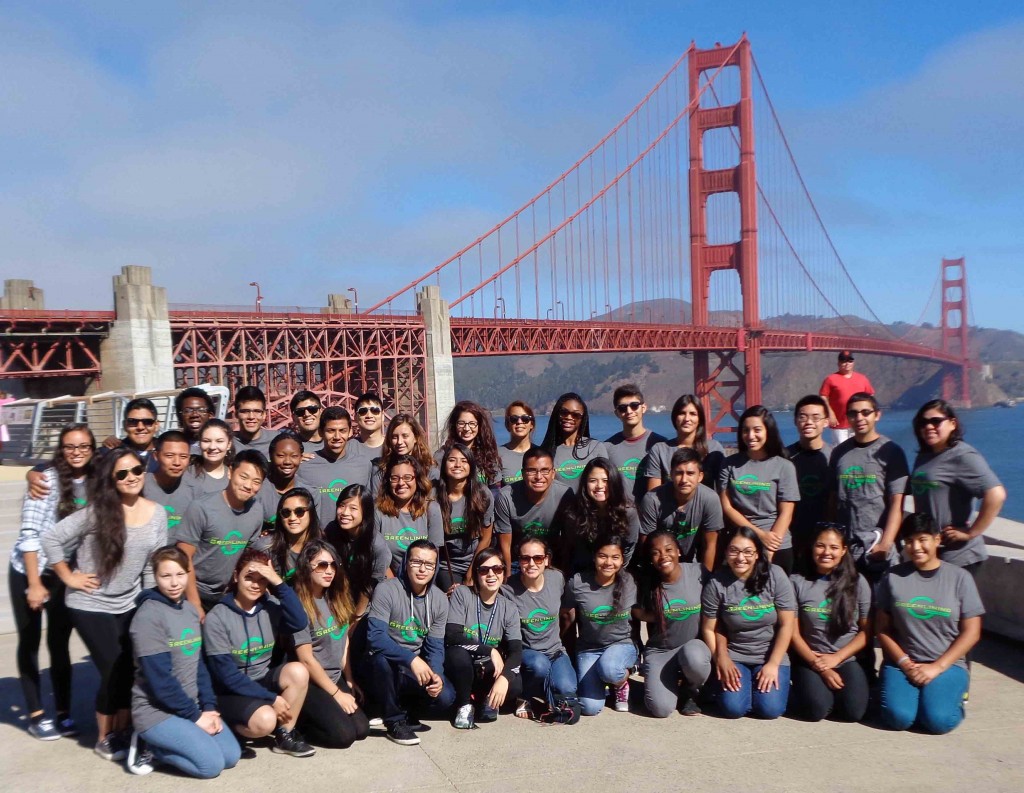 Casa Joaquin Murrieta (Casa) is a multi-ethnic residential community that supports leadership development and academic success while providing a nurturing living environment for UC Berkeley students. It was founded in 1970 by Chicano/Latino students at a time when there were only 150 Chicano students on campus. Over the years, Casa made history through its involvement as headquarters for social justice efforts. To read more about the history of Casa, click here.
In 2004, Casa became part of the Greenlining Institute's Leadership Academy, becoming a multi-ethnic residential leadership program and a home away from home as it continues to serve low-income, first-generation students.
Casa is home to 38 students per academic year and is conveniently located blocks away from the UC Berkeley campus. Casa has a long tradition of supporting and meeting the needs of first-generation, low-income, UC Berkeley students, with the goal of increasing recruitment and retention. Through the support, mentorship, and leadership development curriculum of the Greenlining Leadership Academy, we work to:
empower student leaders of color to advocate for social justice and equity on campus and in their communities
inspire students to fulfill their true potential; nurture and develop leadership skills
foster a positive and healthy university experience
facilitate the development of life-long friendships and professional networks
Casa provides its residents with academic support and mentorship through connections with campus advisors who are committed to the success of first-generation, low-income students of color. Within the Casa community, students are also peer advisors who support and uplift each other's academic success and personal growth.
Throughout the academic year, Casa residents participate in leadership and skills development workshops, attend weekly community meetings, regularly meet with their academic counselors, and are exposed to valuable on-campus resources. In addition, residents receive mentorship, academic support, exposure to various career and educational trajectories, and have the opportunity to learn about critical public policy issues that impact their communities.
PERSONAL AND PROFESSIONAL DEVELOPMENT WORKSHOPS
Residents participate in personal and professional development workshops that strengthen their capacity to contribute to their Casa experience as well as prepare them for future professional and academic opportunities.
Workshops include:
Resume Building
Public Speaking
Mock Interviews
Networking & Etiquette
Conflict Resolution
Nonviolent Communication
Strengths Finder (individual leadership assessment)
Career Planning
Introduction to Negotiation Techniques
Introduction to Lobbying
LIVING IN A COMMUNITY ENVIRONMENT
Casa offers Single, Double, Triple, and Quadruple rooms. Rent includes wi-fi and five dinner meals at the International House Dining Hall per week. Casa has a kitchen, living room, and study room, open 24 hours a day.
Community Building activities include:
Fall & Spring Retreat
Meet & Greets with Greenlining Staff and Casa Alumni
Hiking trips
Thanksgiving Dinner
Holiday Dinner
Socials with other on-campus organizations
Community Service
Football games
Applying for Casa
A complete application requires:
One-page essay explaining how you would benefit from a leadership program like Casa
Personal photograph
One letter of recommendation (teacher, counselor, professor, or supervisor)
Copy of your Financial Aid Offer Letter
Copy of your previous taxes (or your parents' if you are claimed as a dependent)
Official UC Berkeley Offer Letter or other proof of enrollment
Copy of your most recent transcripts with GPA
Professional resume
Application Submission Deadline
Continuing UC Berkeley students: CLOSED
New UC Berkeley students: CLOSED
STAYING CONNECTED WITH CASA ALUMNI
Join our Alumni Database to stay connected with Casa, mentor a Casista and keep up with our latest news.