Those at the San Diego event urge more help for mortgage borrowers at risk of foreclosure.
SAN DIEGO — Consumer advocates, minority groups and homeowners — some chanting "Save our homes, fix our loans!" — staged a demonstration outside Countrywide Financial Corp. offices Wednesday, part of a campaign to press the nation's largest mortgage lender to do more to help borrowers in danger of foreclosure.  About 50 people gathered in front of the building in San Diego where the mortgage lender has offices. Some participants held handwritten posters with slogans such as "Our lives are not adjustable" and "Would you give your mom a sub-prime loan?"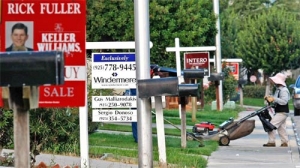 The Mabuhay Alliance of San Diego, the Greenlining Institute and the Mexican American Political Assn. organized the afternoon rally and plan several others in coming weeks.
Among their demands, the groups want Countrywide to stop foreclosure proceedings on borrowers who are behind in payments and modify adjustable-rate mortgages that are due to reset to higher payments into a lower, fixed-interest rate.
They also called on company executives to donate money from bonuses toward a fund for at-risk borrowers.
"We especially want Countrywide to look back at the loans that they made and to fix loans for those [borrowers] that could have received better loans," Orson Aguilar, associate director of the Greenlining Institute, a Berkeley-based consumer advocacy group, said in a telephone interview.At one point, protesters walked up to the Countrywide office and slipped signs that read "Got Turkey? Countrywide Home Loans" beneath the doors, which appeared to be locked. One protester, Nanshi Ignacio, said she refinanced her home in San Diego earlier this year with a loan from Countrywide but now is desperate for the lender to change the terms of her loan before it resets in a few weeks.
"I need help to get my loan fixed so that at least I can get a fixed rate and have peace of mind," said Ignacio, 53. "I tried to talk to them but they were saying they can't do anything because I haven't defaulted."
The Calabasas-based company issued a statement saying it has held talks aimed at working with the Greenlining Institute but criticized the groups' decision to stage protests.
"Greenlining's actions in San Diego and planned actions in other cities in the coming weeks not only hinder this progress, but also hinder the company's efforts to reach our borrowers," the company said.
Countrywide and other lenders have been under growing pressure from similar groups and government officials to rework loans and stave off the potential for more mortgage defaults.
Defaults and foreclosures, particularly among loans made to borrowers with shaky credit, have soared this year, deepening the housing slump. That, plus an ensuing credit crisis in the financial markets, has rocked the mortgage industry.
Countrywide posted a loss of $1.2 billion during the quarter ended Sept. 30 — its first quarterly loss in 25 years.
Last month, the company announced it would offer refinancing or modifications on $16 billion in loans with interest rates set to adjust by the end of 2008.
The company said it was trying to work out payment plans with borrowers on about 80,000 loans and has already helped more than 55,000 others avoid foreclosure this year.
Countrywide has also begun working with the Neighborhood Assistance Corp. of America to help borrowers at risk. The initiative came after the Boston-based group protested at several Countrywide branch offices and called for a boycott of the mortgage lender.
Shares of Countrywide fell 86 cents, or 8.4%, to $9.42 on Wednesday.