Last Chance! Register for Our 2014 Economic Summit Next Week!
Our 2014 Economic Summit is next Friday, April 4th! We are looking forward to welcoming our attendees and distinguished speakers, including Consumer Financial Protection Bureau Director Richard Cordray, PG&E CEO and President Anthony Earley Jr., and Oakland Mayor Jean Quan.
We hope you can join us next week as we host dynamic panels on the New Economy, capture people's policy solutions during The Idea Lab, and honor diverse leaders during our lunch and evening programs.
It's your last chance to register! We'll see you in Oakland next week!
---
Greenlining Turns 21! Donate and Double Your Money!
March marked our 21st Birthday! That's right folks, we're of legal age! If Greenlining the organization was a human being, it would have more rights and power than it did before being 21 — it'd be a full-fledged adult.
In honor of our 21st Birthday, Half Moon Bay Brewing Company has offered to match up to $5,000 in donations to Greenlining until April 4th (next week!). To celebrate our birthday, please consider making a donation to Greenlining for equity and justice advocacy — your donation will go twice as far!
---
Fact Sheet: California's Voting-Age Population & Barriers Faced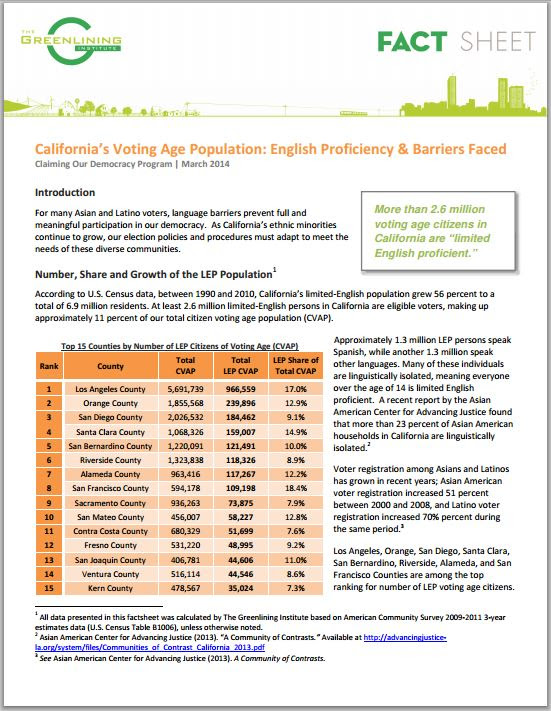 This month our Claiming Our Democracy team released a new fact sheet about the barriers that California's voting-age population faces in regards to English-proficiency. 
For many Asian and Latino voters, language barriers prevent full and meaningful participation in our democracy.  As California's ethnic minorities continue to grow, our election policies and procedures must adapt to meet the needs of these diverse communities. This fact sheet analyzes the size and distribution of the limited-English citizen voting age population in California, highlights two access issues in election administration, and presents recommendations.Download the fact sheet. 
---
Fixing Income Inequality Demands New Thinking
Our latest Huffington Post article by Chief Operating Officer Preeti Vissa looks at the critical issue of income inequality in the United States, and calls for new thinking to an issue that has gotten worse over time. Yes, it's true that we should raise the minimum wage and fix our broken tax system, but we also need to invest in new creative ideas that are working right now.
We can point to examples like Solar Mosaic, an organization that connects investors to small and medium-sized solar projects in need of financing, and there's also supplier diversity — business programs that ensure firms owned by diverse-owned businesses get a fair shot at corporate contracts.
Income inequality and wealth inequality are problems we can fix, but only if business and government are willing to change old habits and embrace new innovative methods to close the gap.
---
The Latest from the Greenlining Blog