RSVP: 2014 Greenlining Academy Graduation on August 14th!
Come celebrate with us in two weeks! Our 2014 Greenlining Academy Graduation is on Thusday, August 14th at 5:30 PM at the Scottish Rite Center in Oakland. Don't delay, get your tickets today! This year's keynote speaker is CPUC Commissioner Carla Peterman. Join us to celebrate the achievements of our four Policy Fellows and ten Summer Associates. In an effort to include all community members, discount codes are available upon request. Please email your request to Yurida Ramos atyuridar@greenlining.org. Get ready for what's sure to be a great night filled with good food and drinks, networking, and dancing! RSVP today. 
---
We're Hiring! 2 Exciting Opportunities to Join the Greenlining Team!
We want you! We're hiring for two exciting positions here at Greenlining: Legal Counsel for our Energy team and Program Manager for our Environmental Equity team.
Our Energy team works to ensure that utilities are safe, reliable, and affordable for everyone. Our Environmental Equity program works on solutions to poverty and pollution by ensuring that everyone has access to a healthy and clean environment.
We're looking for applicants that have a solid commitment to racial equity, a commitment to mentorship and leadership development, and the vision to identify opportunities and take advantage of them.
---
"Don't Kill the Internet!" Make Your Voice Heard!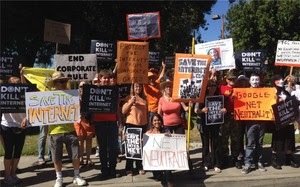 On July 23rd, members of Greenlining's Telecommunications team joined activists from MoveOn.org, Free Press, Common Cause, and other media rights organizations for a rally near one of President Obama's fundraisers in the Bay Area. Activists at the rally sought to raise awareness about a pending Federal Communications Commission plan that would effectively kill the open internet. In addition, ralliers urged the President to live up to his 2007 campaign promise of "taking a back seat to no one" in his commitment to Net Neutrality.
Free Press posted a great summary of the California rallies, highlighting the importance of Net Neutrality and what can be done to ensure that the FCC's plan doesn't go through. The FCC is still accepting comments through September — make sure you have a say in this important proceeding!
---
CA's Climate Revolution Can Change the National Conversation
There's something happening in California that could inspire change across the entire country. California is making huge advances in tackling climate change and the negative effects of pollution. In ourlatest piece on the Huffington Post, Chief Operating Officer Preeti Vissa outlines the various laws and policies that California has adopted to curb pollution and create investments in communities. Calfornia's landmark climate change law, AB 32, which commits the state to curb greenhouse gas emissions and created the state's cap-and-trade system; and SB 535, a bill that we co-sponsored in 2012 that allocates cap-and-trade funds to investments in communities that are most impacted by pollution.
Because of SB 535, this year alone, $218 million will start flowing to new projects that will make investments in neighborhoods hit worst by pollution, like improved public transit and affordable housing. We're creating innovative solutions to fight climate change in California, now will the rest of the country follow?
---
The Voter Experience Project in Los Angeles County
 The Greenlining Institute in partnership with the Future of California Elections Collaborative and the Los Angeles County Registrar-Recorder's Office recently launched a first of its kind voter experience project. Leveraging our collective resources and employing cutting edge technology, the project was designed to collect voter feedback on the process of voting during the June 3, 2014 primary election in Los Angeles County. We shared our findings from the project at the California Association of Clerks and Election Officials Conference in southern California earlier this month. Read our report 
here
, and watch the video 
here
.
---
The Latest from the Greenlining Blog