This month, "The Getting Home Safe Act" proposed by Sen. Nancy Skinner (D-Berkeley) passed its first committee, the Senate Committee on Public Safety. The bill has now been referred to the Senate Committee on Appropriations. Your support is crucial.
Safe Inmate Release: Why I Support SB 42
As a queer Black woman, deeply rooted in the issues facing my community, I am intimately familiar with the devastating toll of state violence and institutional neglect on the lives of women, especially womxn who are transgender and gender non-conforming. This is why when I heard the Sister Warriors Freedom Coalition (a program of the Young Women's Freedom Center) call all Sister Warriors to action to hold Alameda County's Sheriff's Office accountable for their continued negligence of County jail inmates, I immediately sought out ways to support. This includes both humane treatment while in jail and safe inmate release policies, as would be mandated by new legislation called SB 42.
Inmate Release Gone Wrong: The Story of Jessica St. Louis
In early August, prison reform advocates across California demanded answers from Alameda's sheriff for the death of Jessica St. Louis, a Berkeley resident with Haitian heritage. On July 28, 2018, at 1:30 a.m., Jessica was released from Santa Rita Jail without a working cell phone or even an offer for a free phone call to contact a trusted friend or family member for a ride home.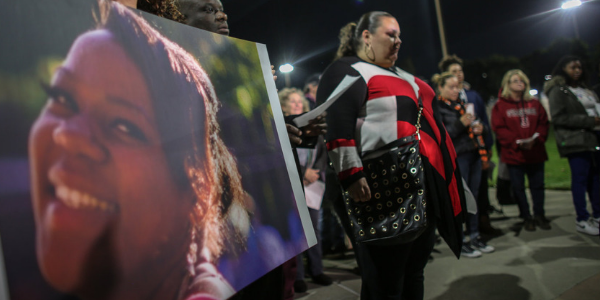 Instead, Jessica was given a BART pass and expected to walk to the Dublin/Pleasanton BART station more than a mile away, where trains wouldn't run for the next four hours. Jessica didn't live to board the train. While the cause of Jessica's death is uncertain, one thing is clear: Jessica would not have died alone that night if she had been allowed a phone call or given adequate transportation at a safe hour. Re-entering society from prison or jail is tough regardless of the time. Inmate release well after midnight, with zero provision for safe transport or lodging, is just reckless.
July 28 was exactly one month prior to the start date of my Fellowship at The Greenlining Institute, and the beginning of my commitment to advocating for girls and womxn of color in Oakland and across California. I knew then as I know now that no one should be left behind in the way that Jessica was.
"I am not free while any woman is unfree, even when her shackles are very different from my own" — Audre Lorde
All women and girls, including those who are system-involved, deserve respect, opportunity, and support to reach their full potential and thrive. Like Senator Nancy Skinner (D-Berkeley) stated in a press release on the incident, "it makes no sense that a jail would send someone walking alone to a closed train station in the dead of night." Jessica died a preventable death, one that could have been avoided with sensible inmate release procedures.
"The Get Home Safe Act": Making Inmate Release Safe and Sensible
On December 3, 2018, Sen. Skinner committed to actualizing the Sisters Warriors Freedom Coalition vision of safety for womxn and all those incarcerated by introducing SB 42, "The Get Home Safe Act." SB 42 will put an end to dangerous, dead-of-night releases from county jails that are often isolated from public transportation. More specifically, SB 42 will:
Require that jail releases occur during normal business hours and, if circumstances prevent such a release, provide individuals the option to stay voluntarily for up to 16 additional hours.

Stipulate that upon release, individuals have access to at least three free phone calls and a cell phone charging station in order to arrange for safe transport.

Provide individuals released during non-business hours with transportation or a safe place to wait.

Mandate that individuals who have been in jail for 30 or more days be provided upon release with three days of personal medications and help to enroll in rehabilitative programs.
While the bill applies to all, late-night inmate release policies are especially dangerous for women, who have reported being intercepted by drug dealers and made easy targets for physical abuse, sexual abuse, and sex trafficking as they leave jail. By minimizing releases at unsafe times, SB 42 will protect people at an especially vulnerable moment and therefore will improve California's public health and safety.
How You Can Help
On April 9, SB 42, "The Getting Home Safe Act" passed its first committee, the Senate Committee on Public Safety. The bill has now been referred to the Senate Committee on Appropriations.
Your support is crucial! You can help in two ways:
If you are interested in learning more about how you or your organization can support  SB 42, please contact Krea Gomez, Director of Advocacy and Organizing at The Young Women's Freedom Center at krea@youngwomenfree.org.

Share

this SB 42 Fact Sheet

with your networks.
Asia Alman is Greenlining's Health Equity Policy Fellow. Follow her on Twitter.