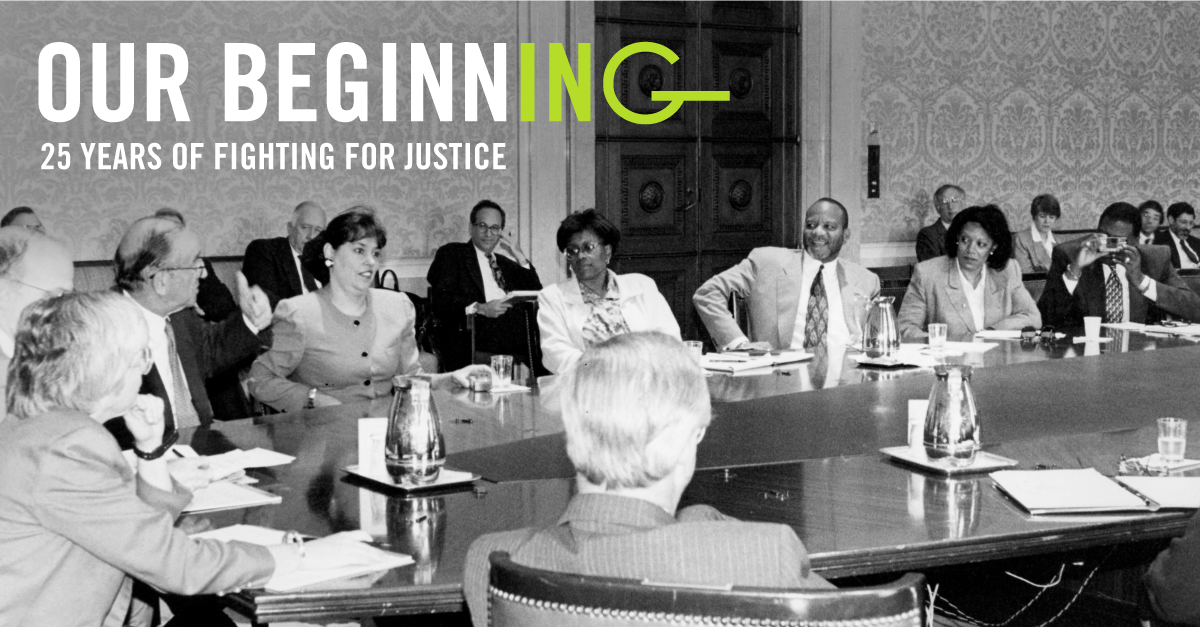 I was born and raised in South Central Los Angeles – Watts — a child of Mexican immigrants. We used to jokingly call it Hollywatts. So I saw first-hand what it was like to live in a community that had been victimized by redlining. My parents didn't speak English, so I did all the translating for them.
My parents always taught me that we should help people, so they'd bring people by the house and I would translate for them. We always had that tradition of service.
I also saw tragedy. My brother was shot in a drive-by shooting and didn't have health insurance, so he was bounced around by three different hospitals before ending up at L.A. County/USC General Hospital. He didn't survive, in part because he didn't get the right medical care. That's a form of redlining, even though society doesn't talk about it that way, and experiences like that pushed me toward public service.
Greenlining began from a coalition of community activists – David Glover, Paul Cobb, Bob Gnaizda, John Gamboa from the Latino Issues Forum, and many others – working on issues in our community back in the 1980s. It started around redlining and trying to get the banks to do more in our communities. We got a lot of our inspiration from Martin Luther King's Poor People's Campaign. America prefers to forget this now, but economic justice always had a central place in King's work.
John was a cofounder and executive director of the Latino Issues Forum in the '80s, and we were working with other organizations in a diverse, multicultural coalition at the time of the Rodney King rebellion in Los Angeles. We decided to form an organization focused on all multicultural communities, to work together and exert power. We felt it was important for different communities to work together: Rather than fighting each other for a slice of the pie – or for crumbs, which was often all we got – we'd work together to make the pie bigger for everyone.
John agreed to take a leave from Latino Issues Forum to get Greenlining up and running. Until then, we had no resources.  We all had full-time jobs. We knew we needed to become an organization and put together staff and resources if we were going to make any progress. Bob Gnaizda came to us from Public Advocates, which acted as fiscal sponsor and provided office space for the first five years.
At the time, I was the only woman on the board – just me. So I raised the issue with John and Bob, and we began to get more women on the board.
Bob and John were brilliant and brought years of experience to the table. They were the whole staff back then. They figured out policies we could touch that would have an impact, and how to make institutions respond, often using a good cop/bad cop approach. Back then they focused a lot on bank mergers, using the Community Reinvestment Act to push banks to invest in our communities. Wells Fargo was in the process of buying First Interstate Bank, and they got them to sit down with us and agree to a 10 year CRA agreement guaranteeing $45 billion of investment in communities like the one where I grew up. They also got a $500 million commitment from Sumitomo Bank – 50 times the puny offer that a group of banks originally put forward.
Back then it was sometimes hard to get to the right people, to the people who made decisions. But John and Bob did it. They always went straight to the top:
"We don't want to talk to some department head, we want to talk to the CEO."
We reached several more bank agreements over the next few years, leveraging their need to have mergers approved and the obligations they had under the CRA to get commitments of billions of dollars in investment in underserved communities like my old neighborhood. At a protest connected with one of those early bank campaigns, someone – I think maybe Paul Cobb – said:
"That's redlining – we're Greenlining."
And the name stuck. Of course, that work continues today. Greenlining and the California Reinvestment Coalition just reached an agreement with Flagstar Bank for $600 million in investment in low-income communities of color in the San Bernardino area, bringing the total bank commitments we've generated to $570 billion.
We also started going to Washington to meet with regulators at the Federal Reserve and other agencies. We felt it was important to put a face on communities like mine, so they couldn't treat us as an abstraction. We wanted them to see that we weren't talking about numbers on a spreadsheet, but about people and the resources they need to have opportunity and hope, and sometimes just to stay alive.
We also started to look at what could be done to boost contracts for small businesses in our communities. So we began to work with Pacific Gas & Electric in the mid-'90s. We formed the California Business Roundtable and planted the seeds of the supplier diversity work that Greenlining still does today, work that has generated billions of dollars in contracts for diverse-owned businesses, not to mention the jobs those contracts create.
Those early victories were sometimes hard, but they taught us what was possible. And they planted the seeds that let us broaden our perspective to health, the environment and other issues. We've learned the whole process of public policy, and as we've gone on, I've become more and more impressed by our staff. Some of them are so young, and they're so inspiring. So is our Leadership Academy, which l still think is one of the most important things we ever did.
As long as we keep that intergenerational focus, Greenlining will continue to stay strong and our communities will benefit. And someday, no one will ever die from redlining the way my brother did.
Ortensia Lopez is co-chair of Greenlining's Board of Directors and Executive Director of El Concilio of San Mateo County
[embedboxfull type="start"]
Consider a gift of $25 to support 25 more years of advocating for equity and justice.
Donate Now

[embedboxfull type="end"]