May This Anger Be Of Service
My first day at Greenlining was filled with anticipation. This Fellowship is my first job out of college and as a 19-year old, this was one of the most exciting moments of life. One of the first things I was told at Greenlining was "I hear you, I see you, you are valid here." I knew from this moment that my time at Greenlining would be transformative, and began to understand what the Leadership Academy means by #ChangeFromWithin. Greenlining encouraged me to step into my power and sit with the president of Greenlining to ask hard questions, the kind that you never ask your "superior." At Greenlining, Fellows embody freedom as a daily practice rather than waiting for it to come.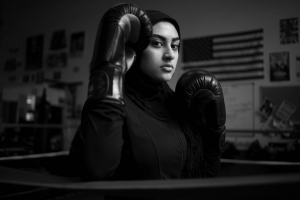 Greenlining is a liberating space where I can be my whole self and deepen my understanding of public service. In some social justice spaces, I am often asked to let go of my anger, to swallow the hot lava that bubbles in my throat burning with a desire to be released. As a teenager, I almost always felt angry about the injustice in my community. My socialization as a young girl and experiences with sexual harassment, coupled with a lack of voice, left me with a lot of anger and no place to let it go. I often lashed out at those around me, harming those I cared about in the process.
As a young adult, I learned how to cope with my anger through weightlifting and boxing. Even then I had a lot of anger left to go around. For a while, I thought that something was wrong with me. It wasn't until I started college that I realized that I have every right to be angry and anger isn't necessarily a bad thing.
My mentor shared how I can use my anger in service of community and I aim to do just that at Greenlining. The Greenlining Academy fosters a space where I can be my whole self and step into my anger as a way of healing and leading. My anger tells me that things are not okay, that something needs to change. "If you are not outraged, you're not paying attention," as Heather Heyer said on her Facebook page before she was killed by a white supremacist
Each day I feel this powerful energy inside me yearning to build a better world for the next generation of women of color. By advocating for policies through a racial equity framework at Greenlining, I am building power for the next generation. I am using every tool I have, including my anger, to push forward for a world where one's identity is not a barrier to opportunity.  
After meeting advocates at Greenlining who believed so strongly in their power to build a nation where race is not a barrier to economic opportunity, I feel ignited by the idea of making this a reality. I always understood this vision in theory but had never really grasped what this would look like in practice.  Something about being part of Greenlining, an organization which envisions a nation where communities of color thrive, flipped a switch inside me.


For the first time, I allowed myself to fantasize about this new world order. In this world, I would not fear TSA harassment on the basis of my religion or race, use my pepper spray for cooking instead of self-defense, have access to affordable housing, walk anywhere at any time safely, get paid the same as a White man, and more. In this world liberation is a lived reality. The possibilities for a full life are endless. Can you imagine this world? Who would you be? What #ChangeFromWithin would it take to help you get there?
I am beyond excited about my growth at Greenlining this year and ready to take my work to the next level. Follow my journey at Greenlining on Twitter and Instagram.
Sincerely,
Haleema Bharoocha
Your resident raging feminist at Greenlining
Haleema Bharoocha is Greenlining's Technology Equity Fellow. Follow her on Twitter.

Over the next year we're continuing our #ChangeFromWithin blog series with posts from our newest cohort of Fellows. They will  explore their own personal transformation, #ChangeFromWithin, and what that means for leadership development. You can read Patrick Brown's introduction to the series here. Here at Greenlining's Leadership Academy, we've been on a journey. We invite you to join us.